Scott Walker In Trouble In Wisconsin?
A new poll suggests that Governor Scott Walker could be in trouble as he seeks a third term as Governor of Wisconsin, but he's been counted out before only bounce back and confound the doubters.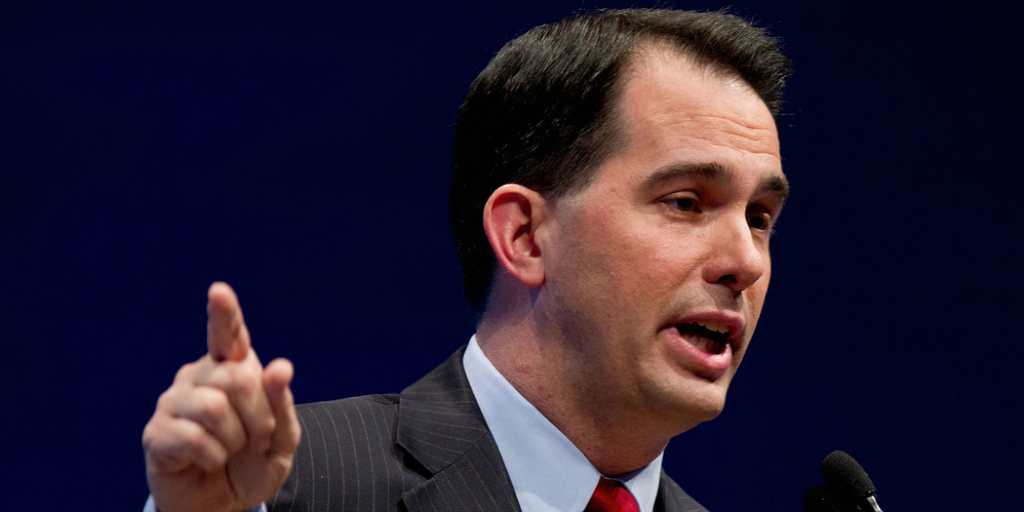 Scott Walker could be facing an uphill battle in his bid for a third term in office:
A new poll from NBC News and Marist College shows Wisconsin Gov. Scott Walker trailing a Democratic challenger by double-digits, part of a raft of rough results for Republicans across three Midwestern states.

The poll showed Wisconsin state education superintendent Tony Evers, the Democratic primary front-runner, taking 54 percent to Walker's 41 percent in a head-to-head matchup. Walker has warned for months that Republicans need to be active and vigilant as he runs for a third term, with Democrats winning a series of down-ballot elections in Wisconsin earlier this year.

But Democrats have had to grapple with a crowded Democratic primary field that at one point included more than a dozen candidates, but which has shrunk to eight ahead of the Aug. 14 primary. Evers has consistently polled at the front of the Democratic field.

The results are sharply more negative for Walker than the most recent Marquette University poll of the governor's race in June, which showed Walker narrowly ahead of Evers, 48 percent to 44 percent.
The Democratic primary isn't until August 14th, but all of the recent polling shows Tony Evers, who currently serves as the Superintendent of Public Instruction for the state, as the clear frontrunner in the race, with the handful of other candidates in the race trailing in the single digits, so it seems likely that Evers will be the nominee that will face Walker in what would be his fourth statewide race in eight years. The first, of course, came in 2010, in a recall election in 2012, and then again in 2014, in a state that, up until the 2016 Presidential election, had voted for the Democratic candidate for President in every election since 1988. It's also worth noting that, in each of the three times that Walker faced voters since 2010, the early polling, and even some of the polling on the eve of the election itself, showed him to be in far more trouble than what the ultimate result indicated. Given that, it would be unwise to say the lease to count Walker out at this point, especially since the campaign has not even begun in earnest and won't really do so until after the Democratic Primary and after Labor Day. Additionally, it's worth noting that four of the nationwide rating services — The Cook Political Report, Stuart Rothenberg's Inside Elections, Larry Sabato's Crystal Ball, and Daily Kos — all list the race as "Leans Republican," while RealClearPolitics rates it as a Toss-up.
Notwithstanding these caveats, it's worth noting that Walker's political fortunes have faced something of a downward trend in the years since he was re-elected. Just a few months after being re-elected, Walker entered the race for the Republican nomination for President and, while he led in much of the early polling that was conducted prior to Donald Trump's rise in the polls, his campaign quickly began to fade in the face of the Trump tornado and he ended up being among the first candidates to drop out of the race, making his campaign the shortest in twenty years in either political party. Whether that will have an impact on his statewide fortunes remains to be seen. However, given the fact that this is likely to be a high-profile race for Democrats, and that it coincides with a Senate race in which incumbent Tammy Baldwin has a comfortable lead over her prospective Republican challengers. Whether Baldwin will be enough to help Evers in the General Election, though, remains to be seen.