Senate Committee Advances Bill To Protect Mueller, McConnell Vows To Block It.
Republicans joined with Democrats to advance a bill to protect Special Counsel Robert Mueller, but it's unlikely to go anywhere beyond that.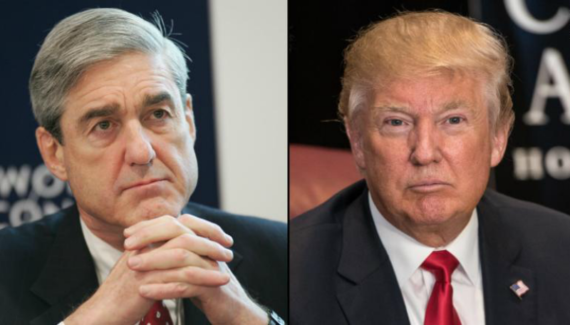 Four Republican Senators crossed the aisle to join with Democrats on the Senate Judiciary Committee to advance a bill that would make it harder for President Trump to fire Special Counsel Robert Mueller, but it's not likely to go anywhere:
WASHINGTON — The Senate Judiciary Committee fired a political warning shot at the White House on Thursday, advancing on a bipartisan vote long-stalled legislation to allow special counsels such as Robert S. Mueller III to appeal their firing to a panel of judges and possibly be reinstated.

Senator Mitch McConnell of Kentucky, the majority leader, has stated unequivocally that he will not bring the bill to the Senate floor for a vote. But with four Republicans, including the committee's chairman, Senator Charles E. Grassley of Iowa, joining Democrats to vote in favor of it, the measure sent a clear message to President Trump that there would be serious consequences to firing the special counsel.

Even senators who voted against the legislation warned Mr. Trump against trying to dismiss Mr. Mueller. Senator Orrin G. Hatch of Utah, the longest-serving Senate Republican, said that "firing Mueller would cause a firestorm and bring the administration's agenda to a halt. It could even result in impeachment."

Mr. Trump seemingly offered fresh reason for their concern earlier on Thursday. In a telephone interview with "Fox & Friends," he again aired his frustration with the Justice Department and with Mr. Mueller's team, which he dismissed as being filled with partisan Democrats. He said he had been trying not to interfere in matters before the Justice Department.

But, Mr. Trump warned, "at some point I won't."

Democrats have been clamoring for the Senate to move the legislation for weeks, as Mr. Trump has escalated his attacks on the special counsel investigation and contemplated removing key figures overseeing it. They claimed Thursday's vote as a modest, if mostly symbolic, victory.

"Frankly, I've never been so concerned that the walls protecting the independence and integrity of our law enforcement institutions are at risk of crumbling," said Senator Patrick J. Leahy, Democrat of Vermont and the longest-serving member of the Senate. "I'm hoping that the strong bipartisan stance we are taking today may save us from waking up to a tweetstorm that sends us careening toward a constitutional crisis."

Republicans who support the measure have been careful to present it as a necessary and appropriate check on the authority of the presidency itself, whoever is in office.

"It's not about Mr. Mueller," said Senator Lindsey Graham, Republican of South Carolina and one of the bill's authors. "It's not about Trump. It's about the rule of law."

The bill, called the Special Counsel Independence and Integrity Act, would codify into law the existing Justice Department regulation that says a special counsel may be fired only by the attorney general, and only for good cause.

It would create a 10-day window within which a special counsel could petition a panel of judges to determine if the firing was for good cause. If it were judged not to have been, the counsel would be reinstated. The bill would ensure that the special counsel's staff and investigative materials would be preserved in the interim.

The senators also voted to include an amendment by Mr. Grassley that would require special counsels to produce to the attorney general and to Congress a report at the end of their investigation or in the event that they are fired. Such a report would include significant findings of the case, as well as information about decisions to file charges or not to file charges, among other details. Currently, special counsels like Mr. Mueller are required to make a report to the attorney general, but that information will not necessarily be shared with Congress or the public.

The committee voted to reject another amendment that would have replaced the bill with a nonbinding resolution saying it was the sense of the Senate that Mr. Mueller should be allowed to finish his work.

Several Republican senators raised concerns about the bill's constitutionality and the ability of Congress to shield a special prosecutor from being fired by the attorney general at the president's direction.

(…)

Mr. Grassley said he shared some of the constitutional concerns, but gave the bill his stamp of approval anyway.

"It's possible the bill goes too far, and I understand the position of those with strong constitutional objections who will vote against it," Mr. Grassley said ahead of the vote on Thursday. "But, at the very least, if my amendment is adopted, it will require the executive branch to give more information to Congress."
This bill, which is the capstone on an effort that began over the summer among what mostly consisted of a group of Democratic Senators but which quickly gained support of a handful of Republicans such as Senators Tillis and Graham, is a response to a year of rhetoric from the President that has raised concerns that he could decide at any moment to fire Mueller and other Justice Department personnel. For the record, of course, the Trump Administration has said that no such intention exists, and Trump himself has also said so in the limited amount of public statements that he's made about this issue. At the same time, though, there have been several reports that Trump has been on the verge of firing Robert Mueller or of firing Deputy Attorney General Rod Rosenstein, who overseas Mueller's investigation due to the fact that Attorney General Jeff Sessions has recused himself from involvement in that matter. Firing Rosenstein, of course, would make Mueller's position more precarious because of the fact that Rosenstein is the person who has supervisory authority over Mueller at the moment. Additionally, the President has lashed out so frequently about the "Fake News" Russia investigation that one can't help but conclude that the idea of firing Mueller is certainly something he's keeping open as an option. It's in this context that the bill is being put forward.
As noted, there are some real questions about whether or not a bill such as this is constitutional. As it stands, the Special Counsel that exists today is essentially an employee of the Justice Department not an independent agency in the same way that the Office of the Independent Counsel was when it existed. In the end, therefore, any Special Counsel appointed under the existing DoJ rules serves at the pleasure of the President even when that person is investigating the President himself, his campaign, or his Administration. This puts Mueller in much the same position as Watergate prosecutor Archibald Cox, who was ultimately fired in the now infamous Saturday Night Massacre in October 1973. Given that, it's unclear that Congress has the authority to bind the President in his ultimate authority over the Justice Department. Notwithstanding that, the bill itself is important because it stands at the very least as a rebuke to Trump and, at least in theory, a warning about what might happen if he actually went through with firing Mueller and/or Rosenstein.
Regardless of the policy merits or constitutional issues surrounding the bill, though, it's unlikely to get anywhere notwithstanding the fact that it has made its way out of committee. The main reason for that is because Senate Majority Leader Mitch McConnell has said he does not believe Trump would fire Mueller and that he would not allow the bill to come to the floor:
Senate Majority Leader Mitch McConnell told Fox News on Tuesday he doesn't believe President Donald Trump will fire Robert Mueller, adding he doesn't want legislation on the issue.

"I don't think he should fire Mueller and I don't think he's going to," he said in the interview. "So this is a piece of legislation that isn't necessary in my judgment."

Last week, a bipartisan group of senators introduced legislation that would make it harder for Mueller to be fired for investigating Russian meddling in the 2016 election.

Sens. Lindsey Graham, a South Carolina Republican, Chris Coons, a Delaware Democrat, Thom Tillis, a North Carolina Republican, and Cory Booker, a New Jersey Democrat, introduced the Special Counsel Independence and Integrity Act, which protects Mueller, including ensure that the special counsel can only be fired for "good cause" by a senior Justice Department official.

McConnell said he4) The next day, White House press secretary Sarah Sanders said that the White House had sought guidance as to whether Trump had the power to fire Mueller and concluded that "he certainly believes he has the power to do so."won't bring the legislation to the Senate floor.

"I'm the one who decides what we take to the floor, that's my responsibility as the majority leader, we will not be having this on the floor of the Senate," he said.

When asked if he'll be shocked if Trump fired Mueller, McConnell responded, "Yes, I don't think he should and I don't think he will."
Notwithstanding McConnell's assurance that Trump won't move against Mueller, as Chris Cillizza notes there have been numerous indications otherwise:
1) According to the New York Times, Trump ordered Mueller fired in June 2017, only to be talked out of it by White House counsel Don McGahn. Read the Times story:

"After receiving the president's order to fire Mr. Mueller, the White House counsel, Donald F. McGahn II, refused to ask the Justice Department to dismiss the special counsel, saying he would quit instead, the people said."

Worth noting: Trump denied the reports, calling it "fake news."

2) In early December 2017, Trump again concluded it was time to get rid of Mueller. Again, the Times:

"In early December, President Trump, furious over news reports about a new round of subpoenas from the office of the special counsel, Robert S. Mueller III, told advisers in no uncertain terms that Mr. Mueller's investigation had to be shut down."

3) Earlier this month, in front of TV cameras, Trump responded to a question from a reporter about whether he would fire Mueller with this: "Why don't I just fire Mueller? Well, I think it's a disgrace what's going on. We'll see what happens. Many people have said you should fire him. Again, they found nothing. And in finding nothing, that's a big statement."

4) The next day, White House press secretary Sarah Sanders said that the White House had sought guidance as to whether Trump had the power to fire Mueller and concluded that "he certainly believes he has the power to do so."

Any one of those things might trigger some suspicion that Trump is considering getting rid of Mueller.

But, all four of them?
If the bill did manage to get to the Senate floor, there's a good possibility it would pass. Presumably, every Democrat would support it on the floor and it appears that it would get more than enough support to push it over the 51 vote margin that would be necessary to pass it. Given how the Senate operates, though, it's next to impossible for a bill to get to the floor if the Senate Majority Leader doesn't want it to. There are some provisions in the Senate rules that would allow for such a thing to happen, but they are deliberately cumbersome and seldom used successfully. Given that, McConnell's opposition essentially guarantees that the bill will not go anywhere.
Even if it did pass the Senate, though, there's little indication that it will go anywhere in the House. As with McConnell, Speaker of the House Paul Ryan has said he sees no reason to bring up a bill to protect Mueller, largely because he doesn't believe that Trump would ever actually fire Mueller. This view appears to be shared by key members of the GOP leadership in the House such as Majority Leader Kevin McCarthy, Majority Whip Steve Scalise, and Pete Sessions, the Chairman of the Rules Committee, which has significant control over what does and doesn't get to the House Floor. As with the Senate, there are ways to get a bill to the House Floor even when the controlling party's leadership opposes it but it is equally as cumbersome and also rarely successful.
Finally, of course, even if a bill passed both the House and Senate it would likely face a Presidential veto. In that case, both the House and the Senate would need to must a two-thirds majority to override the veto. In other words, it's extremely unlikely that this bill will ever become law.