S&P Debt Downgrade Leads To Same Old Washington Blame Game
The immediate reaction among the political class to the debt downgrade was the play the same old stupid games.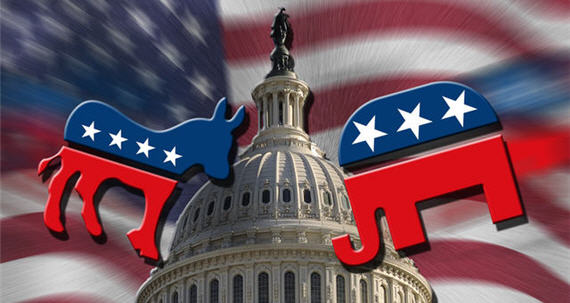 Not surprisingly,  Standard & Poor's announcement that it was downgrading U.S. sovereign debt has led to a round of political finger pointing as Republicans and Democrats seek to blame the opposing party for what happened:
Standard & Poor's delivered an unambiguous message to investors Friday that has serious implications not only for the nation's economy but also for President Barack Obama, the tea party and anyone else with skin in the 2012 elections:

America's political system is subprime.

The partisan battle lines were quickly drawn: Republicans blamed Obama for reckless overspending, and Democrats said tea party intransigence blocked the sort of "grand bargain" that might have fended off a downgrade. Sen. Jim DeMint (R-S.C.) called on Obama to fire Treasury Secretary Tim Geithner. Pragmatists in Congress took the report as a wake-up call to go for a big deficit-reduction plan, and the fret set crooned in unison, "We told you so."

Still, it was hard not to read the S&P analysis as a report card on Obama's oft-repeated pledge to cure Washington's hyper-partisanship, the promise that won him the White House in 2008.

And much as the credit agency knocked the U.S. credit rating to AA+, it didn't give passing marks to Obama's efforts either — producing a soundbite-worthy nugget for any Republican ready to use it: under Obama, we're not triple-A anymore.

"If Team Obama believes the first downgrade in our history occurring on his watch … is not going to be a boulder in his political backpack, they are delusional," veteran Republican strategist Mary Matalin told POLITICO Friday night.

GOP presidential contenders wasted no time jumping in. "America's creditworthiness just became the latest casualty in President Obama's failed record of leadership on the economy. Standard & Poor's rating downgrade is a deeply troubling indicator of our country's decline under President Obama," said former Massachusetts Gov. Mitt Romney.

Added former House speaker Newt Gingrich: "The Obama disaster continues. Highest food stamp level and lowest credit rating in history in the same 24 hours."
It wasn't just the right that jumped on the story as a way to gain political advantage, the left is going it too. Matthew Yglesias used it as an opportunity to attack John Boehner:
The person who looks bad here, in my view, is John Boehner. President Obama wanted to do a "grand bargain." The Gang of Six Senators wanted to do a "grand bargain." And it looked for a moment like Speaker Boehner was going to be part of a grand bargain. But ultimately he decided that he didn't want to sign a deal that would fracture his caucus, so the grand bargain talks fell apart. And yet the little bargain that did eventually pass the House ultimately couldn't pass with Republican votes alone. So what did Boehner really achieve? If he was ultimately destined to strike a deal with the White House that needed Democratic votes to pass the House, why not go for the grand bargain? According to Boehner "When you look at this final agreement that we came to with the white House, I got 98 percent of what I wanted. I'm pretty happy." How happy is he now?
While Greg Sargent's target of choice is Mitch McConnell:
S&P explicitly cites the use of the threat of default as leverage for policy ends as a sign that American governance is becoming dangerously unstable and unpredictable. But folks, Mitch McConnell has repeatedly said that use of default this way is a good thing. McConnell said this:

"I think some of our members may have thought the default issue was a hostage you might take a chance at shooting. Most of us didn't think that. What we did learn is this — it's a hostage that's worth ransoming. And it focuses the Congress on something that must be done."

McConnell also said this is something that should happen again in the future:

"What we have done, Larry, also is set a new template. In the future, any president, this one or another one, when they request us to raise the debt ceiling it will not be clean anymore. This is just the first step. This, we anticipate, will take us into 2013. Whoever the new president is, is probably going to be asking us to raise the debt ceiling again. Then we will go through the process again and see what we can continue to achieve in connection with these debt ceiling requests of presidents to get our financial house in order."
The problem is that this analysis, whether it comes from the left or the right, ignores what S&P actually said and the reasons that our bond rating has been downgraded:
We lowered our long-term rating on the U.S. because we believe that the prolonged controversy over raising the statutory debt ceiling and the related fiscal policy debate indicate that further near-term progress containing the growth in public spending, especially on entitlements, or on reaching an agreement on raising revenues is less likely than we previously assumed and will remain a contentious and fitful process. We also believe that the fiscal consolidation plan that Congress and the Administration agreed to this week
falls short of the amount that we believe is necessary to stabilize the general government debt burden by the middle of the decade.

Our lowering of the rating was prompted by our view on the rising public debt burden and our perception of greater policymaking uncertainty, consistent with our criteria (see "Sovereign Government Rating Methodology and Assumptions" June 30, 2011, especially Paragraphs 36-41). Nevertheless, we view the U.S. federal government's other economic, external, and monetary credit attributes, which form the basis for the sovereign rating, as broadly unchanged.

(…)

The political brinksmanship of recent months highlights what we see as America's governance and policymaking becoming less stable, less effective, and less predictable than what we previously believed. The statutory debt ceiling and the threat of default have become political bargaining chips in the debate over fiscal policy. Despite this year's wide-ranging debate, in our view, the differences between political parties have proven to be extraordinarily difficult to bridge, and, as we see it, the resulting agreement fell well short of the comprehensive fiscal consolidation program that some proponents had envisaged until quite recently. Republicans and Democrats have only been able to agree to relatively modest savings on discretionary spending while delegating to the Select Committee decisions on more comprehensive measures. It appears that for now, new revenues have dropped down on the menu of policy options. In addition, the plan envisions only minor policy changes on Medicare and little change in other entitlements, the containment of which we and most other independent observers regard as key to long-term fiscal sustainability.
S&P didn't just downgrade our debt, they downgraded our entire political system, and it's hard to argue that they're wrong in any of their conclusions. The past six weeks of debt ceiling negotiations, as well as earlier incidents such as the near government shutdown we experienced in April, the manner in which the Bush tax cuts were extended in December, the utter rejection of the rather reasonable recommendations of the Simpson-Bowles Commission, and even the 2009 health care reform debate are all examples of the manner in which our political system has become dysfunctional even when it comes to the rather basic legislative duty of budgeting. In fact, as Fred Bauer notes, what Standard & Poor's is asking of the United States isn't at all unreasonable:
S&P makes the following recommendations for the United States: increase revenue, improve the economy, and ensure that government can fulfill its routine fiscal responsibilities. Those aren't exactly bad points. High-wire political knife-fights may make for riveting blogging and TV, but they do not always reflect the utmost of fiscal prudence. Perhaps the US government should not dance to the tune of (far from infallible) ratings agencies, but S&P does have a worthy point in this: in order for our government to work in the long term, it must have some kind of governable consensus. We must also have an economics anchored in reality and not in ideology, and a fiscal politics of compromise and empiricism instead of flamboyance and wrath.
Daniel Drezner, Kevin Drum, and Robert Reich are among those who are questioning S&P's assessment of the American political system and arguing that it does not justify the extreme reaction of ratings downgrade. While their points are mostly well-taken, the general attitude of their arguments strike me as the equivalent of the "hear no evil, see no evil, say no evil" mentality. S&P has given us some really bad news, but ignoring it isn't the proper response, neither is using it as just another opportunity to score political points. In fact, that type of reaction just serves to reinforce the point that the report makes about the dysfunction in American politics.
As David Weigel notes, the solutions to the problems raised by Standard & Poor's are not impossible, and they're well within our reach, the question is whether our political system will allow them to be implemented:
We actually have all the tools we need to recover the bond rating. The question is whether our political actors do that, or whether they see the openings to craft political narratives. Obama shouldn't have spent so much! (That spending included around $400 billion of tax cuts in the stimulus and $500 billion in the November 2010 Bush tax cut extension.) The Tea Party blew up the process! (More true — I don't see how the passage of Cut, Cap, and Balance, with its requirement that the states force a Balanced Budget Amendment into effect over the next few years, after which point we need supermajorities for tax hikes… yeah, not quite sure how this gets us out of this!) It's easier to imagine a round or 10 of political point-scoring than, for the first time, some sober assessment of what's going on.
The best thing that could come out of this downgrade would be that it could indeed serve as a shock to the system, and that everyone involved in the processes of government would see this is a moment to end the partisan games and come up with real, long term solutions to our problems. They won't be easy, and they will require both sides to give in a little bit on some of their scared cows. Entitlements will have to be reformed, drastically. Health care costs will, somehow, have to be brought in line. The entirety of the Internal Revenue Code will need to be reformed (and, yes, that might mean that some people might see their taxes go up at some point in the future). The absurd practice of baseline budgeting will have to be ended. And all spending will have to be on the table for cuts. At this point, it's going to be hard to do any of this without some pain being felt. However, if we do nothing and just continue with the way things are, we will have let this Sputnik Moment pass us by and there will be more downgrades to come in the future.
The ball is in your court, Washington. Don't mess this up.