The Key Number: Two Hours
The pivot point in the impeachment charges: two hours of silence.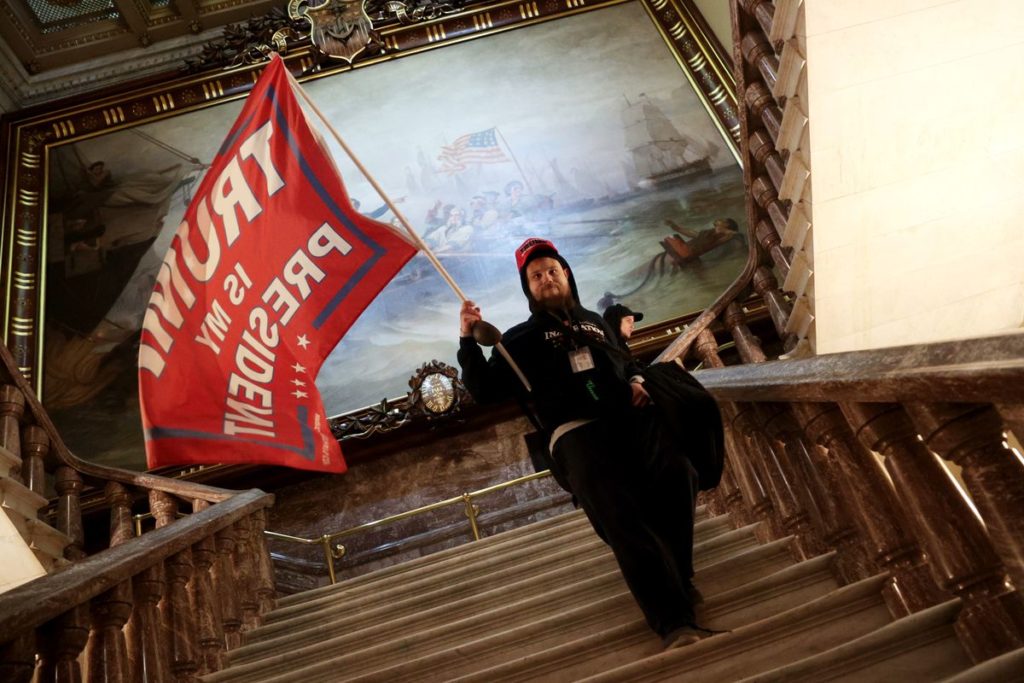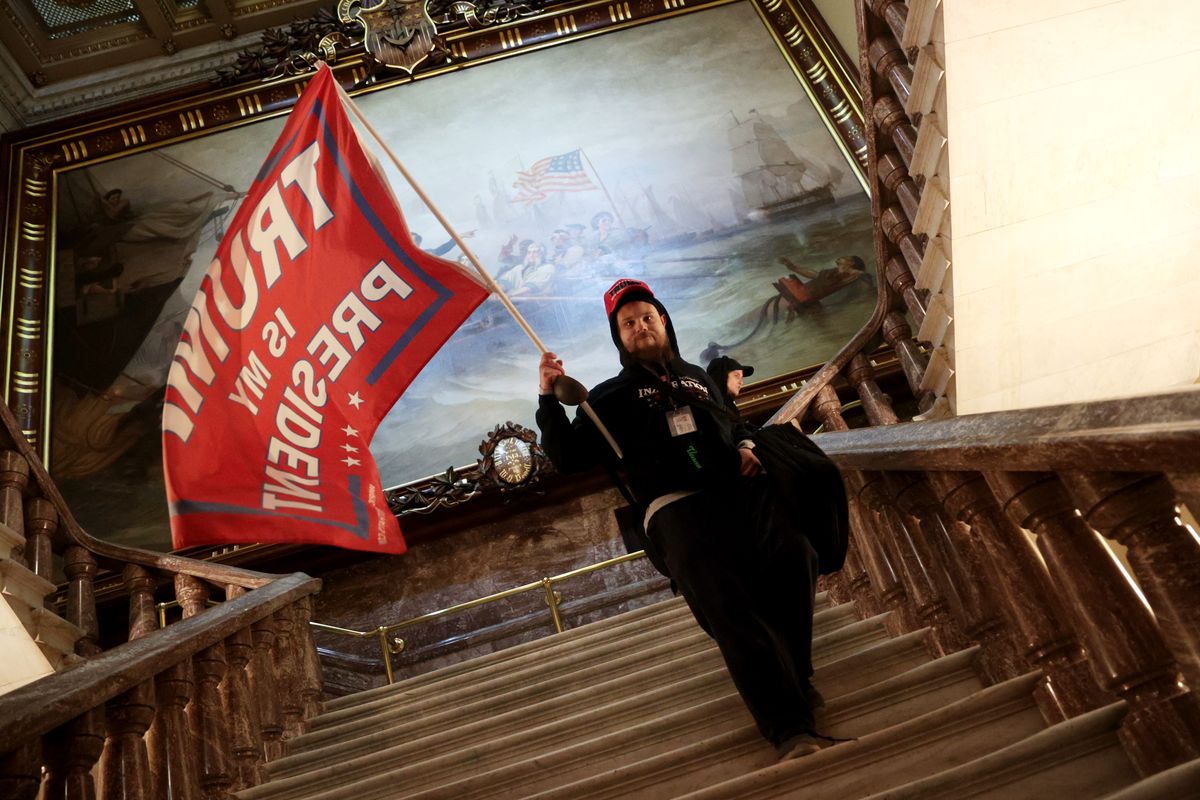 I know that I am retreading ground that I wrote about a couple of weeks ago, but as I watch the Republican Party work mightily to talk itself into the notion that Trump does not deserve constitutional sanction for his actions on January 6, 2021, I say: two hours of silence.
To Senator Paul (R-KY), who downplayed the events of January 6th thusly on the floor of the Senate last week, I say: two hours of silence.
I want the Democrats to raise their hands if they have ever given a speech that says, take back, fight for your country. Who hasn't used the words fight figuratively? And are we going to put every politician in jail? Are we going to impeach every politician who has used the words fight figuratively in a speech?
To pretend like that some standard political cliches are what is being dealt with by the article of impeachment is profoundly disingenuous. And anyone who wants to convince themselves that all of this is about fleeting fiery rhetoric, I give you the opposite: two hours of silence coupled with kind, soothing words.
Here's the simple version (with even more detail below).
~2:10pm eastern time: live video of protesters with Trump flags and MAGA hats streaming into the US Capitol starts. Reports and video of violence and mayhem continue on TV, including a report of a shooting (video of the aftermath was tweeted out).
4:17pm Trump issues a video via Twitter telling the protesters to go home in peace. In that statement he sympathized with the insurrectionists, telling them, among other things (full text down below) that he "loved" them and that he understood them.
So, for roughly two hours the President of the United States did nothing to try and stop a mob flying and wearing his colors.
Any other president would have been on national television to try and talk down the mob. This should not be a partisan issue.
Consider the following.
Option one: if he didn't want his supporters to attack the capitol, then he could have gone on TV and Twitter to tell them to stop (he did not do either).
Option two: if he thought it was Antifa (or whatever version of that he wanted to assert), he could have gone on TV and Twitter and denounced the fake crowd and distanced himself from it (he did not, and again, he said kind things about the mob).
He chose option three: watch it all on television while calls were being made to allies in the Senate to lobby them to vote against electoral slates.
What other explanation can there be than he was in support of what the mob did?
He watched (there is zero doubt he knew exactly what was going on).
He did not use the most obvious tools at his disposal to quell the mob (he did not use TV nor Twitter to communicate). And there was no immediate action to use federal law enforcement nor the National Guard to deal with the situation.
He never addressed the nation in any substantive way about these events. He released a few short videos. The US Capitol was assaulted, a police offer was killed by the mob, and others died as a result, the President of the United States couldn't be bothered to address the American people.
He did have time, however, at 4:17 and later at 6:01, to validate the feelings of the insurrectionists.
6:01 p.m. Trump tweets a message to his supporters. "These are the things and events that happen when a sacred landslide election victory is so unceremoniously & viciously stripped away from great patriots who have been badly & unfairly treated for so long. Go home with love & in peace. Remember this day forever!"
I do not understand how anyone can defend this, unless one thinks that yes, the election was stolen, and therefore that violence was warranted against the US Capitol, the Congress of the United States, and the Vice President. If one is in that camp, then one has quit regular politics in support of violence and insurrection with all the implications that entails.
---
A more detailed version is as follows:
Insurrectionists carrying Trump flags and wearing MAGA hats, many (most? all?) of whom had been attending a Trump speech just prior, stormed the US Capitol on live television starting at somewhere between 2:00 and 2:15 eastern time. Not only does the reporting confirm this but I can confirm seeing live streaming myself at least by 2:15 eastern (I think I had the WaPo feed on mute on my computer as I was about to enter a video meeting at 2:30 eastern).
As the insurrectionists streamed into the Captiol, Trump tweeted (and later deleted):
2:24 p.m. Trump tweets criticism of Vice President Pence: "Mike Pence didn't have the courage to do what should have been done to protect our Country and our Constitution, giving States a chance to certify a corrected set of facts, not the fraudulent or inaccurate ones which they were asked to previously certify. USA demands the truth!"
Keep in mind that it was clear that a huge number of the crowd had their phones. There can be little doubt some of those in the building saw this tweet. Also, keep in mind that Trump had told the crowd a little over an hour prior:
if Mike Pence does the right thing, we win the election. All he has to do. This is from the number one or certainly one of the top constitutional lawyers in our country. He has the absolute right to do it. We're supposed to protect our country, support our country, support our constitution, and protect our constitution. States want to revote. The States got defrauded. They were given false information. They voted on it. Now they want to recertify. They want it back. All Vice-President Pence has to do is send it back to the States to recertify, and we become president, and you are the happiest people.
Some of the crowd chanted "where's Mike Pence?" and "hang Mike Pence!" as they breached the building and roamed the halls of the US Capitol.
During the breach, Rudy Giuliani and Donald Trump were making calls to lobby Senators. Consider that for a moment: members of Congress were sheltering in place at undisclosed locations because of a clear and present danger to their safety and the President and his lawyers are making calls from the White House to lobby to have legitimately cast and certified electoral votes tossed out.
One more time for the back of the room: the President used a moment of violence to try and leverage his political position, a position that required overturning an election.
(Note: even if he sincerely believed that some of the slates should be rejected, that does not justify him trying to leverage violence against members of Congress to get his way. Thinks about that for a moment).
After watching the violence for two hours and trying to use that time to his political advantage, he makes a video wherein he says this (in full):
I know your pain, I know you're hurt. We had an election that was stolen from us. It was a landslide election and everyone knows it, especially the other side. But you have to go home now. We have to have peace. We have to have law and order. We have to respect our great people in law and order. We don't want anybody hurt.

It's a very tough period of time. There's never been a time like this where such a thing happened where they could take it away from all of us — from me, from you, from our country. This was a fraudulent election, but we can't play into the hands of these people. We have to have peace. So go home. We love you. You're very special. You've seen what happens. You see the way others are treated that are so bad and so evil.

I know how you feel, but go home, and go home in peace.
This is a message of sympathy and solidarity with a crowd that vandalized the US Capitol, threatened the safety of Congress and the Vice President, killed a Capitol police officer, and contributed to the deaths of at least four others.
Sympathy.
Solidarity.
And issued on Twitter directly to them.
(And he is lying about the election being stolen. There has been no evidence presented to back this claim. Indeed, all the evidence shows a free a fair election).
And, again, no immediate addressing of the American people (there would be some stilted video messages later). I cannot think of another American tragedy in my lifetime of the scale of having the US Capitol stormed that the President did not address the public live from the White House.
A man who could not be bothered to act for two hours as violence was perpetrated against the US government and who expressed sympathy and solidarity for the perpetrators deserves to be barred from holding federal office, as the US Constitution allows, plain and simple.
And those facts don't even require discussing the way in which he clearly fomented the violence in the first place with his words.
And if anyone is reading this thinks I am compromised because of my electoral preferences in 2016 and 2020, or because I am a pointy-headed intellectual who dwells in the halls of Ivory Towers, I give you Liz Cheney (she of deep Republican roots and from an arch-conservative political family):
The President of the United States summoned this mob, assembled the mob, and lit the flame of this attack. Everything that followed was his doing. None of this would have happened without the President. The President could have immediately and forcefully intervened to stop the violence. He did not. There has never been a greater betrayal by a President of the United States of his office and his oath to the Constitution.
And Mitch McConnell (the Leader of the Republicans in the Senate):
The mob was fed lies. They were provoked by the president and other powerful people, and they tried to use fear and violence to stop a specific proceeding of the first branch of the federal government, which they did not like.
Trump deserves to be barred from future office and to have his post-presidency perks removed. The fact that Leader McCarthy was down in Florida to try and get Trump's support is a sad indictment of the direction the GOP is heading. Republicans who do not want to see the party go down that road should support Trump's conviction in the Senate.