The Narrative Abides
Iowa and New Hampshire voters are changing the perception of the race.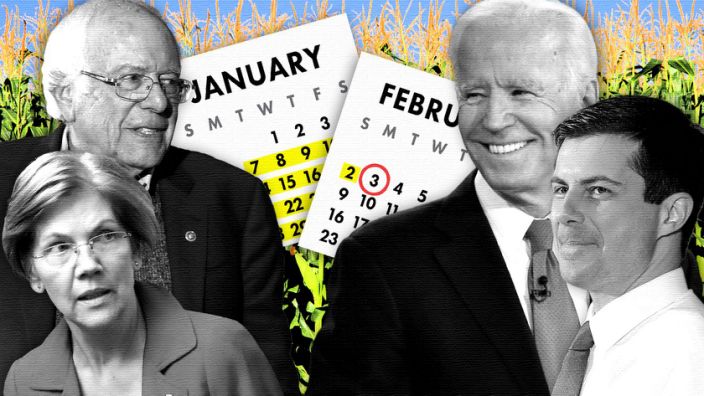 On the morning of the Iowa Caucuses, I pointed out that the race for the Democratic nomination remained exactly as it was when it began: with Joe Biden in the lead and Bernie Sanders and Elizabeth Warren vying for second and third. With none of the other candidates having reached double digits in the national polling after umpteen debates and fourteen months of campaigning, I postulated that one of the three—and "probably Biden"—would win the nomination.
After Iowa, I contrasted this view with that of "the narrative." That is, the media's focus on Iowa and New Hampshire—wildly unrepresentative though they may be—as testing grounds proving the viability of candidates. While I have conceded that the narrative seems to be winning—Sanders and Pete Buttigieg got boosts from their showing in Iowa, even despite the messiness of the process, while Biden took a hit—I've argued that the whole thing is absurd. It's not 1976 anymore and we're saturated with minute-by-minute coverage rather than waiting to see what Walter Cronkite had to say.
Clearly, the narrative is winning.
Steven Taylor's post-New Hampshire hot take of last evening is being echoed by the national media this morning. Sanders is seen as the prohibitive frontrunner after his strong second-place finish Iowa and win in New Hampshire. Buttigieg is now seen as highly viable after winning Iowa and finishing a strong second in New Hampshire. Amy Klobuchar, who had been an afterthought, has new life after a mere third-place finish in the Granite State. Biden is seen is in a death spiral, needing a win in South Carolina to have any chance at all. And nobody is talking about Warren at all.
And, even though he joined the race too late to qualify for either of those contests, Mike Bloomberg is suddenly seen as a viable contender for the role of non-Sanders centrist.
The whole thing seems farcical to me. The delegates awarded thus far amount to a rounding error in the nominating process. And Iowa and New Hampshire are tiny, insular, and lily-white. Why their votes would have any impact on my estimation of Biden or Warren, both of whom have the resources to go the distance, is beyond me. (I get why an Andrew Yang would drop out and why those who prefer other marginal candidates would finally give up and choose from among those with a chance.)
But, of course, I'm a wildly atypical voter. While I still don't have a strong preference between Biden and Buttigieg, I've been paying a lot more attention than most for a lot longer. Rather clearly, a lot of Biden's "support" thus far has been a function of name recognition and affection for the Uncle Joe of the Obama years. And, apparently, some significant number of even the sort of person who goes out into the cold Iowa winter to caucus are just now figuring out the Buttigieg is gay.
That all said, we shouldn't over-react to Iowa and New Hampshire. While it's true that showing poorly in both of them has historically been a bad sign, we've never had this many well-financed candidates.
And there is precedent—think John Kerry in 2004, John McCain in 2008, and even Mitt Romney in 2016—of candidates who were early favorites, became perceived as also-rans, and ultimately won the nomination. (Of course, all three went on to lose in the general.)
Sanders is now the frontrunner, both in media perception and in the national polls. But I'm not persuaded that he's nominateable. Even aside from calculations over "electability," I just think he's too cranky and unlikable to maintain plurality support when we start getting outside sleepy hamlets.
I still think Warren, in particular, shouldn't be counted out. She's just too energetic, well-organized, and well-funded to give up any time soon.
I'm more worried about Biden than I was a week ago. Not so much because of his thin support in two unrepresentative states but because his reaction thus far seems to be of a man defeated. There was always concern as to whether he was too old and lacked the fire in the belly for the long haul. There's more reason to wonder that now.