Unrepresentative Democracy and Child Labor
We're getting weird policies almost nobody is asking for.
I can't help but think that two stories in my feed this morning are related.
Axios ("Our lawmakers are more religious than we are"):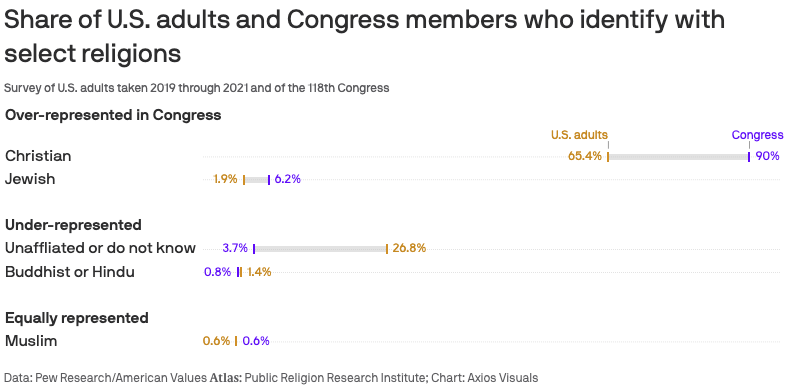 Members of Congress are more Christian — and more religious — than the American public by wide margins, according to an analysis of data reviewed by Axios.

Why it matters: The discrepancy — a trend also present in state legislatures — provides a window into why policies and debates on abortion, LGBTQ rights and other issues often don't reflect what Americans want.

It also shows how the nation's two-party system, with its partisan primaries, favors candidates who openly profess a faith — even as the number of people unaffiliated with a religion is growing.

By the numbers: About 90% of those in Congress say they practice some form of Christianity, from Catholicism to conservative evangelicalism to progressive Unitarianism, a survey by Pew Research Center and Axios found.

But the latest survey by the nonpartisan Public Religion Research Institute's American Values Atlas found that only 64% of Americans identify as Christian — and the percentage has been dropping.
Less than 4% of Congress members say they're unaffiliated with religion or don't know. PRRI's survey says nearly 27% of the general public is unaffiliated.

Zoom in: In today's politics, the success of conservative and evangelical Christian Republicans in pushing their agenda has created large gaps between lawmakers' priorities vs. public sentiment.

Since the Supreme Court's decision last year to overturn the constitutional right to abortion, for example, Republicans and some conservative Democrats in Congress have blocked efforts to codify abortion rights.
As a result, Republican-led state legislatures have passed waves of restrictions on abortion at a time when roughly six in 10 U.S. adults believe abortion should be legal in "all or most cases," according to a 2022 Pew Research Center survey.
There's been a backlash, though: Some Republican leaders cite abortion as a big reason the party has lost several elections in recent months.

Conservative Christians and evangelicals also have led a movement to restrict LGBTQ rights at a time when most Americans support gay rights and same-sex marriage.

This year, conservatives in Washington and in several states have focused on restricting the rights of transgender people — particularly trans girls and women who are athletes.
On Thursday, the U.S. House followed several state legislatures in passing a bill that would bar trans girls and women from competing in sports designated for women.
Polls indicate Americans support protecting trans people from discrimination, but that they're uneasy about allowing trans athletes to compete in women's sports.
The House bill has no chance of passing the Democrat-led Senate or being signed by President Biden.

What they're saying: "We are at a place in the country right now, where in many states the country has shifted, but the composition of our elected officials has certainly not kept up," said Robert P. Jones, CEO of PRRI.

In Texas, where white evangelicals dominate the Legislature, only 15% of the state's residents identify as white evangelicals, while 20% of all residents are religiously unaffiliated, Jones said.
Such differences there and nationwide have created discrepancies between elected officials and the general public on climate change, book bans, race relations and trans rights, he said.

Yes, but: There's a different type of religious gap between some Democrats and the general public.

Black and Latino members of Congress, mostly Democrats, almost all identify as Christians — even as the number of religiously unaffiliated Black and Latino Americans continues to rise.
A Pew Research Center survey found that Latinos with no religious affiliation went from 15% in 2009 to 23% in 2019.
WaPo ("The conservative campaign to rewrite child labor laws"):
When Iowa lawmakers voted last week to roll back certain child labor protections, they blended into a growing movement driven largely by a conservative advocacy group.

At 4:52 a.m., Tuesday, the state's Senate approved a bill to allow children as young as 14 to work night shifts and 15 year-olds on assembly lines. The measure, which still must pass the Iowa House, is among several the Foundation for Government Accountability is maneuvering through state legislatures.

The Florida-based think tank and its lobbying arm, the Opportunity Solutions Project, have found remarkable success among Republicans to relax regulations that prevent children from working long hours in dangerous conditions. And they are gaining traction at a time the Biden administration is scrambling to enforce existing labor protections for children.

The FGA achieved its biggest victory in March, playing a central role in designing a new Arkansas law to eliminate work permits and age verification for workers younger than 16. Its sponsor, state Rep. Rebecca Burkes (R), said in a hearing that the legislation "came to me from the Foundation [for] Government Accountability."

"As a practical matter, this is likely to make it even harder for the state to enforce our own child labor laws," said Annie B. Smith, director of the University of Arkansas School of Law's Human Trafficking Clinic. "Not knowing where young kids are working makes it harder for [state departments] to do proactive investigations and visit workplaces where they know that employment is happening to make sure that kids are safe."

That law passed so swiftly and was met with such public outcry that Arkansas officials quickly approved a second measure increasing penalties on violators of the child labor codes the state had just weakened.

In Missouri, where another child labor bill has gained significant GOP support, the FGA helped a lawmaker draft and revise the legislation, according to emails obtained by The Washington Post.

The FGA for years has worked systematically to shape policy at the state level, fighting to advance conservative causes such as restricting access to anti-poverty programs and blocking Medicaid expansion.

[…]

The youth hiring or employment bills, as they are often titled, represent growing momentum among conservatives who contend that parents and not government policy should determine whether and where 14- and 15-year-olds should work.

"When you say that a bill will allow kids to work more or under dangerous conditions, it sounds wildly unpopular," Campbell said. "You have to make the case that, no, this is really about parental rights, a very carefully chosen term that's really hard to disagree with."
I've noticed, as I'm sure most of you have, the trend toward moving backward on child labor but had wondered where it was coming from. It's too reductive to say that Republicans are controlled by "big business," since that's less true than it was even a decade ago and yet this push seems new. But I think the Axios take on the Pew survey helps explain it: those making the laws are simply wildly out of sync with those they represent.
We've spent a lot of time over the years discussing the unrepresentative—indeed, undemocratic— features inherent in America's political institutions. While we've mostly focused on structural features like the overrepresentation of rural interests in the House of Representatives and the Electoral College as well as the inherent weirdness of winner-take-all voting, the party primary system gets less attention. Given that, in most elections, there is at most two political parties who can realistically win a given office, the fact that the party candidates are chosen in a separate contest in which only the most rabid partisans tend to show up further skews the outcomes.
I would wager there are few Americans, indeed, clammoring for more child labor. And yet we're getting it.