Wall Street Won't Fix Our Problems
American has real economic and social problems. But the solution in on Capitol Hill, not Wall Street.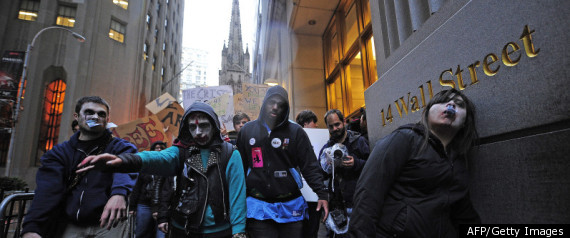 While we spent the day on an outing with the girls, an interesting dialogue developed in the comment threat of my "Occupy Wall Street Dirty Hippie Meme Won't Go Away" post.
Despite the views of some commenters, there is no orchestrated campaign here at OTB to dismiss this protest. For my own part, at least, I'm trying to figure out a burgeoning phenomenon that's been going on for about a month but only started getting significant attention about a week ago. The point of that particular post is that I'm genuinely fascinated that sympathetic outlets are focusing so much on the negative externalities. Given that large crowds typically produce a lot of waste, these people are either particularly rude and destructive or they've otherwise managed to alienate their target audience. I'd have expected Jon Stewart to have been trying to debunk the smelly hippie meme, not devote a really long segment to supporting it.
My default position on protest movements is that they're mostly populated by the usual suspects who have nothing better to do and can be counted on to show up to protest any damn thing. I'm now seeing this is a younger, more urban counterpart to the Tea Party. The latter has matured into a potent political force; I'm still trying to figure out the path to that becoming the case for Occupy Wall Street, given that it seems to be aimed at the business community rather than the political class.
The Tea Party movement consists mostly of the sort of people that I grew up around and support a cruder version of my own political agenda. Electorally, they're my allies, although ones that I view as at least as destructive as they are helpful because of their zeal. Yet, most of what I've written about the movement has been negative, because I disapprove of the hostile, almost war-like rhetoric and tone and because I find their agenda extreme and unworkable.
Like Doug, I haven't quite figured out the agenda of Occupy Wall Street. But I find the movement's incoherent agenda more amusing than a cause for derision at this point. It's the nature of nascent movements–and often mature ones–that they attract strange bedfellows.
Doug has focused on the "We Are the 99 Percent" tumblr page, which is a series of personal stories from Occupy Wall Street supporters explaining why they are so angry. From the Political Scientist From Mars vantagepoint, much of it is silly. From a human standpoint, it's mostly poignant.
I'm actually more sympathetic than Doug to the people whining about student loans, this despite having managed to get three degrees without taking one out by working my way through. I'm actually quite worried about the disappearance of the middle class and people who "follow the rules" still in serious of danger of being left behind.
The fellow with the topmost post at the moment is a good example: "I am 59 years old with a Master's degree. I do not have a full time job. I have four part time jobs. I never stop working. My $40,000 in student loan debt has become $60,000 from periodic forbearance." On the one hand, why is a 59-year-old man still paying off student loan debt? What does he have a master's degree in that he can't land one job? On the other hand, he probably lost his job and thought going back to school was the smart move. In this economy, though, not so much. And this is pretty sad: "I have healthcare because my wife goes to work at a job she hates everyday. We are grateful for that."
The fellow below him is an even more sad case.
I am over 25,000$ in debt. I have serious panic and anxiety attacks but the medication costs 150$ a month. Im a single parent who can't afford to live on my own. Half of my family can't find work (father, neice, brother ) and the rest of us cannot afford to live on our own (me, sister, her adult son) so we live together. My daughter sleeps on a mattress on the floor in my room, and i work so much i often get less than 1 hour a day to spend with her. My other sister found work on the road, so im taking care of her two boys as well. I'm forced to call about bills each month to tell them i can't pay till next month. I travel and work 60hrs a week as a manager, and yet i still make less than the cost of living. My mother died last year because she couldn't afford the treatment she needed to attempt to survive, and now my father is sick as well. Im worried that my daughter will have a worse life than the hell we live in now. I have worked my life away for the last 14yrs and i can pack everything i own into the back of a pickup truck because i sold everything else to pay bills.
I don't know anything about this man or the choices he and his family have made but it's a hopeless existence. Even if the adults all made a lot of really stupid choices, the kids are at no fault here. But his closer gets us back to the skepticism I have about the political aims of the movement, despite sympathy for the human causes:
WE ARE THE 99% we need liveable wages, a ban on outsourcing, CEO wage caps, return of real benefits, raise min wage and freeze inflation!
The notion that we can simply pay people a whole lot more money, give them fantastic benefits, and compete in a global economy just doesn't compute. Certainly, paying CEOs less isn't going to accomplish this. And, of course, we've more-or-less wrung inflation out of our economy for three decades now. Some actually think that's a major source of our current problems.
But I'm in agreement with Megan McArdle here:
But quibbling rather misses the point. These are people who are terrified, and their terror is easy to understand. Jobs are hard to come by, and while you might well argue that any of these individuals could find a job if they did something different, in aggregate, there are not enough job openings to absorb our legion of unemployed.

When the gap between the number of job openings and the number of people who are out of work is so large, there are going to be a hefty number of unemployed people. Maybe these people individually could have done more to get themselves out of their situation, but at the macro level, that would just have meant that someone else was out of work and suffering.

I think it's hard to read through this list of woes without feeling both sympathy, and a healthy dose of fear. Take all the pot shots you want at people who thought that a $100,000 BFA was supposed to guarantee them a great job–beneath the occasionally grating entitlement is the visceral terror of someone in a bad place who doesn't know what to do. Having found myself in the same place ten years ago, I can't bring myself to sneer. No matter how inflated your expectations may have been, it is no joke to have your confidence that you can support yourself ripped away, and replaced with the horrifying realization that you don't really understand what the rules are. Yes, even if you have a nose ring.
Indeed. About twenty-five years ago, my dad was facing that sort of crisis. He'd retired from the Army after twenty years, gotten his GED and an associate's degree along the way, and gotten jobs in retail management. After a brutal stint with a regional drug store chain, working as many as 90 hours a week and then enduring a 60 minute commute, he'd landed a position as manager of a local electronics store. He'd turned it, in relatively short order, into a three-store chain. And then, suddenly, the owners decided to fire him and run the business themselves.
Here he was, 43 or 44 years old, having worked hard every day since he was 16 or 17, played by all the rules, and the sole breadwinner for a family. After several months unable to find suitable employment–the combination of needing to replace a moderately good income, being middle aged, and living out in the middle of nowhere–he finally used his GI Bill to go back to school and finish his bachelors degree. He thankfully managed to find a decent job in the meantime, finishing up school at nights, and was never unemployed again. But I don't think he ever recovered from that period of fear, helplessness, and vulnerability.
I've been more fortunate, having not only graduated college before starting my career but going on to get a PhD. But I've been unemployed more than once, including a whole year between my first teaching gig and my second. But I didn't have a family to support at the time or any villains to blame for my plight other than the odd vicissitudes of the academic job market.
The world's a scary place right now, especially if you don't have a job. And I know quite a few people with very good jobs who are in genuine worry about losing them with no prospect of landing in a similar situation if that happens. The economy is changing faster than it has in living memory and perhaps ever in history. And I haven't the foggiest idea of how we'll manage to keep the lifestyle to which we've become accustomed while competing with the likes of China and Vietnam.
At the same time, I'm pretty sure Wall Street isn't the place to look for solutions. Oh, they got greedy and stupid and had a pretty large role in creating this mess we're in. I thought we should have let the big firms that made bad investments go under, let investors take their lumps, and then let smarter people swoop in and buy up the good assets. But they managed to convince the political elites of both parties that they were Too Big To Fail and we instead rewarded them with massive bailouts, which both made them whole and further damaged our economy.
None of that's right.  I'm for fixing some of the flaws in the system that lets them make extraordinary profits while putting the burden of failure on society. And I'm for taxing their income as earnings rather than long-term investments. But none of that's going to do a whole hell of a lot to fix the plight of the two 99-percenters quoted above.
Two common themes in the stories above, which run through many of the tales of woe on the site, are the crippling burden of health care costs and massive debt from student loans. These aren't problems that Wall Street, or corporate America more broadly, can solve.
In the past, most people with good  jobs got decent medical benefits from their employer. But that was really a poor system–and one that often trapped people in their current job. Most other advanced countries have universal, centralized health benefits with some private component. We simply have to move in that direction. The current model is unsustainable. (My problem with ObamaCare is that it did little to solve the problem while actually making other aspects of the problem much worse.)
As recently as when I was an undergraduate 25 years ago, tuition at state universities was quite affordable even for lower middle class families. When I started at Jacksonville State in 1986, tuition was $400 a semester. I was able to pay that as I went through a combination of Army Reserve duty and a $100 monthly ROTC stipend.  Over the last two decades, though, most states have supported an ever-decreasing fraction of the costs, passing more of it on to the students.
Most other advanced societies see university education the way we do primary and secondary education: a necessary part of the human capital infrastructure. In many European countries, tuition is free. But those societies don't allow every 18-year-old with a pulse in to their universities, either. Nor do most of the people who start college waste a year or two figuring out that they're not college material. We've got to rethink the whole system, figuring out how to get people the education and training they need to succeed in life. Most people don't need a classical education.
Fixing these problems will help a lot, as people will start off their working lives whole, rather than tens of thousands of dollars in debt and will at least have a safety net if they get sick. But it's not going to do much for the nine percent who can't find a job.