Warren Can't Win
96 percent of the delegates have yet to be awarded. How can the race be down to two?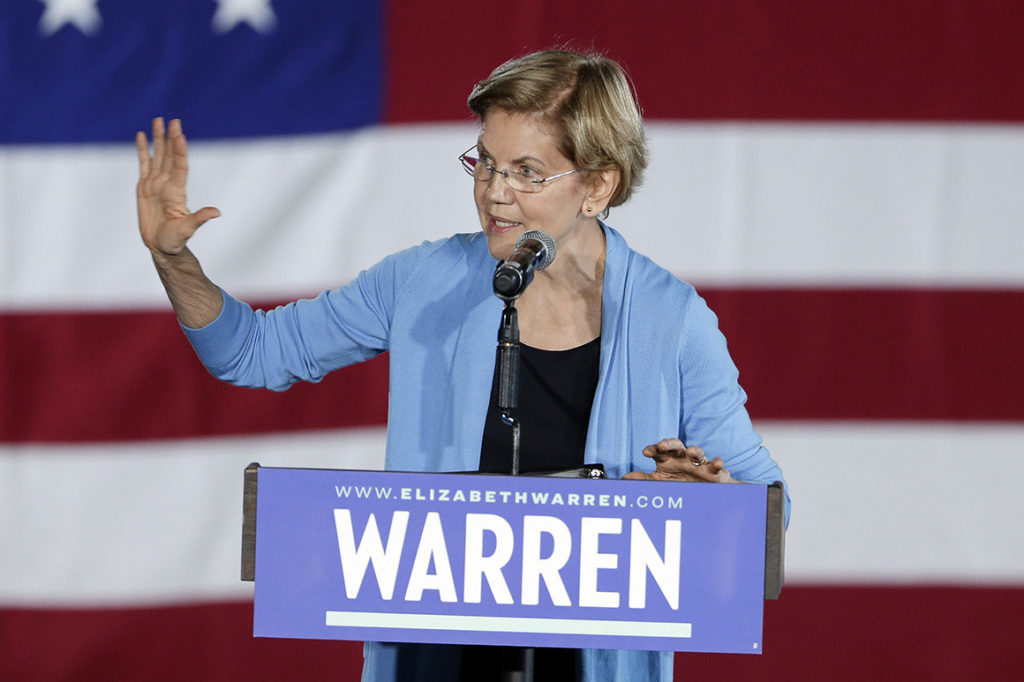 After Joe Biden's win in South Carolina turned the Democratic primaries into a two-man race, I called for all the candidates who couldn't win to drop out. And I questioned Elizabeth Warren's decision to double down on attacks on the remaining candidates, arguing that it would damage the eventual nominee's chances against Donald Trump in November.
By the end of that day, Pete Buttigieg had dropped out. Yesterday, Amy Klobuchar did the same. Both, along with Beto O'Rourke, flew to Texas to endorse Biden to forge an anti-Bernie Sanders consensus.
But Warren has vowed to fight on at least through the end of March and seems to have the money to do so.
New York's Sarah Jones came out yesterday arguing "It's Time for Elizabeth Warren to Drop Out." Her argument is similar to mine but, as a woman, is less likely to be attacked as sexist.
Elizabeth Warren may not even win her own state tomorrow. Though a recent Boston Globe/WBZ TV/Suffolk University poll shows Warren neck-and-neck with Bernie Sanders in Massachusetts, FiveThirtyEight's polling average shows Bernie Sanders with a five-point lead overall, and Warren's lack of an obvious lead does not portend great things for her candidacy. Second place would be an ignominious result for Warren, and yet it would be her highest finish of the primary. Massachusetts remains the only Super Tuesday state that Warren could feasibly win. There is one way for the senator to preserve her dignity while advancing the progressive cause she espouses, and that is to drop out of the race — and endorse Sanders.
Now, as someone who plans to vote for Biden this afternoon, I'd prefer she not do that. But it does seem to be the right move if she wants a progressive to win the nomination.
POLITCO's Alex Thompson, writing after South Carolina but before the Buttigieg and Klobuchar withdrawals, explains "Why Elizabeth Warren thinks she can still win the nomination."
Elizabeth Warren can win debates, but not states: There's a chance she will walk away from Super Tuesday having not carried any of the first 18 contests, including her home state of Massachusetts.

Yet she, her campaign and their close allies say she's in the race all the way to the convention, despite her latest drubbing in South Carolina on Saturday. They insist she still has a path to the nomination, narrow as it is.

Warren's strategy, laid out in conversations with more than a half-dozen of her aides and close allies, relies largely on outlasting several of her less well-financed rivals and trying to collect their supporters when they drop out. One aide told POLITICO that the campaign thinks multiple candidates will withdraw in the next 7 to 10 days, shaking up the race.

The aide didn't name names, but outside allies did. "Others like Pete [Buttigieg] and Amy [Klobuchar] have had feel-good blips of momentum, but will enter Super Tuesday without strength," said Maria Langholz, press secretary for the Warren-aligned Progressive Change Campaign Committee. "[Warren] enters Super Tuesday with lots of groundwork laid, two fantastic debate performances during early voting in upcoming states and an overall position of strength."

Warren advisers believe she can remain in the hunt by collecting a significant number of delegates on Super Tuesday and then again on March 10 — they are optimistic about California, Colorado, Texas, Michigan and Washington — even if they don't win any states outright. Campaign manager Roger Lau said earlier this month that Warren was "poised" to finish second in eight Super Tuesday contests and in the top three in all 14.

The team is also more openly discussing what it has been talking about internally for weeks. Warren's path to victory is likely at a contested convention and not by outright winning a majority of pledged delegates, which they believe no other candidate will achieve, either.
I've guessed multiple times that this was her strategy. I don't see how it succeeds but she's welcome to try it. I just wish she wouldn't take a scorched earth approach at this juncture given the longness of the odds.
Ben Matthis-Lilley, though, offers the ultimate Slate-pitch with "You Can Still Vote for Elizabeth Warren if You Think She'd Be the Best President."
Morning broke on Monday, and, with the news that Pete Buttigieg has dropped out of the Democratic presidential primary, it apparently became smart to say that the race is now between Bernie Sanders and Joe Biden and no one else. Here's a dissenting view: That's absurd! Forty-six states have yet to vote, including the 22 most populous states; 96.1 percent(!) of the convention delegates that Democrats will vote to award remain unawarded. As Biden's performance in South Carolina shows, a candidate's narrative momentum can be reversed in a single day. No one is out of the race until they are out of the race.

One of the other people who are still in the race, fatalistic over-extrapolation of very recent trends aside, is Elizabeth Warren. If you are a Democrat and polls are correct, you would probably be OK with her becoming the nominee. It might also be relevant to you that she's not a nearly 80-year-old man who has recently experienced heart problems, evident cognitive decline, or being embarrassed by Elizabeth Warren on national television. So why not vote for her—which, again, if polls and on-the-ground reporting are correct, is probably something you've already considered doing?
This is followed by a lot of paragraphs explaining why he thinks Warren is better than Bernie or Biden and why she hasn't done better thus far. But nothing about how she can actually, you know, win the nomination. He closes with,
Don't play yourself! If other people don't like the candidate you like, let them vote that way on their own time. It's still too early to give anyone else control over your vote. Aspire to full participation in a political system where whatever the most people ask for is what they get. A democracy, if you will. Will you?
Intuitively, this makes all the sense in the world. Thus far, only four states, none of them particularly large, have voted. California, far and away the largest state, votes today—and Warren is projected to come in a strong second there.
Further, the momentum clearly changes. Buttigieg won Iowa and came in second in New Hampshire but soon ran out of Schlitz. Biden was in free fall before South Carolina and is suddenly a strong favorite in the FiveThirtyEight projections.
It really doesn't make any sense to say that Warren is toast. But, barring some bizarre development where the Democratic convention falls behind the third or fourth-place finisher, she's toast.
She has done poorly thus far in winning delegates—essentially the same as Klobuchar and far worse than Buttigieg—but has attracted more money and has thus stayed in the race. But there's simply no way for her to catch up at this point and emerge with the most pledged delegates.
Partly, that's because the polls show her to continue doing poorly—which, granted, is something of a self-fulfilling prophecy. Mostly, though, it's because the semi-proportional system the Democratic Party has established for awarding delegates means she can't win enough votes even if she somehow starts winning states.
If Biden and Sanders do as well as projected in today's Super Tuesday states, the math is literally impossible. Indeed, she's likely to be in fourth place at the end of the day, far behind Bloomberg. It's conceivable she'll lose Massachusetts.