What Does The Success Of Brexit Tell Us About Donald Trump's Chances? Pretty Much Nothing
Many pundits are arguing that the victory for 'Leave' presages good news for Trump in November, but there's no reason to believe that.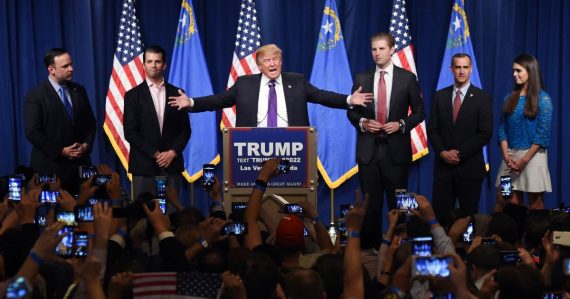 Inevitably, the narrow victory for the 'Leave' campaign in Thursday's Brexit vote has led some to wonder what, if anything it presages for politics elsewhere, and specifically in the United States, where we are headed into a Presidential election that pits Hillary Clinton against Donald Trump, who has spent the better part of the past year making many of the same arguments against globalization, immigration, and international trade, as well as tapping into arguably similar populist themes as the 'Leave" forces had been appealing to throughout their own campaign. In his own reaction to the Brexit vote yesterday, Trump himself clearly argued that the 'Leave' victory presages that he will prevail in November, and James Hohmann at The Washington Post seems to agree and makes note of the fact that the 'Leave' campaign has much in common with Trump's campaign in the manner that it relied on factors such as the resentment of elites, xenophobia, opposition to immigration, and other themes as well as in extent to which, at the beginning, it was underestimated by pollsters and political analysts. Katty Kay at the BBC, meanwhile, cites five reasons why the victory for 'Leave' could point toward good news for Trump in November, and Brian Kaller at The American Conservative seems to agree:
The UK has often been just a little ahead of the USA; Thatcher preceded Reagan, and Corbyn preceded Sanders. Moreover, Brexit supporters share a lot in common with Trump supporters, in both demographics and frustrations.

The UK and USA are global powers somewhat in decline, with the UK obviously some decades ahead. Both powers saw a flood of Third World immigrants in recent decades—in Europe especially, with millions of refugees escaping the war-torn Middle East—competing for jobs and causing tension among working-class natives. Both countries took part in the same Middle East wars and suffered the same Great Recession—which are supposedly over, but with loved ones still dead and many working people still unemployed.

Both populist movements promise to make their country great again, toss aside foreign entanglements, reduce immigration, and bring back local industry. Both movements are called "far-right," but are more about class—and in both countries, the elites of both major parties, along with the media, opposed and underestimated them until the last moment. In both countries the debate turned venomous, even violent, with protesters clashing with Trump supporters in the USA and a pro-EU member of Parliament shot and stabbed to death last week in the UK.
Kim Soffen at The Washington Post and Ben Jacobs at The Guardian, meanwhile, push back against the temptation to draw conclusions about American politics based on the results of this referendum. As Soffen notes, the demographic makeup of the United Kingdom in general, and the largely English population responsible for putting 'Leave' over the top in particular, is far different from the General Election electorate that Trump will be facing in the fall. Particularly,  the United Kingdom as a whole is 87 % white, while the United States is 74% white, and while Trump rode his support among white working class voters to a win in the Republican Primary, even the preliminary polling of his race against Hillary Clinton is making clear that this likely won't be sufficient to help him win in November. Additionally, the fact that Trump is intensely disliked by virtually every significant minority group means that he faces a significant uphill battle if he is going to have anything resembling a reasonable chance at victory in November. None of this is to say that Trump can't win, but as Soffen suggests the significant differences between the American and British electorates does argue strongly against drawing conclusions about what might happened here in November based on the outcome of the Brexit vote.
Jonathan Martin and Alexander Burns at The New York Times cite other reasons why the success of Brexit doesn't really tell us much about the fortunes of Donald Trump:
There are crucial distinctions between the Brexit vote and the 2016 presidential election.

In the United States, there is no recent history of electing nationalist presidents hostile to immigration, and even recent Republican presidents have celebrated new arrivals as integral to American prosperity and identity.

American presidential elections are largely decided by a diverse and upscale electorate, anchored in America's cities and suburbs. These communities more closely resemble London than Lincolnshire. Minorities made up more than a quarter of the electorate in the last presidential campaign.

And while Britain decided to leave the European Union through a popular vote, the White House race will be determined by the Electoral College, which is tilted toward the Democrats. Some large states with significant nonwhite populations have been out of reach for Republican candidates for much of the last three decades; California, New York, New Jersey, Illinois and Pennsylvania have voted for every Democratic nominee since 1992. Mr. Obama also won Florida twice, and Mrs. Clinton has a lead there now in part because Mr. Trump is unpopular with Hispanics.

Together those six states offer 166 of the 270 electoral votes needed to win the presidency.

Mr. Trump is at an even greater disadvantage than other recent Republican presidential nominees because of his dismal standing with nonwhite, college-educated and female voters. Unless he can reverse the deeply negative views such voters have of him, he is unlikely to capture the voter-rich communities around Philadelphia, Denver, Miami and Washington that are crucial to winning the White House.

Joe Trippi, a Democratic political strategist who was a consultant for former Prime Minister Tony Blair of Britain, said he expected the Brexit vote to embolden American conservatives. But their excitement, Mr. Trippi said, would be largely "a false read" of the results.

"There are some very similar things — a polarized electorate, nativism, nationalism were clearly big factors, and Trump exemplifies them here," Mr. Trippi said.

"But there is a difference in the multiculturalism and diversity of the United States, versus nowhere near the same factors in the U.K."
Perhaps more importantly, polling shows that a majority of Americans continue to oppose many of the policy proposals that are at the center of Trump's still rather policy-free campaign:
Despite high levels of concern about immigration and foreign trade, polls show that most Americans have so far recoiled from Mr. Trump's specific policy proposals, such as deporting 11 million undocumented immigrants.

A survey published by the Public Religion Research Institute and the Brookings Institution on Thursday found that while Americans were closely split on the benefits of immigration and mostly said global trade was harmful, strong majorities rejected Mr. Trump's promises to build a wall on the Mexican border and ban Muslim immigration.

Further, the vote in Britain was a referendum on a European entity that was easy to rally against, while the presidential vote here is increasingly becoming a referendum on a polarizing individual.

"Americans will be asked to vote for or against a person: Trump," said Tony Fratto, a former press secretary for George W. Bush.

"And that's a higher hurdle. If you want to express yourself with a protest vote, you'll have to vote for Trump, and he is singularly unattractive and even offensive to a large majority of Americans."
The effort to draw parallels between what happened in the United Kingdom with the Brexit vote and what might happen in the United States in November is hardly new. If anything, it's a practice that goes back decades to the time when the victory of Margaret Thatcher and the Conservative Party in the 1979 British General Election started to be cited as some sort of precursor to the victory of Ronald Reagan in a landslide victory in the 1980 General Election, Similar efforts to analogize the outcome of elections in foreign countries with completely different political systems have included citations to election results from nations as diverse as Canada, France, Germany, and Israel. Interestingly, when these analogies are drawn the people making the argument seem to ignore other cases such as the Conservative Party victory in 1992's General Election that was followed by Bill Clinton's victory that same year in the United States, the Labour Party victories in 1997 and 2001 that bookend George W. Bush's victory in the 2000 election, Tony Blair's third consecutive win in 2005 just one year after George W. Bush's re-election in 2004, or the victory of David Cameron and the Conservatives in 2010 which came just two years after Barack Obama's victory in the 2008 election. In fact, there are as many examples of seemingly opposite election outcomes in the United States and nations such as the United Kingdom, Canada, France, Germany, and Israel as there are correlations. Given the significant differences between the political systems in all of these nations, this is hardly surprising of course but the fact that is that pundits, along with the general public, continually do it even when common sense tells them not to, and in this case, for the reasons stated by Soffens, Martin, and Burns as well as others, common sense seems to clearly argue that trying to correlate the outcome of the Brexit vote to what might happen in the United States in just over four months is a waste of time.
Donald Trump has wrapped his arms around the 'Leave' victory in the apparent belief that it will somehow boost his own campaign here in the United States. The evidence, though, seems to show that it's not likely to have any impact at all, and there is even a chance that it could have a negative impact in the impression it leaves with American voters. By the time Americans are ready to go to the polls, for example, we could already start seeing many of the consequences and difficulties likely to grow out of the 'Leave' victory. If that's the case, then voters who might have been inclined to join Trump's nationalist, anti-immigrant, anti-globalization movement could begin to think twice about the idea of taking a risk with an unproven radical like Trump. Even if that doesn't happen, though, it seems unlikely that American voters are going to care nearly enough about the European Union to give what happened on Thursday much mind at all when they are making their own choice in November.