What The Heck Is Wrong With The Republican Party?
As its convention begins, one has to wonder what has happened to the Republican Party.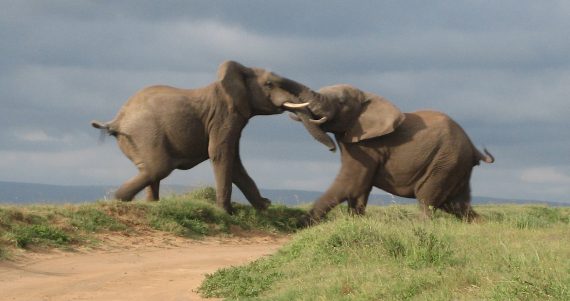 Writing in the wake of the Todd Akin fiasco, which was quickly followed by the approval of a GOP platform plank that rejects the idea of any exceptions to laws banning abortion in cases of rape or incest, and coming at the end of a  political season when the GOP has, time and again, played into the hands of Democrats asserting they are waging a "war on women," Kathleen Parker wonders what's wrong with the Republican Party:
The cumulative effect of these episodes, combined with Democrats' carefully crafted GOP "war on women" narrative, have boxed Republicans into a corner of stubborn self-defeat. Hackneyed and contrived as this "war" is, there's a reason it has gained traction. "Because it's true," says Margaret Hoover, a leading voice in the young conservative movement, CNN contributor, gay-marriage advocate, and author of American Individualism—a call to arms for her great-grandfather Herbert Hoover's rugged individualism tempered with a community spirit suitable for the millennial generation.

Opting for a vernacular expression of her frustration, Hoover queries: "What the (*#@%) is wrong? What has happened within the party infrastructure that has malfunctioned so desperately, so that this minority of representatives are in such positions of power that are so out of step with the majority of Republicans?"

There is something wrong with the Republican Party, the survival of which demands more than a few moments of self-examination and reflection. I wouldn't use the word "stupid," though it is tempting. Suicidal seems more apt. The GOP, through its platform, its purity tests, pledges, and its emphasis on social issues that divide rather than unite, has shot itself in the foot, eaten said foot, and still managed to stampede to the edge of the precipice. Is extinction in its DNA?
Extinction seems to be a bit extreme, but assuredly the Republican Party seems to be on a course that mirrors that followed by the Democratic Party in the wake of the Vietnam War. The reaction to that war on the left, of course, was to set off a battle between old-line Democrats such as President Johnson and Hubert Humphrey and the so-called "new left," motivated mostly by anti-war sentiment, and finding representation in men such as Eugene McCarthy and, until his assassination, Bobby Kennedy. The confrontation came to a head in 1968 at the Democratic Convention in Chicago, with war literally erupting in the streets as Hubert Humphrey claimed the nomination of a badly fractured party. By 1972, though, the "new left" had captured the party and it's candidate, George McGovern led the party to one of its worst defeats in decades. This led to a backlash of sorts in 1976 with the nomination of Jimmy Carter, but elsewhere the party was moving to the left, especially on the Congressional level. In 1984 and 1988, the party put forward candidates woefully out of step with the nation as a whole. It wasn't until 1992, with Bill Clinton, that Democrats finally recaptured the White House for the first time in 16 years.
Is the GOP headed for a similar fate? It's far too early too say, of course. While President Obama remains a favorite for re-election at this point, it's still possible that Romney could pull off a victory this year. As Maine Senator Susan Collins points out, though, the GOP faces a problem because it seems to have been taken ahold of by a group of people that, at the very least, are out of step with the nation as  a whole when it comes to social issues:
Maine Sen. Susan Collins pulled her car off a rural road in her home state to give full expression to her own dismay at her party's death spiral. She points to a series of problems, ranging from the absence of women in leadership positions, which sends a bad message to women—"role models matter"—to the party's illogical emphasis on divisive issues when they should be focused on Republican strengths.

"It seems like we've been thrown back decades into debates most everyday people think were settled years ago. This doesn't mean we're disrespectful to people who hold a different point of view, but the platform seems designed to alienate a lot of moderate women. I don't get it."

Comments like Akin's aren't only embarrassing, but they divert attention and allow Democrats to change the subject. Collins is chauvinistic on her party's economic plans, but dumbfounded by certain suicidal moves. "Tone deaf" is how she describes the 31 Senate Republicans who voted against refunding the "Violence Against Women Act," which has been renewed for years without controversy.

We just hand these issues to Democrats on a silver platter and they're clapping their hands with delight. They can't believe this! And instead we're not focusing where my party has by far the better plans, the better approach, where President Obama has utterly failed."
Instead, the party seems intent on adopting positions on social issues that are out of step even with people opposed to abortion:
Even among pro-life Americans, there is little support for the social agenda being pushed by the Republican Party's leadership, with pro-life voters overwhelmingly holding the belief that abortion is ultimately the woman's choice. According to a 2008 poll conducted by American Viewpoint for Republican Majority for Choice, 66 percent of self-described pro-life voters said abortion should be the choice of the woman and not the government.

More broadly, 52 percent of all Americans think abortion should be legal under certain circumstances, according to a Gallup Poll conducted in May. Furthermore, it seems people may be tiring of this whole conversation. A Bloomberg National Poll done earlier this year found that a full 77 percent believe that birth control shouldn't be part of the national political debate.

Finally, even though the May Gallup Poll indicates that more Americans are becoming pro-life, which is surely a positive development, this doesn't translate to mean that they support government policies further restricting abortion. In fact, at no point does a majority favor limiting access to abortion as the Republican Party seems committed to doing.
None of this is new, of course. James Joyner and I have been discussing the condition of the Republican Party here since before the 2012 election cycle even began. More than a year ago, Indiana Governor Mitch Daniels argued that the party needed to declare a truce on social issues and focus on the economy, the national debt, and bringing the nation's fiscal situation under control. While there were many political observers, including many Republicans, who applauded Daniels's comments and hoped they would lead to a Presidential run, there were similar numbers of people who condemned him for it. As it turns out, Daniels was right. In other areas, the efforts of the American Conservative Union to open up CPAC to gay conservative groups such as GOPProud led many socially conservative groups to boycott the conference for two years in a row, and eventually to pressure the ACU to disassociate itself from the initiative. When Rush Limbaugh called a Georgetown University law student a slut for speaking to Members of Congress about insurance coverage for  birth control, Rush Limbaugh called her a slut and most major conservatives cheered him on. And, most bizarrely, the party has apparently decided to embrace a man who has spent the better part of the last two years spinning insane conspiracy theories about the President's place of birth. Presidential candidates with no discernible qualifications for the job they were running for, while two former Governors with successful records were ignored largely because they refused to march in lockstep with conservative orthodoxy. Instead of embracing Lee Atwater's vision of the Republican "Big Tent," it seems like the party is closing the flaps to the tent, but not before kicking out a few people so that there's room for the crazies.
Then there's the 2012 Republican platform. In addition to the abortion plank I discussed above, they have also adopted an anti-immigration plank drafted by the author of Arizona's controversial SB 1070, a plank against the non-existent threat of Sharia Law, they rejected a plank endorsing civil unions for gays and lesbians, and a plank calling for stricter enforcement of laws against adult pornography. This is an election year where every single poll shows that the only issues that voters care about revolve around jobs and the economy. Instead of wasting time with nonsense like this, the Republican Party would've been better to follow Mitch Daniels's advice and lay off the social issues nonsense once and for all and concentrate on what voters actually care about, and what will actually when elections.
Republicans reading this will no doubt point out that Mitt Romney and Paul Ryan don't bring these issues up in their stump speeches, and they'd be correct in pointing that out. You're not going to see either of those candidates, or their major surrogates talking about transvaginal probes, or Sharia Law, or devoting law enforcement resources to investigating supposedly "obscene" material. However, what they don't realize is that things like these platform planks matter because they add to the overall impression that voters have of their party. The same can be said for the actions of Republicans at the state level, where some 2,000 new restrictions have been introduced nationwide since the GOP swept to power in the 2010 elections. This is why there's a Gender Gap, why younger voters are turned off by the GOP, and why minority voters don't even take them seriously.
There are voices out there trying to warn the party. Jeb Bush has been saying for years that the GOP needs to be more open to disagreement on social issues, Jon Huntsman has spoken quite eloquently about the need for the GOP to step back from the brink it seems to be heading toward, and even Dan Quayle is recognizing the danger:
"The Republican Party needs to re-establish its philosophy of the big tent with principles," said Dan Quayle, the Republican former vice president. "The philosophy you hear from time to time, which is unfortunate, is one of exclusion rather than inclusion. You have to be expanding the base, expanding the party, because compared to the Democratic Party, the Republican Party is a minority party."

(…)

"For some folks in the party these days, it's not only the Washington establishment they're running against. They're opposed to anything that is perceived as being any kind of establishment, even if they are conservative," Mr. Quayle said. "To me, that is craziness. The party has got some real challenges coming down the pike. It's a minority party, and we've got to realize that it's a game of addition, not subtraction."
Bush, Huntsman, and Quayle are right, of course, but they're likely to be ignored, at least for the time being. The Republican Party seems committed to a path that includes increasingly radical positions on social issues that are out of step with the public as a whole. At some point, one thinks, they'll learn the lesson that being on the opposite side of the American people is not how you win elections.