With Last Obstacles To Becoming Speaker Clear, Paul Ryan Is "All In"
With the voting now seemingly a mere formality, the question becomes what kind of Speaker of the House Paul Ryan will become.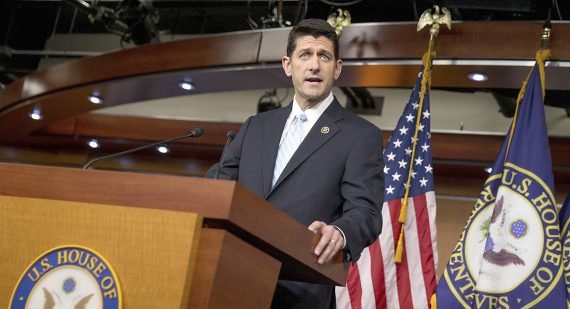 After largely getting what he wanted from the House Freedom Caucus and other Republican groups on Capitol Hill, Wisconsin Congressman Paul Ryan formally declared his candidacy for Speaker of the House yesterday, thus setting up a chain of events that will see him succeed John Boehner by the end of next week:
WASHINGTON — Representative Paul D. Ryan said Thursday that he would seek to replace John A. Boehner as House speaker after two factions of the House Republicans — one small and moderate, one mainstream and large — endorsed him, bringing him close to securing the speaker's gavel he had never wanted to seek.

I never thought I'd be speaker," Mr. Ryan said in a lengthy email to his Republican colleagues. "But I pledged to you that if I could be a unifying figure, then I would serve, I would go all in. After talking with so many of you and hearing your words of encouragement, I believe we are ready to move forward as one, united team. And I am ready and eager to be our speaker."

The approvals from the two House factions came less than 24 hours after a majority of members of the Freedom Caucus, which includes some of the most conservative House members, said they, too, would support Mr. Ryan's bid. The Republican conference is expected to vote on Mr. Ryan on Wednesday, followed by a vote on the House floor next Thursday. The rapid consolidation of support in the party was a testament to Mr. Ryan's popularity among House Republicans.

Just a few weeks ago, Mr. Ryan, the chairman of the powerful Ways and Means Committee, insisted that he had no interest in the speaker's job. But after Representative Kevin McCarthy of California, the majority leader, failed to unite the factions and withdrew his bid, the pressure began to build on Mr. Rya

Mr. Boehner, who will retire from Congress at the end of the month, was under continual threat of a challenge to his speakership.

"Their vote on Paul Ryan is recognition by many of them that they have overplayed their hand with their colleagues," said Representative Tom McClintock, Republican of California, who quit the Freedom Caucus in protest of its tactics. "They had to show a little more reasonableness."

Chastened or not, the group is showing no sign of going away. Opposition from the hard-liners on Thursday to a debt ceiling proposal appears to have scuttled it before it could reach a vote. And that proposal, from the conservative Republican Study Committee, was hardly a concession to President Obama. It demanded a commitment of $3.8 trillion in federal spending cuts over the next decade in exchange for a $1.5 trillion increase in the government's statutory borrowing limit.

That limit will be reached Nov. 3, the Treasury Department has warned, after which the government will quickly run out of cash. With a potentially devastating default looming, the Freedom Caucus may well end up agitating for another showdown.

n, his party's vice-presidential nominee in 2012, to try to bring the raucous conference together.

In Mr. Ryan, 45, the Republican majority would have a young new face. His young family, athleticism and heavy metal playlist combine to make a stark contrast to Mr. Boehner, a symbol of weatherworn Washington longevity. Even so, Mr. Ryan would be the most experienced member of the new leadership team.

The acquiescence of the Freedom Caucus was particularly remarkable given that the group, which was largely responsible for pushing Mr. Boehner out of his job and blocking Mr. McCarthy from replacing him, came armed with a long list of demands to earn their support. Mr. Ryan accepted none beyond a general agreement to look at and work on the House rules.

The hard-liners also broke with their habit of voting as a bloc when 80 percent of their roughly 40 members agree on something. The caucus said it had a "supermajority" of about 70 percent of its members who supported Mr. Ryan despite falling short of their established threshold for an endorsement. Mr. Ryan needs 218 votes on the House floor to become speaker.

But it was Mr. Ryan, who said he would not seek the job unless his own conditions were met, who emerged victorious. Most of his demands are now in place, and the Freedom Caucus members, under intense pressure from their colleagues, appear divided and cowed.

Notably, Mr. Ryan seeks to change a House rule that allows a single member to file a motion to remove the speaker; Mr. Ryan said he wanted to change that process to make it that much more difficult, noting, "No matter who is speaker, they cannot be successful with this weapon pointed at them all the time."

"I think it is a high-water mark for the group," said Representative Mick Mulvaney, Republican of South Carolina, in an email. "We are absolutely satisfied that Paul is committed to the same sort of reforms that we have been" urging from the very beginning.

He added: "Bottom line: I think we are actually in a better place. And my guess is that there are a lot of people out there running for Congress who want to be members of the group if they get here."
There are many questions that hang over Ryan as he prepares to step up to a job that ended up being largely an exercise in frustration for John Boehner, and it's unclear as we stand here that Ryan will be any more successful than he predecessor-to-be has been. This isn't so much because Ryan lacks the skills necessary to be a good Speaker, because I think that he does. He has a sense of leadership that belies his relatively young ago and, most importantly, he has good relationships with seemingly all factions of the Republican Caucus in the House that would seem to be helpful in bringing the party together to get things done. Additionally, at least at this point in the process, Ryan does not have the bad blood with the Freedom Caucus and other conservative groups that Boehner had developed over the years that was rooted both in Boehner's desire to get legislation through the House even if it wasn't perfect from a conservative point of view and conservative's insistence that any instance in which Boehner and the rest of the House leadership appeared to stray from conservative orthodoxy amounted to surrender and capitulation to Congressional Democrats and the Obama Administration. As the events of the past month have shown, these tensions seem to have eventually become so bad that they led at least in part to Boehner's decision to lay down the Speaker's gavel and give up on the goal that he had sought virtually from the time he was first elected to the House of Representatives in the mid-1980s. Ryan, on the other hand, has long been seen as being as much a part of conservative wing of the House Republican Caucus and his selection as Mitt Romney's running mate in 2012 was seen by many, and largely accepted, as an effort by Romney to mend fences with the conservative voters who had rejected him during the race for the Republican nomination that year.
For all of the point in Ryan's favor, though, there remain many doubts.
For one thing, it's been obvious from the start that Paul Ryan has never really wanted to be Speaker of the House, or indeed really be a part of House Leadership in general. Rather than being one of the Generals directing the troops on the floor, Ryan has seemingly preferred to be down in the trenches doing the grunt work of putting together budgets as Chairman of the House Budget Committee or, more recently, working toward the goal of reforming the nation's tax code as head of the Ways & Means Committee. Ryan had rejected previous attempts to get him to step up to a leadership role, and initially rejected the request again earlier this month in the wake of Kevin McCarthy's decision to step aside in the Speaker's race. He now takes on the role mostly, it seems, out of a sense of duty that makes one wonder how committed he really is being Speaker, although the fact that he has placed serious conditions on his acceptance of the position that are clearly designed to attempt to shield him from much of the infighting that plagued John Boehner for the past four years. Now that those conditions are met, it will be largely up to Ryan to determine where he takes his new role and how long her can last.
Even if Ryan proves to be as adept a leader and bridge builder as many Republicans are clearly hoping he will be, though, it seems clear that his fate will also rest in the hands of the Freedom Caucus and other groups that have been stirring up trouble on Capitol Hill since the GOP won back control of the House in 2010. In the next two months, just as Ryan and those around him will be settling into their new positions and the various factions on Capitol Hill will still be feeling themselves out, Congress will have to deal with a whole host of issues that have proven to be controversial and difficult in the past, each of which will pose a test for Ryan and give us a good indication of just how effective he can and will be in his new role. First up will be the debt ceiling, which the Treasury Department says the nation will hit by November 3rd, less than a week after Ryan takes office. There is at least some talk about the House attempting to take up this matter before Boehner leaves office, but that seems unlikely at this point. Assuming that the House is able to get past the debt ceiling issue with anything other than a short-term agreement that pushes the issue down the road a month or two, it must then turn to the Federal Budget for the current Fiscal Year, which was deferred at the end of September with the passage of a Continuing Resolution that funds the government until just before the Christmas break. Additionally, there is also a Highway Bill pending that has been punted by successive Congresses for several years now. One of these alone would prove to be tremendous test for a new House Speaker, and Ryan will have to deal with all of them in succession between now and the end of the year. How he handles them will give us a good idea of what kind of Speaker he might end up being and whether he'll be any better at corralling the GOP's restive forces than his predecessor was.