Would Nominating Trump Put The House At Risk For Republicans?
If Donald Trump is the Republican nominee, the GOP may have more to worry about than losing the White House and the Senate.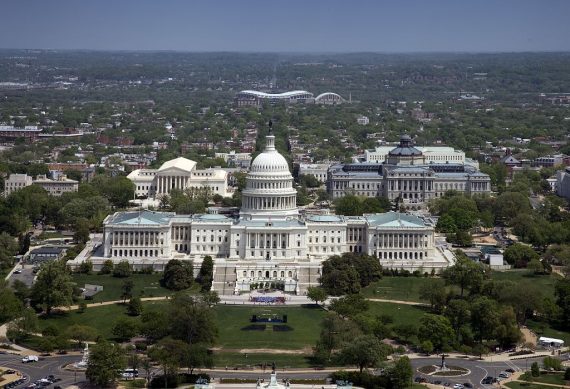 Ever since it became likely that Donald Trump could actually win the Republican Presidential nomination, there has been much speculation about what impact this could have on down ballot races, and just how much damage a polarizing candidate like Trump could do to a political party that seems powerless to stop him. One measure of that potential damage can be seen in the head-to-head matchups in which Trump loses to both Hillary Clinton and Bernie Sanders, with one recent poll even showing Trump losing to either Democrat in deeply red Utah, which has not gone for a Democrat in a Presidential election since Lyndon Johnson's landslide over Barry Goldwater fifty-two years ago. Understandably, numbers such as these have made Republicans very nervous about the impact of a Trump nomination and led them to plot last-minute and seemingly haphazard "Stop Trump" efforts that seem unlikely to succeed.
So far, most of the discussion of the down ballot impact of a Trump candidacy has focused on the Senate, which Republicans just managed to recapture in the 2014 midterms. With the present 54-46 split between Republicans and Democrats in the upper chamber, Democrats would need to recapture five seats to regain control of the Senate, although they could also accomplish that goal if they capture four seats and win the Presidential election thanks to the tie-breaking vote provided by the Vice-President. As I've noted before, there are Republican seats up for grabs in six states that President Obama won in 2008 and 2012 — Illinois, Wisconsin, Ohio, Pennsylvania, New Hampshire, and Florida. If Democrats managed to win all of these seats and also not lose states that Republicans are targeting such as Michael Bennett's seat in Colorado or the seat held by retiring Senate Minority Leader Harry Reid in Nevada. In an ordinary Presidential election year, the odds of Democrats being able to flip that many seats would seem to be pretty low, but with the possibility of Trump, or even Texas Senator Ted Cruz, leading the Republican ticket, those odds are arguably increased significantly.
If the Senate is it risk, what about the House of Representatives? Republicans have held the House since the 2010 elections and even managed to increase their majority to an historic high in the midterms in 2014, and the conventional wisdom has been that it is generally unlikely that the party would lose control of that body any time before the redistricting after the 2020 Census. The reasons for this range from the general protection that incumbents get even in years where voters go strongly for one party or another, the impact of redistricting after the 2010 Census that was largely controlled by Republican dominated state legislatures, and the relative lack of competitive House seats compared to even just ten or fifteen years ago. Notwithstanding these caveats, though, David Wassermann at the Cook Political Report notes that there are some factors that suggest that the House could be more vulnerable than Republicans might want to admit:
Republicans are sitting on their largest majority since 1928 – 247 seats to 188 – meaning Democrats would need to pick up 30 seats, a daunting challenge given the GOP's immense redistricting advantage and the vaporization of swing districts. But all cycle, Democrats have daydreamed about Republicans nominating an extremely polarizing presidential candidate, and suddenly it's almost certain they will get their wish.

A Trump or Cruz nomination wouldn't guarantee a down-ballot disaster for the GOP, but operatives on both sides admit it would inject much more uncertainty into races – especially if it were Trump. For one, given Hillary Clinton's high unfavorable ratings and Trump's willingness to adapt his message to fit changing political conditions, anything from an extremely close race to a total Clinton blowout seems possible in November.

Second, if November does turn into a Democratic rout, it's impossible to know just how bad it could get for Republicans sharing a ballot with Trump or Cruz. On one hand, past presidential blowouts in years like 1964, 1972 and 1984 haven't led to dramatic sea changes in House seats. On the other, there hasn't been a true presidential blowout in 20 years. Today, rates of split-ticket voting are at all-time lows and House candidates are defined by their party and the top of the ticket more than ever.

So, what are House Republicans doing to batten down the hatches?

What's more surprising than Trump's rise has been congressional Republicans' passivity and acquiescence at the prospect of nominating a candidate whose offensive statements about Muslims, Mexicans and others threaten to push the party's brand further to the fringe. Aside from Speaker Paul Ryan's condemnations, Trump's behavior and statements have been met with deafening and puzzling silence from many House Republicans, including many in swing districts.

This week, GOP Rep. Tom Reed became the first House Republican from a swing seat to endorse Trump, noting "As the people vote, it has become clear more Republicans favor Donald Trump than any other candidate" and urging his supporters to unite behind the front-runner. It's true that Trump will probably sweep the economically distressed Southern Tier district in the April primary, but it's far from clear whether Trump can carry it in November and Democrats have a credible nominee in Naval Reserve Officer John Plumb.

A few Republicans from Democratic-leaning seats, including Reps. Carlos Curbelo (FL-26) and Bob Dold (IL-10), have drawn a line in the sand, saying they would never support Trump. It's likely at least a dozen more will have to adopt that stance if they want to win reelection. But for the most part, Republicans haven't taken a side.

"We can only control what we can control," said one high-ranking House Republican, whose first pick clearly isn't Trump but who believes that speaking out against Trump would only fuel voter backlash. Other House Republicans from northeastern states rationalize that whereas Cruz would be a rigid ideologue, Trump is a negotiator they could work with. As Cook Report National Editor Amy Walter has written, resignation and rationalization have been among Trump's biggest enablers, and that's certainly been true among House Republicans.

But it's also true that Republicans' prevailing indifference has both conferred legitimacy on Trump and made them more vulnerable to Democratic attacks. Right now, we rate only 31 Republican seats as at risk, meaning Democrats would need to win an impossibly high 97 percent of them – and hold all their own seats – to take back control. But filing deadlines still haven't passed in a majority of districts, and it's worth watching how many more Democratic recruits Trump and Cruz will entice in the coming months.

Among the types of seats Democratic strategists believe Trump or Cruz could put into play are: 1) high-Hispanic districts, 2) high-education districts and 3) high-income districts.
As things stand right now, it's far to early to say that putting Trump or Cruz at the top of the ticket poses a realistic threat for Republicans. As Wasserman notes, the small number of real at-risk Districts means that Democrats would essentially need to run the table and win almost all of these seats to regain even a small majority in the House. It's possible, of course, that the number of at-risk seats could expand, but that's impossible to tell right now and not likely given the recent average number of toss-up seats per election. At the same time, of course, it's impossible to tell what might happen with a Donald Trump at the top of the Republican ticket. For this reason, you're likely to see Republican candidates for the House being just as cautious with Trump if he wins the nomination as Senate candidates are likely to be. The reaction of many will be to simply proceed forward with their own campaigns without any real reference to the man at the top of the ticket, but that's going to be much harder than it might be under other circumstances. Some candidates will actively embrace Trump if they think it will help them in their re-election bids, of course, and others will actively seek to distance themselves from him even if it means speaking out against him. In the end, it still seems unlikely that even Trump could put the Republican's House majority at risk, but it's an unusual year and anything seems possible so this is certainly worth keeping an eye on.