After Opposing Procedure Under Which It Was Negotiated, Paul Ryan Will Support Budget Deal
Yesterday, Paul Ryan spoke out against the procedure under which the new budget deal was negotiated. Today, he announced that he'll vote for it anyway.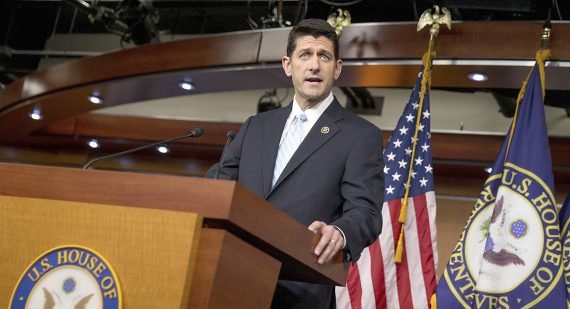 Despite denouncing the process under which the two-year budget deal announced yesterday was negotiated, Paul Ryan, who will likely easily be selected by House Republicans as their candidate for Speaker in tomorrow's vote, said this morning that he will vote for the package:
After sharply criticizing how it came together, Wisconsin Rep. Paul Ryan announced he would support the budget deal Wednesday.

"What I've heard from members over the last two weeks is a desire to wipe the slate clean, put in place a process that builds trust, and start focusing on big ideas," Ryan said in a statement. "What has been produced will go a long way toward relieving the uncertainty hanging over us, and that's why I intend to support it. It's time for us to turn the page on the last few years and get to work on a bold agenda that we can take to the American people."

Ryan will stand before his House Republican colleagues Wednesday morning in a closed election to be the next speaker of the House. He has assured his GOP colleagues that he would not cut deals in this manner, even going as far as saying the process "stinks." In his statement Wednesday morning, he reiterated that if he's elected speaker, "we will begin a conversation about how to approach these big issues – as a team – long before we reach these kinds of deadlines. We simply can't keep doing business this way."

Some conservative Republicans have said they would carefully watch how Ryan votes on this package. North Carolina Rep. Mark Meadows, a Freedom Caucus leader, called on all speaker candidates to oppose the bipartisan deal.
Despite Meadows comments, it appears that the Freedom Caucus and other House conservatives will be giving Ryan a pass on the deal:
Paul Ryan is getting a pass.

Conservative lawmakers in the House Freedom Caucus say they're satisfied that the Wisconsin Republican is just as aggravated as they are with how the $80 billion budget and debt ceiling deal set to pass Congress this week was negotiated.

And the package won't affect their support of Ryan for speaker, they say.

"He shares the frustration that we do and he wants to do better and be different. I think we have to take him at his word and he is being sincere," said Idaho Rep. Raúl Labrador, a founding member of the Freedom Caucus. "We need to give him a chance to show what kind of a leader he will be, if he is lucky enough to be elected speaker. It's not his deal, but I do think he needs to be vocal about how he would have done it differently."

Ryan, who is expected to be elected speaker on Thursday, was not among the negotiators who forged the budget agreement. But he does stand to benefit politically from it — immensely. The deal would remove the two biggest threats he would have otherwise faced in his first year as speaker, a potential government shutdown and a first-ever default on the national debt that would wreak havoc with the world economy.

The agreement, which could come to a vote in the House as soon as Wednesday, would increase federal spending by $80 billion over two years and extend federal borrowing authority until March 2017. Freedom Caucus members said being presented with a 144-page bill, just days before the House is scheduled to vote on it, is indicative of the top-down leadership they've been fighting against.

Freedom Caucus members are taking Ryan at his word that he would not have endorsed the secretive process that produced the pact. "It stinks," he said Tuesday.

"Under new management we are not going to do the people's business this way," Ryan added. "We are up against a deadline — that's unfortunate. … (But) as a conference we should've been meeting months ago to discuss these things to have a unified strategy going forward."

Ryan has assured Freedom Caucus members that he'll have a more open process when elected speaker.
The fact that Ryan followed up yesterday's criticism of the process that led to the deal with the announcement that he would be supporting it on the floor anyway is a fairly strong indication that whatever opposition may be left to his election as Speaker over the next two days will be minimal at beast. Apparently, Florida Congressman Daniel Webster, who the Freedom Caucus had selected as its preferred candidate earlier this month when it appeared that he would be going up against Majority Leader Kevin McCarthy, is still in the race and may get a handful of votes in the Caucus vote today and on the floor tomorrow. However, it's unlikely that Webster will get more than a handful of protests votes either in the Caucus vote today or on the floor tomorrow. Despite their earlier protests, the Freedom Caucus and other conference members seem to have realized both that Ryan is likely the best they were going to get when it comes to candidates for Speaker and that there was next to nothing they could to stop either his ascension or the deal announced Monday night.
As I have noted already, Ryan has played an interesting game with respect to this budget deal over the past twenty-four hours. Notwithstanding the fact that he was not part of the negotiations themselves, it seems to me to be something of a stretch to say that, as Chairman of the Ways And Means Committee, he had no idea that they were going on or what the general terms of the negotiation were. Even taking into account the fact that his criticisms of the process itself are well-founded, he is likely quite pleased with the fact that the budget, if it passes both the House and Senate and makes its way to the President, takes many contentious issues that he would otherwise have to deal with in his early months as Speaker off the table. The fact that the insurgent caucus is basically giving him a pass on it is just icing on the cake.