Donald Trump Is The President Of Trumpland, Not The United States
Donald Trump speaks largely just to his base, ignoring the nation as a whole. Whether this will be enough to win re-election in 2020 is an open question.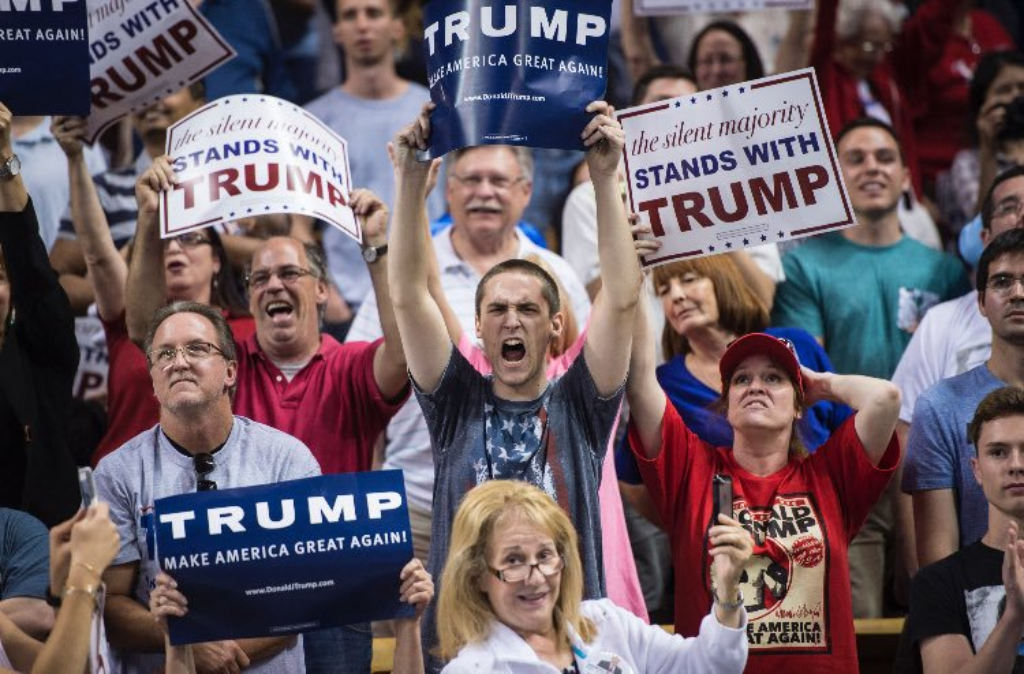 New York Times reporter Peter Baker has been following the President around the country as he continues his seemingly never-ending campaign, which earlier this week reported that it had raised $30,000,000 in the first quarter of 2019. From those travels and the content of the President's speeches, tweets, and public remarks, Baker notes that Trump is really only speaking to one part of America:
WASHINGTON — In the last couple of weeks, President Trump repeatedly called his enemies "treasonous." He threatened to punish Democrats by dumping migrants in their districts. He promoted a video tying a Muslim congresswoman to images of the Sept. 11 terrorist attack on the World Trade Center.

The message seems clear and so does the audience: more red meat for red-state Americans who have been the foundation of his political enterprise since his against-the-odds campaign for the White House. And it is a reminder that this president governs as none of his modern predecessors did.

The old-fashioned idea that a president, once reaching office, should at least pretend to be the leader of all the people these days seems so, well, old-fashioned. Mr. Trump does not bother with the pretense. He is speaking to his people, not the people. He has become, or so it often seems, the president of the United Base of America.

Mr. Trump travels nearly five times as often to states that were in his column in 2016 as to those that supported Hillary Clinton. He has given nearly four times as many interviews to Fox News as to all the other major networks combined. His social media advertising is aimed disproportionately at older Americans who were the superstructure of his victory in the Electoral College in 2016. His messaging is permeated with divisive language that galvanizes core supporters more than it persuades anyone on the fence, much less on the other side.

"Just from a pure governance standpoint, the ability to be president of a majority of the country, they don't even seem to consider that's part of being president," said Matthew Dowd, who was President George W. Bush's re-election strategist and has been a vocal critic of Mr. Trump.

Mr. Trump is the only president in the history of Gallup polling never to earn the support of a majority of Americans even for a single day of his term. His approval rating in Gallup has stayed within a 10-point band of 35 percent to 45 percent throughout his presidency.

To some extent, that may reflect a time of polarization. Mr. Bush spent his entire second term under 50 percent approval, and President Barack Obama spent nearly three years of his second term with less than a majority.


But Mr. Trump seems to relish divide-and-conquer politics much more than either of them did and has made little effort to expand his coalition beyond the voters who propelled him to the White House in the first place. While other presidents sought to broaden their public support, Mr. Trump appears to be heading into his re-election campaign sticking with his own tribe.


"Donald Trump has never adopted that presidential rhetoric," said Nicole Hemmer, a University of Virginia professor who studies the conservative movement. "He's always continued with the campaign rhetoric."

(…)

Indeed, Mr. Trump has spent much of his presidency focused on the parts of the country that already support him. Not counting four states where he regularly stays at his own properties or Maryland, where he travels to Joint Base Andrews or Camp David, he has spent nearly five times as many days in states that voted for him as those that did not, 115 versus 25, according to Bill Frischling of Factba.se, a service that compiles and analyzes data on Mr. Trump's presidency.


At the same time, since becoming president, Mr. Trump has given 49 interviews to Fox News, reaching his most fervent supporters, compared with just 13 for the other major networks combined, according to numbers kept by Mark Knoller, the longtime CBS News correspondent.

And Mr. Trump's campaign is spending 44 percent of its Facebook advertising budget targeting users 65 and older, far more proportionately than the Democrats, Axios reported.


Other Democrats said it was not clear whether Mr. Trump's recent spate of divisive language reflected calculation. Anna Greenberg, a Democratic pollster, said Mr. Trump might be lashing out more simply because he had fewer advisers around him to restrain him. At the same time, she said Mr. Trump is building a campaign that is far more extensive than the ad hoc organization he had last time.


"I don't know if it's any strategy so much as him being liberated," she said. "He doesn't seem to me, even though he's wily and clever, like someone who's thinking deeply about strategy for 2020. But it may not matter. My view is they're building a whole apparatus outside the White House that's gearing up for 2020."
To a large degree, of course, this is hardly a surprise. Trump is campaigning for 2020 in much the same way that he ran his campaign for the GOP nomination and the Presidency in 2016 and in the manner in which he has conducted himself since taking office, and in the way that he campaigned for Republican candidates during the Special Elections in 2017 and the 2018 midterm elections. Rather than adopting the practice that most Presidents have followed after winning a first term in which they at least make an effort to reach out beyond the base that got them elected, Trump has consistently and loudly used the Presidency to appeal largely and almost exclusively to the minority of voters who elected him President in 2016. This is one of the many reasons why his job approval numbers remain near historic lows for a first-term President even while his support among Republicans is at levels that even Presidents such as Reagan and George W, Bush did not reach except during relatively brief moments in their Presidencies. Given the fact that we are now more than two years into Trump's Presidency, any expectation that he is going to change this strategy or that we should expect a "pivot" from this President now or at any point in the future. Donald Trump hasn't changed fundamentally from who and what he was in the 1980s. Expecting him to change now is expecting the improbable.
The question, of course, is whether this is a viable strategy for winning re-election in 2020, because the evidence suggests that it isn't. Trump managed to win in 2016 notwithstanding the fact that he lost the popular vote, something that has only happened four other times in American history and only twice since the beginning of the 20th Century, because he won narrow election victories in states such as Wisconsin, Michigan, and Pennsylvania. The main reason that happened is because his opponent's campaign ignored warnings that these states were slipping away from Democrats as early as the first week of October 2016 and because he happened to be running against a Democrat who had personal favorable numbers that were as bad as his were. That's unlikely to be the case in 2020. Whoever the Democrats nominate, they are unlikely to take the Upper Midwest for granted like they did in 2016 and their nominee is unlikely to come with the two decades worth of political baggage that Hillary Clinton did. Winning those states a second time is going to be difficult to say the least. Additionally, Trump is going to need to hold on to all of the other states he won in 2016, including Ohio, Florida, North Carolina, Georgia, and Arizona, all of which are expected to be competitive in 2020.
While it's possible that Trump can do this while still largely appealing only to his own base, it's certainly not the traditional way that incumbent Presidents approach re-election. This is especially true given the fact that Democratic voters will be highly energized in 2020 to vote against Trump regardless of where they live. A campaign that generally only appeals to Trump's base hardly seems like the best way to approach this race.