Donald Trump Solidifies His Lead In Final Pre-Debate Polls
The last three polls to be released before Thursday's debate show Donald Trump continuing to solidify his lead.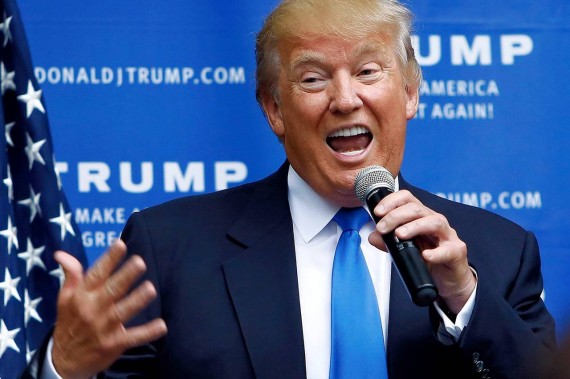 What are likely to be the final polls released before Fox News announces who it will be inviting to Thursday's debate and who will get stuck with an invitation to what is being called the "Kid's Table" confirm what we've been seeing for the past two weeks, Donald Trump in the lead and Rick Perry's effort to get himself into the main debate has most likely failed.
First up, there's the new poll from Fox News that puts Trump nine points ahead of his nearest rival and only two candidates in double digits:

Businessman Donald Trump continues to gain ground in the race for the Republican nomination.  What's more, the number of GOP primary voters saying they would at least consider backing Trump has more than doubled in the last two months.  Meanwhile, support for Democratic frontrunner former Secretary of State Hillary Clinton remains high, despite sliding to its lowest yet.

These are some of the findings from the latest Fox News national poll on the 2016 presidential race.

Trump receives the backing of 26 percent of self-identified Republican primary voters — up from 18 percent in mid-July and 11 percent a month ago. That's not only the highest level of support for Trump, but it's also the highest any GOP candidate has received since the Fox poll began asking the question in December 2013.

Trump's rise hasn't hurt former Florida Gov. Jeb Bush, who garners 15 percent and is the only other Republican in double-digits.  He was at 14 percent in mid-July and 15 percent in June.

Behind Trump and Bush, it's Wisconsin Gov. Scott Walker at 9 percent, retired neurosurgeon Ben Carson at 7 percent, Texas Sen. Ted Cruz and former Arkansas Gov. Mike Huckabee at 6 percent each, Florida Sen. Marco Rubio and Kentucky Sen. Rand Paul at 5 percent a piece, and New Jersey Gov. Chris Christie and Ohio Gov. John Kasich get 3 percent each.

That group is followed by businesswoman Carly Fiorina and former Pennsylvania Sen. Rick Santorum tied at 2 percent, former Texas Gov. Rick Perry and Louisiana Gov. Bobby Jindal tied at 1 percent and former New York Gov. George Pataki, South Carolina Sen. Lindsey Graham and former Virginia Gov. Jim Gilmore receive less than 1 percent support.

Two Republicans threw their hat in the ring in the last two weeks.  Kasich formally announced July 21 and his support went from two percent in mid-July to three percent in the new poll.  Gilmore made his candidacy official July 30.

Men (29 percent) are a bit more likely than women (24 percent) to back Trump — yet he's the top vote-getter for both.

Another example of GOP primary voters increasingly liking what they hear from Trump:  34 percent say they would "definitely" vote for him, which is more than four times what it was two months ago (8 percent).

And the number who would "never" support Trump dropped 26 percentage points: it was 59 percent in June and 33 percent now.  Graham (40 percent), Christie (34 percent) and Pataki (34 percent) now have more voters than the Donald saying they would never vote for them.  
This morning, we got two polls from Bloomberg News and CBS News and The New York Times:
Chris Christie and John Kasich remain ahead of Rick Perry in the race for the final spots on the debate stage in Cleveland this week, according to two new polls released Tuesday that have Donald Trump on top of the GOP presidential field.

Christie and Kasich each earn 4 percent of the vote in a Bloomberg Politics poll, ahead of Perry, who is at 2 percent. A new CBS News poll shows Christie at 3 percent, Perry at 2 percent and Kasich at 1 percent.

The two polls keep Perry, the former Texas governor, mired in 11th place in an average of the most recent live-caller polls, which is believed to be Fox News' criteria for selecting the 10 participants in Thursday night's first Republican presidential debate.

The Bloomberg poll shows Trump with 21 percent of the vote, easily ahead of the second-place candidate, former Florida Gov. Jeb Bush, at 10 percent. Wisconsin Gov. Scott Walker (8 percent), former Arkansas Gov. Mike Huckabee (7 percent), Florida Sen. Marco Rubio (6 percent), pediatric neurosurgeon Ben Carson (5 percent), Kentucky Sen. Rand Paul (5 percent), Texas Sen. Ted Cruz (4 percent), Christie and Kasich round out the top 10.

Further back in both the Bloomberg poll and the average of recent polls are former Pennsylvania Sen. Rick Santorum (2 percent in the Bloomberg poll, former Hewlett-Packard CEO Carly Fiorina (1 percent), South Carolina Sen. Lindsey Graham (1 percent), former Virginia Gov. Jim Gilmore (0 percent) and former New York Gov. George Pataki (0 percent).

In the CBS News poll, Trump has 24 percent, to 13 percent for Bush and 10 percent for Walker. Trailing the top three are Huckabee (8 percent), Carson (6 percent), Cruz (6 percent), Rubio (6 percent), Paul (4 percent), Christie (3 percent), Jindal (2 percent), Perry (2 percent), Gilmore (1 percent), Kasich (1 percent), Pataki (1 percent), Santorum (1 percent), Fiorina (0 percent) and Graham (0 percent)
With this final round of pre-debate polling, Donald Trump now clearly leads the Republican field outside of the margin of error. In the RealClearPolitics average, which is slightly different from the average that Fox News will be using for the debate but close enough for the purpose of analysis, Trump now has a 23.2% average, with Jeb Bush second at 12.8% and Scott Walker third at 10.6%. Nobody else has an average in the double digits, and the closest candidates to Walker in the average are Mike Huckabee and Ben Carson, neither of whom will be the Republican nominee, who are tied a 6.6%. The top ten is about the same as it has been since late last week, with Chris Christie and John Kasich in ninth and tenth place respectively and Rick Perry standing on the outside with an average poll standing of 2.0%. Indeed, instead of seeing his numbers go up in the most recent polls Perry has actually seen his numbers get worse as time has gone on. The fact that the former Texas Governor has been among the most vocal critics of Donald Trump over the past month and half led many observers to think that he would benefit from some of the anti-Trump antipathy that one sees in the poll numbers. Instead, Perry's numbers have gone done and Donald Trump has seemingly become more acceptable to potential Republican voters.
The big question, of course, is how long all of this will last. The conventional wisdom among political analysts continues to be that Trump's rise in the polls and Republican voters' flirtation with him are temporary phenomena not dissimilar from similar episodes we've seen in past elections with candidates such as Michele Bachmann, Herman Cain, and Newt Gingrich. Perhaps this will prove to be correct. Indeed, anyone with a passing knowledge of the history of American electoral politics knows how uncommon it is for the candidate who is leading in the polls in the August before primaries even start to end up being their parties nominee. It didn't happen to Hillary Clinton in 2008 or Rudy Giuliani in that same year, and logic tells us that much the same thing will happen to Donald Trump. At some point, the enthusiasm for Trump will fade either because Republican voters have ended their summer fling and decided to focus on candidates that actually have a realistic shot at winning the election or Trump will shoot himself in the foot somehow. So far, neither of those things have happened though, and it seems unlikely that it will happen any time soon. Indeed, every time Trump does something that one would rationally think would hurt him with voters, like attacking John McCain's military service, his poll numbers go up. Additionally, as I've said before, the fact that Trump is self-funding means that he isn't subject to the same pressures that other candidates whose political fortunes are on the decline may be. If he wants to, Donald Trump could stay in this race all the way to the Republican Convention next June.
The process will begin sorting itself out on Thursday with the first debate. There was a candidate's forum last night in New Hampshire, but it wasn't a traditional debate, Trump wasn't there, and by all accounts for format required to accommodate the fourteen candidates who did show up unsurprisingly resulted in a less than substantive event. Thursday won't be much better in that regard, of course, but at least with all the top candidates in the room at the same time we'll get a better idea of how the race will shape out going forward.