Evaluating Trump's First 100 Days
After 100 days in office, President Trump has very little to show for his work except to show that there's no reason to trust his judgment going forward.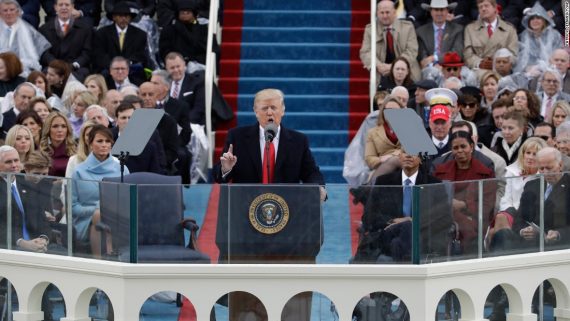 As Steven Taylor has already noted, today marks President Trump's 100th day in office. In general, I'm agreement with my co-blogger, the President, and several other pundits such as The Wall Street Journal's Charles Kesler, this is in many ways an entirely artificial measurement that really doesn't tell us much of anything about how a President's time in office might turn out. In fact, recent experience tells us that there really hasn't been anything notable about the first 100 days in office of any recent President that has been notable. President Obama's first 100 days, for example, weren't marked by very much of any significance with the possible exception being the
President Obama's first 100 days, for example, weren't marked by very much of any significance with the possible exception being the American Recovery And Reinvestment Act, the stimulus package that was passed within Obama's first month in office. That bill, however, is something that Democrats in Congress and members of the incoming Administration had been working on since Election Day and included many provisions that Democrats on Capitol Hill had been attempting to get adopted for years, so in many ways the bill itself was ready-made for the new President when he took office on January 20th, 2009. Furthermore, the fact that the Democrats controlled both Houses of Congress at the time meant it wasn't very hard to get the bill through Congress on onto the President's desk in less than four weeks. Beyond that bill, though, Obama's first 100 days were fairly humdrum and consisted of the same things we always see at the start of any Presidency, namely the process of getting the new Executive Branch staffed-up and confirmed by the Senate where necessary. Similarly, the first 100 days of George W. Bush's Presidency didn't include very much in the way of anything earth-shattering accomplishment or failure. President Bill Clinton's first 100 days in office included having to engage in a search for an Attorney General nominee who didn't have some kind of tax problem before finally settling on Miami-Dade County State's Attorney Janet Reno, who ended up becoming one of the few members of Clinton's Cabinet to serve for most of both of his terms in office. Before him, President George H.W. Bush's first 100 days were a bit unique in that the marked the beginning of what would become, by the end of 1989, the effective end of the Cold War with events such as the protests and massacre in Tiananmen Square, the rising protests in Poland and elsewhere across Eastern Europe, and finally the tearing down of the Berlin Wall. Other than that, though, the biggest story of the elder Bush's first 100 days was the difficulty he had in getting his first choice for Defense Secretary, John Tower, confirmed due to his past alcohol problems and accusations of inappropriate conduct toward women. President Reagan's first 100 days, meanwhile, were interrupted when he was shot and nearly killed on March 30, 1981, less than a month short of his first 100 days in office. He would not return to the public eye until the evening before his 100th day in office when he delivered an address to Congress where he was incredibly well-received and which set the stage for a successful first year in office.
Even the events which first popularized the idea of a President's first 100 days are popularly misunderstood, as Charles Kesler notes in his Wall Street Journal piece:
FDR spoke of "the hundred days which had been devoted to the starting of the wheels of the New Deal" in his fireside chat of July 24, 1933—142 days after his March 4 inauguration. He was referring to "the historical special session of the Congress" he had convened, which opened March 9 and adjourned June 16. That is, the Hundred Days were legislative days, not executive days.

Today's Congress commonly leaves Washington three days a week. If you wanted to apply Roosevelt's implicit criterion of 100 congressional days, you'd be counting not to April 30, but into July or August—or even September or later, since Congress is in recess the whole month of August.
In other words, there really isn't anything special about a President's first 100 days in office and the history on which it is based is largely misunderstood.
Despite all of this, there is still much attention being paid today to the fact that President Trump has hit his 100th day in office has led the media, pundits, bloggers, and a host of others to offer up evaluations of what is essentially an entirely arbitrary number of days. You can easily find any number of these analyses, opinion pieces, and such on your own if you wish. In some of the more interesting pieces, though, New York Times reporters Mark Landler, Ellen Barry, and Jason Horowitz take a look at how the rest of the world is viewing Trump now that he's been in office for roughly three months, Washington Post Business columnist Allan Sloan take a look at the promises Trump made regarding economic policy within his first 100 days, his colleague Elise Viebeck takes a look at what, exactly, the new President has done so far, and the Post's fact checker evaluates all of the claims Trump has made during his first 100 days.  Finally, and not surprisingly, the Editors at The New York Times take a mostly negative view of how the President has done during his first 100 days.
Notwithstanding the fact that it is entirely arbitrary, the fact of the matter is that President Trump, like most of his predecessors stretching back to the beginning of the Eisenhower Administration, is being evaluated by the professional political class and the pundit is being judged whether that happens to be fair or unfair. So far at least, it's hard not to agree with those who are by and large giving the President rather poor grades across the board and to conclude that these first 100 days do not bode well for at least the short-term future of the Trump Administration. With the sole exception of the confirmation of Judge Neil Gorsuch to the Supreme Court, which was mostly pre-determined given that the GOP controls the Senate, there really hasn't been anything of note that Trump has done since January 20th that's worth recounting. Indeed, some of his most notable actions, such as Executive Orders seeking to bar people from seven majority Muslim nations from coming to the United States and another seeking to withhold Federal funds from states, counties, and cities that adopt so-called "sanctuary" policies regarding undocumented immigrants, have both been declared unconstitutional by multiple Federal Judges. He has signed a few pieces of legislation into law, most of which involve action by Congress pursuant to a little-known law passed in the 1990s that authorize Congress to review and repeal certain actions by regulatory agencies. While some of those actions will have a big impact on specific industries, none of them are particularly earth-shattering, or even all that important.
The most notable thing about Trump's first 100 days from a legislative point of view, of course, is the failure of the Republican-controlled House to even be able to vote on a bill to repeal or replace the Affordable Care Act. The first effort, which was introduced at the end of March in the form of the American Health Care Act, quickly turned into a political hot potato as both conservatives in the House Freedom Caucus and moderates abandoned their support for the bill the more changes were made to appease one group or the other. As a result, the GOP leadership scuttled their efforts to pass the bill before the Easter recess.  In the weeks that followed, there were efforts to revise the AHCA to create something that could pass the House, but once it was clear that the changes made to appease the Freedom Caucus would not be acceptable to Republican moderates, the plan to bring that matter to a vote this week was also abandoned. Now, it seems clear that there won't be a vote on any health care reform bill in the House unless and until they have a majority to do so. Right now, that seems unlikely.
The one thing we can say based on Trump's first 100 days is that the pattern of behavior that we saw during his time as a candidate has not changed since he officially became President on January 20th. Back then, Trump got into hot water many times on the campaign trail over things that he said in a speech or things that he posted on Twitter and this would become a topic of media obsession for several days at least. The same thing has been true over the past 100 days. More than once, the President has been known to send out a random series of tweets, usually based off of something he sees on cable news, or to otherwise say something controversial. Thus, we've had plenty of opportunities to observe that Trump's behavior really hasn't changed since he became President. Given that he's a seventy-year-old man who has basically done whatever he wanted to for most of the past forty years, he's not going to change now and very few people around him except perhaps his children and his wife are going to be able to talk him out of something he's convinced he should do. The sole exception here seems to be the foreign policy arena, where he at least seems to be listening to the advice of people such as Defense Secretary James Mattis, NSC Adviser H.R. McMaster, and Secretary of State Rex Tillerson. Even there, though, it's Trump who makes the final judgment and it's his judgment we are all going to be dependent upon if and when a real crisis happens.
With 100 days behind us, it's worth noting that there are 1,361 days yet to come before we reach even the end of Trump's first term. Even if he ends up losing a re-election bid in 2020, that's a long time and these first 100 days don't really tell us much of anything about where we're headed. That being said, if you're less than optimistic about things turning out well, I'm right there with you. I've said repeatedly since January on social media and elsewhere that I have little confidence in this President when it comes to making the decisions that will need to be made in a crisis, or when it comes to accomplishing anything worthwhile. In fact, I'm quite concerned indeed. That, however, is for the future.
For his first 100 days, I suppose the grade I give President Trump is "Meh."