Hillary Clinton Blames Her Loss On The Director Of The F.B.I.
In a call to supporters, Hillary Clinton blames her loss on F.B.I. Director James Comey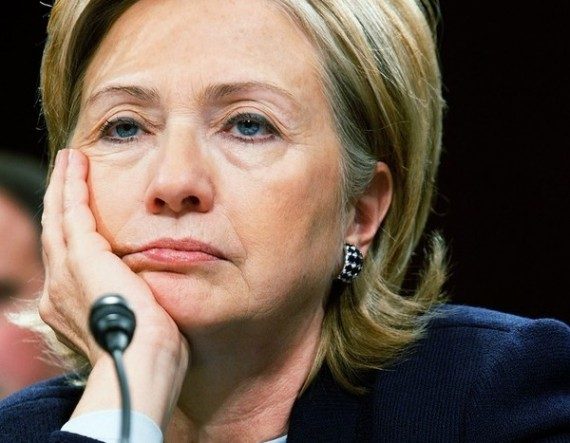 Hillary Clinton is blaming her election loss on the fact that F.B.I Director James Comey sent a letter to Congress informing Committee Chairmen that the bureau was investigating a new set of email that appeared to be connected to Clinton's email server:
Hillary Clinton on Saturday cast blame for her surprise election loss on the announcement by the F.B.I. director, James B. Comey, days before the election that he had revived the inquiry into her use of a private email server.

In her most extensive remarks since she conceded the race to Donald J. Trump early Wednesday, Mrs. Clinton told donors on a 30-minute conference call that Mr. Comey's decision to send a letter to Congress about the inquiry 11 days before Election Day had thrust the controversy back into the news and had prevented her from ending the campaign with an optimistic closing argument.

"There are lots of reasons why an election like this is not successful," Mrs. Clinton said, according to a donor who relayed the remarks. But, she added, "our analysis is that Comey's letter raising doubts that were groundless, baseless, proven to be, stopped our momentum."

Mrs. Clinton said a second letter from Mr. Comey, clearing her once again, which came two days before Election Day, had been even more damaging. In that letter, Mr. Comey said an examination of a new trove of emails, which had been found on the computer of Anthony D. Weiner, the estranged husband of one of her top aides, had not caused him to change his earlier conclusion that Mrs. Clinton should face no charges over her handling of classified information.

Her campaign said the seemingly positive outcome had only hurt it with voters who did not trust Mrs. Clinton and were receptive to Mr. Trump's claims of a "rigged system." In particular, white suburban women who had been on the fence were reminded of the email imbroglio and broke decidedly in Mr. Trump's favor, aides said.

After leading in polls in many battleground states, Mrs. Clinton told the donors on Saturday, "we dropped, and we had to keep really pushing to regain our advantage, which going into last weekend we had."

"We were once again up in all but two of the battleground states, and we were up considerably in some that we ended up losing," Mrs. Clinton said. "And we were feeling like we had to put it back together."

Presidential candidates have a long history of blaming forces outside their control for their losses. In 2004, John Kerry linked his defeat to a videotape of Osama bin Laden that appeared days before the election, stoking fears about terrorism. In 2012, Mitt Romney told donors he had lost because President Obama had vowed to bestow "gifts" on Democratic special interests groups, namely African-Americans, Hispanics and young people.

Mrs. Clinton's contention appears to be more rooted in reality — and hard data. An internal campaign memo with polling data said that "there is no question that a week from Election Day, Secretary Clinton was poised for a historic win," but that, in the end, "late-breaking developments in the race proved one hurdle too many for us to overcome."

Mrs. Clinton lost narrowly in several battleground states, and by the time all ballots are counted, she appears poised to win the popular vote by more than two million votes.

Still, Mrs. Clinton's instinct to shun any personal responsibility angered some Democrats. Several donors on the call, while deeply bitter about Mr. Comey's actions, said they believed that Mrs. Clinton and her campaign had suffered avoidable missteps that handed the election to an unacceptable opponent. They pointed to the campaign's lack of a compelling message for white working-class voters and to decisions years ago by Mrs. Clinton to use a private email address at the State Department and to accept millions of dollars for speeches to Wall Street.

"There is a special place in hell for Clinton staff, allegedly including Cheryl Mills, that okayed the email server setup," Jim Manley, a Democratic strategist and former senior aide to Senator Harry Reid of Nevada, wrote on Sidewire, a social media site, referring to a longtime aide and lawyer to Mrs. Clinton.

Mrs. Clinton's campaign was so confident in her victory that her aides popped open Champagne on the campaign plane early Tuesday. But that conviction, aides would later learn, was based largely on erroneous data showing that young, black and Latino voters and suburban women who had been turned off by Mr. Trump's comments but viewed Mrs. Clinton unfavorably would turn out for her in higher numbers than they ultimately did.

Exit polls conducted by Edison Research found that among people who said they had decided in the final week before Election Day, 47 percent voted for Mr. Trump and 42 percent for Mrs. Clinton.

As early as Wednesday morning, aides began to explain to Democrats shaken by the loss that the campaign's sophisticated data modeling had not taken into account the bombshell F.B.I. announcement.

Mr. Comey's letters to Congress went against the F.B.I.'s longstanding tradition of avoiding decisions that could affect elections, but he told aides that he felt he had no choice because he had already weighed in on the case so publicly. In July, he had taken the unusual step of publicly announcing that the F.B.I. would not charge Mrs. Clinton.

At the time, she believed she had finally put the issue to rest. And after the final debate on Oct. 19 in Las Vegas, she emerged in such a strong position that she began to focus on campaigning for down-ballot Democrats and planned a campaign stop in traditionally Republican Arizona.

"We felt so good about where we were," Mrs. Clinton told donors. Before Mr. Comey's first letter to Congress, she added, "we just had a real wind at our back."

Mr. Trump seized on the letter, telling voters in Nevada the Saturday before Election Day that "the F.B.I. has reopened its criminal investigation into Hillary Clinton," and that the matter "would grind government to a halt" should Mrs. Clinton win the White House. The F.B.I.'s examination of the new emails did not in fact reopen the investigation.

Democratic pollsters attributed Mr. Trump's laser-thin victories in Pennsylvania, Michigan and Wisconsin — states that President Obama had won — largely to a drifting of college-educated suburban women to the Republican nominee at the last minute, because of the renewed focus on Mrs. Clinton's email server.

"We lost with college-educated whites after leading with them all summer," a Clinton spokesman, Brian Fallon, said on Wednesday. "Five more days of reminders about Comey, and they gravitated back to Trump."

(…)

Democratic pollsters attributed Mr. Trump's laser-thin victories in Pennsylvania, Michigan and Wisconsin — states that President Obama had won — largely to a drifting of college-educated suburban women to the Republican nominee at the last minute, because of the renewed focus on Mrs. Clinton's email server.

"We lost with college-educated whites after leading with them all summer," a Clinton spokesman, Brian Fallon, said on Wednesday. "Five more days of reminders about Comey, and they gravitated back to Trump."
As I noted in my post last week prior to Election Day taking a final look at the polls, there was some evidence that the polling had tightened in the week after Director Comey released his initial letter to Congress, and that tightening also seemed to be occurring at the state level. However, we saw the same sort of tightening prior to Election Day four years ago when an issue like a letter from the F.B.I, Director to Congress was not even an issue. Based on the numbers, it was unclear whether the tightening we were seeing was due to Comey's letter, or just part of the same natural tightening that we saw four years ago and in previous elections. Additionally, while it's probable that the initial Comey letter likely played a role in some of the slippage in Clinton's support, the reality is that she was already vulnerable in this area thanks to her own actions rather than the actions of the Director of the F.B.I. or any other party. Additionally, the fact that Comey followed his initial letter up with a second one informing Congress that there was nothing in the new email that warranted revisiting the initial conclusion that prosecution was not warranted argues against the idea that the F.B.I. was, as Clinton seems to argue, primarily responsible for her loss.
From the beginning, Clinton and her campaign mishandled their response to the whole email story in the apparently mistaken belief that it was a story that would largely only resonate with Republicans who wouldn't vote for her in any case. While there is some truth to that belief, it's also true that polling from the time the existence of the email server was first reported forward, it was an issue that the public as a whole indicated in polling that they cared about and which added to their doubts about Clinton's trustworthiness and judgment. Instead of addressing these concerns, the Clinton campaign spent its time dismissing the email story and hanging its hat on the fact that, back in July, Comey had announced his conclusion that there was nothing in the Clinton emails that would justify prosecution even though the Bureau also found that Clinton had been 'extremely careless' in her handling of classified information. This conclusion, of course, didn't address the fact that Clinton had given seemingly inconsistent explanations for why she set up the private server to begin with and that the perception that she did it because she had something to hide was not dissipated by the conclusion of the F.B.I.'s investigation. As I said at the time of that July announcement, the email story would continue to follow Clinton unless the campaign addressed it adequately. If the Comey letter of October 28th played any role in deciding the election, it was largely because it reinforced pre-existing perceptions about Clinton that were not addressed by the campaign, and if that's anyone fault, it's the fault of Clinton and her campaign, not James Comey.
Jacob Sullum makes much the same point at Reason:
Clinton surely is right that the fresh attention Comey's statements brought to the email controversy did not help her, although it's debatable whether his statements played as big a role as she implies. But assuming that late-deciding voters held the issue against her, she has no one to blame but herself. For six months after her email practices at the State Department were revealed by The New York Times in March 2015, she treated the story as much ado about nothing, an annoying pseudo-controversy that was not worth addressing on its merits. Even after conceding that she had made a "mistake," she continued telling lie after lie in an attempt to minimize the gravity of her actions. That record of mendacity goes a long way toward explaining the amazing fact that voters in some surveys trusted her less than the notorious prevaricator she was running against.

Even in defeat, Clinton is still minimizing, saying concerns about her email practices have "proven to be…groundless." The fact that Comey did not recommend criminal charges does not mean there was no legitimate reason to be troubled by her arrogant disregard of State Department rules, her "extremely careless" handling of "very sensitive, highly classified information" (as Comey described it last July), or her consistent dissembling on the subject. Even Comey's conclusion that charges were not justified without evidence that Clinton knowingly broke the law is legally questionable, since people can be prosecuted for exposing classified information through "gross negligence."
Jonathan Turley makes these observations about Clinton's attempt to pin blame for her loss on the F.B.I.:
She did not acknowledge her long-standing polling issues with truthfulness or reputation as the ultimate establishment candidate in a counter-establishment election. Instead, she said it was all about Comey even though she was struggling to even gain a few percentage points over Trump who had rallied oppositional forces against himself. She even lost Wisconsin – a first since 1984 for a Democrat. That is not about Comey. The whole election was a disaster as we previously discussed on the blog. While this blog and others openly marveled at the decision of the Democratic establishment to pick an establishment candidate with such baggage, Democratic insiders and the media pushed the line that Clinton would necessarily win and that people would overcome their clear dislike for her. While Clinton appears to have won the popular vote, a Democratic nominee without the baggage and bad polling numbers might have produced a starkly different result, including the possible flipping of the Senate. particularly a perceived outside like Sanders.  While I have long been a critic of the electoral college and an advocate of a majority requirement for president, a run off would not have necessarily helped Clinton.  First, while she won the popular vote, she was well below 50 percent.  She was roughly 5 million below Obama's total in the prior election against a much more polarizing opponent than Mitt Romney.  The final numbers are still uncertain but both REe likely to end up in the 47 percentile.  She won Colorado after Libertarian Ron Johnson took five percent.  The Clinton campaign sought to win on an anti-Trump vote as Trump sought an anti-Clinton victory.  That was not enough for a lot of young people and others who were simply not motivated by Clinton.  In the end, the pro-Trump and anti-Hillary voters were unstoppable.  Moreover, judging from the losses of the Senate races, the Democrats gave up on selecting a candidate with any "coattails."  The Democrats lost a golden opportunity to take back the Senate and will now face the opposite situation in two years where more Democratic seats will be a risk.
Finally, from the initial article quoted above, this jumped out at me:
Mrs. Clinton's campaign was so confident in her victory that her aides popped open Champagne on the campaign plane early Tuesday.
In other words, the campaign was so self-assured of victory that it failed to see its own mistakes. It's no wonder they narrowly lost this election.