Is Roy Moore's Victory The Opening Battle In A Republican Civil War?
Roy Moore's victory in Alabama is raising fears of a wider battle in the Republican Party heading into 2018.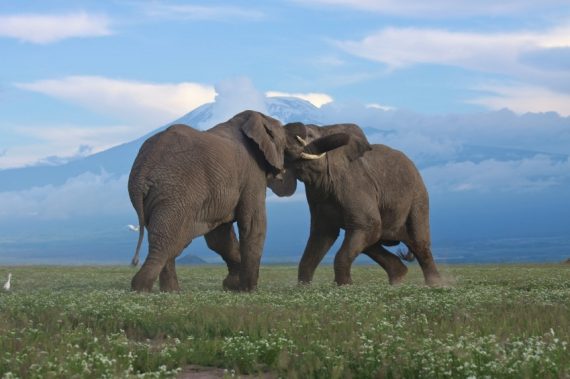 The victory of Roy Moore in Alabama's Republican Senate primary on Tuesday is leading to fears among Republicans of a wider insurrection that could have severe implications for the 2018 midterms:
BIRMINGHAM, Ala. — Republicans are confronting an insurrection on the right that is angry enough to imperil their grip on Congress, and senior party strategists have concluded that the conservative base now loathes its leaders in Washington the same way it detested President Barack Obama.

The defeat of Senator Luther Strange, Republican of Alabama, in a primary election on Tuesday night appears to have ushered in a season of savage nomination fights and activist-led attacks on party leaders, especially on Senator Mitch McConnell of Kentucky, the majority leader. Despite enjoying the strong backing of President Trump, Mr. Strange lost by a wide margin to Roy Moore, a firebrand religious activist and former judge, who denounced Mr. Strange as a puppet of the Senate leader.

Mr. Strange's demise, senior party strategists and conservative activists said Wednesday, makes it likelier that Republican incumbents in the House and Senate will face serious primary challenges in 2018, fueled by anger at the party's apparent ineptitude at wielding power in Washington. Stephen K. Bannon, Mr. Trump's former chief strategist and a vehement antagonist of the party establishment, said on Tuesday night that he intends to target Republican senators in Mississippi, Arizona and Nevada for defeat.

And that rebellion could spread.

Trent Lott, a former Senate Republican leader, was blunt: "Every Republican senator had better get prepared for a challenge from the far right."

If nothing else, divisive intraparty battles could cost party donors tens of millions of dollars and weaken Republicans' position in a year when Democrats were already poised to make gains, at least in the House. They could also reshape the party's agenda, driving it further in the direction of Mr. Trump's strain of nationalism rather than the more conventional, business-oriented agenda espoused by Mr. McConnell and Speaker Paul D. Ryan of Wisconsin.

Republicans increasingly worry that their base's contempt for Mr. McConnell is more potent than its love for Mr. Trump. Mr. McConnell could be an anchor around incumbents in the same fashion as Representative Nancy Pelosi, the House Democratic leader, who is routinely used to undermine Democratic candidates. The loudest applause Mr. Moore received during an election-eve rally came when he declared, "Mitch McConnell needs to be replaced."

In a memo about the Alabama election that circulated among Republican donors, Steven Law, president of the Senate Leadership Fund, a "super PAC" closely allied with Mr. McConnell, said primary voters were intensely angry and inclined to blame Republicans for dysfunction in Washington.

"The Republican Congress has replaced President Obama as the bogeyman for conservative G.O.P. primary voters," Mr. Law wrote, cautioning that the president was helping to amplify that point of view: "This narrative is driven by Trump himself, and it resonates with primary voters who believe the Republican Congress 'isn't doing enough' (as we frequently heard in focus groups) to advance the president's agenda."

Mr. Law, whose group spent more than $10 million to prop up Mr. Strange, said in the memo that Republicans had been damaged by "the Obamacare repeal fiasco," and said they should expect to fight hard-right primary candidates in Mississippi and Nevada, among other states. Mr. Law derided Mr. Bannon for being focused mainly on "promoting his own brand," and discounted him as a major force in Alabama.

The convulsive mood on the right has considerably reshaped the political map for 2018, making a favorable list of Senate races somewhat less hospitable to Republicans. Two Republican senators, Dean Heller of Nevada and Jeff Flake of Arizona, have seen their poll numbers collapse after clashing with Mr. Trump and embracing unpopular legislation to repeal the Affordable Care Act.

In Tennessee, Senator Bob Corker, a well-liked lawmaker from a traditional Republican mold, on Tuesday became the first Senate Republican to announce that he would not seek re-election in 2018. His departure is likely to yield a contentious Republican primary, much like the one just concluded in Alabama.

The Alabama race "is going to inspire a lot of people," Mr. Bannon said in an interview in Montgomery on Tuesday night.

Mr. Bannon said he had held discussions about the Tennessee race with Mark E. Green, a state senator who was nominated to be Mr. Trump's Army secretary before withdrawing after facing scrutiny for his past statements about gay and transgender people. Tennessee could be the site of the next major populist-versus-establishment conflagration if Gov. Bill Haslam responds to entreaties to enter the race.

Mr. Bannon also said he aimed to oust Mr. Heller, Mr. Flake and Senator Roger Wicker of Mississippi. Ed Martin, a former chairman of the Missouri Republican Party, said Mr. Bannon had also inquired about the state's Senate race, in which the Republican establishment has rallied around Josh Hawley, the state attorney general, as an opponent for Senator Claire McCaskill, a Democrat.

After leaving the White House last month, Mr. Bannon returned to his perch at Breitbart News, and has been using the hard-right website and his close ties to the Mercer family, New York-based conservative donors, to create a new, insurgent power base.

It remains unlikely that Republicans will lose control of the Senate next year, because the playing field of races is tilted so strongly in their direction. The party is defending just eight seats, mostly in strongly conservative states, compared with 25 seats held by Democrats or independents who caucus with them.

Yet the pitfalls Republicans have encountered so far have created unexpected opportunities for Democrats, and the party is assessing even long-shot races where there is the possibility of an upset. In Tennessee, a solidly Republican state, several new Democrats are considering the race for Mr. Corker's seat: Mayor Andy Berke of Chattanooga said in a statement that he would explore a bid "in the coming weeks," and State Senator Jeff Yarbro, a Nashville legislator, is also eyeing the race. One Democrat, James Mackler, a lawyer and Iraq war veteran, is already running.

(…)

It is not only Republican senators who could find themselves cast out by conservative challengers next year. A parade of candidates, aligning themselves explicitly with Mr. Trump, is lining up to take on House Republicans whom they view as insufficiently loyal to the president. If enough Republican lawmakers are ousted in primaries, or forced to spend millions just to secure renomination, it could give Democrats a better chance to pick up the two dozen seats they need to take a majority.

"I think incumbents are extremely vulnerable," said Barry Moore, an Alabama state representative challenging Representative Martha Roby, a Republican who called on Mr. Trump to withdraw from the presidential race late last fall. "The American people are sending a message that there's nothing getting done in D.C., and we're going to have to replace a lot of those people."

A spokesman for Ms. Roby, Todd Stacy, noted that she and "her House colleagues have voted to repeal Obamacare, roll back Obama regulations, repeal Dodd-Frank, fund border wall construction, rebuild the military, reform the V.A. and tax reform got rolled out today."

Still, the alarm is most acute in the Senate. Party strategists have seen private polling in a number of states that shows Mr. McConnell deeply unpopular with his fellow Republicans. In Arizona they have found Mr. Flake trailing his primary challenger, Kelli Ward, a former state senator, by a significant margin.
In many respects, of course, this isn't entirely different from what we've seen in other recent elections, when potential challenges to incumber Senators or Congressman, or candidacies in open seat races, became bitterly fought over between candidates backed by Tea Party and other activist groups and those backed by the more "establishment" wing of the Republican Party. The most notable examples of that phenomenon, of course, occurred in 2010 with the candidacies of people such as Christine O'Donnell in Delaware, Sharron Angle in Nevada, and Joe Miller in Alaska in either open-seat races or races against Republican sitting members of the House and Senate. Each of these candidates ended up winning the GOP nomination notwithstanding their relative lack of experience and espousal of extreme views on a wide range of issues, and each of them ended up losing in the General Election, although in Miler's case it was due to a historically successful write-in campaign on the part of incumbent Republican Lisa Murkowski. It was also a factor in the Indiana Senate race in 2012 when Congressman Todd Akin stayed in the race notwithstanding a series of controversial comments about rape that turned his race against Democrat Joe Donnelly into a national sensation. It also played a role the 2014 Senate primary in Mississippi which saw State Senator Chris McDaniel challenge incumbent Thad Cochran in a race that ultimately ended in a runoff that McDaniel lost but refused to concede for months due to largely baseless claims of voting irregularities. While 2014 was a year in which the GOP 'establishment' was far more successful in beating back Tea Party challenges than it had been in the past, the fact that we're seeing much the same phenomenon revive itself in the wake of Moore's victory in Alabama could be a bad sign for Republican incumbents going forward.
The first test of this movement is likely to come in Tennessee with the battle for the Republican nomination for the seat that Bob Corker will be giving up at the end of 2018, but we're also likely to see this disruption arise elsewhere in the country. Nevada Senator Dean Heller, for example, is already deemed to be vulnerable in the General Election in that state due to the fact that the state has seen a revival of the Democratic Party in the wake of statewide losses earlier in the decade. Even before he could get to the General Election, though, Heller will have to fend off a challenge from Danny Tarkanian, a Tea Party-backed candidate who has made several unsuccessful bids for statewide office in the past but who is likely to see his challenge to Heller energized by the current state of the GOP. Similarly, Arizona Senator Jeff Flake has been deemed potentially vulnerable in a General Election, although to a lesser extent than Heller, and he also faces a primary challenge from Kelli Ward, an Arizona State Senator who previously challenged John McCain in 2012. Another potential primary challenger for Flake could be former Maricopa County Sheriff Joe Arpaio, who was recently pardoned by President Trump, although an Arpaio candidacy seems less likely given his advanced age. It's also possible that such candidates could challenge other Republican Senators whose seats are up in 2018, but their seats seem far more secure. Finally, of course, there are likely to be challenged at the primary level to any number of Republican House members likely to be challenged at the primary level based either on perceived apostasy, their position on issues like health care reform, or the perception that they have not been sufficiently supportive of President Trump and his agenda, whatever that might be.
All of this portends the same kind of civil war inside the Republican Party that we saw during the time period noted above, with anti-establishment and establishment forces squaring off against each other for control of the party's destiny. The main consequence of that fight, though, ended up being a largely divided Republican Party that proved to be too fractured to capitalize on opportunities to win seats in states like Delaware and Nevada or hold on to seats in states like Indiana. Additionally, it served to do at least some damage to the party on the national level to the extent that it added to the perception that the party was moving radically to the right in a way that put it out of step with the country as a whole. While the GOP didn't actually lose many seats as a result of those primary challenges, it did lose out on opportunities for wins that should have been rather easy. This time, though, the replacement of more mainstream candidates with candidates further to the right such as Roy Moore threatens to put seats in jeopardy in a midterm election that is likely insure to the benefit of Democrats if only because it has been the historical trend for a President's party to lose at least some power in the first midterm of his Presidency. While this seems unlikely to play a role in the battle for control of the House, it could have an impact on the ability of the GOP to either maintain control of the Senate or add to its majority by winning elections in some of the states where Democratic candidates are running in states that have been historically Republican, or which went for President Trump in last year's General Election. If that happens, then the GOP could see itself break even in the Senate, or even lose a seat or two and end up with an even thinner majority than it already has. That would have a profound impact on the party's ability to get anything done in Capitol Hil during the final two years of President Trump's first term.
As they say, stay tuned.