Jeb Bush Isn't Doing So Well In Iowa, So Maybe He Should Skip It
A new poll has some bad news for Jeb Bush in the Hawkeye State, which leads to the idea that maybe he shouldn't waste too much time there to begin with.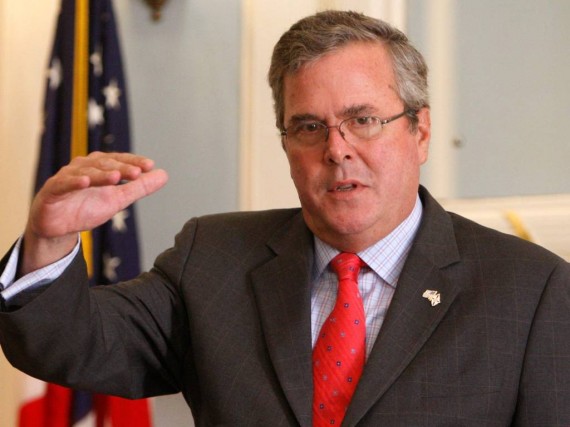 A new poll out of Iowa shows some good news for Scott Walker and several other current and potential candidates, and some bad news for Jeb Bush:
The latest Iowa polling numbers are great news for Scott Walker, and terrible news for Jeb Bush.

The Wisconsin governor retains his advantage among Iowa Republican caucus-goers, according to a new Quinnipiac University poll released Wednesday, with 21 percent of likely participants saying they would vote for him if the caucus were held today.

Bush, the former Florida governor, comes in seventh — with just 5 percent responding that they would vote for him. Only 39 percent said they viewed him favorably, compared with 45 percent who said they did not.

Below Walker and above Bush, the race is tight between Florida Sen. Marco Rubio and Kentucky Sen. Rand Paul at 13 percent, Texas Sen. Ted Cruz at 12 percent and former Arkansas Gov. Mike Huckabee at 11 percent.

Sixty-nine percent of participants said that Walker is honest and trustworthy (versus 11 percent who didn't), compared with 58 percent to 30 percent who say the same for Bush.

For Rubio, 72 percent to 13 percent said he is honest and trustworthy, while Paul got high marks as well (77 percent to 13 percent).

"More of those surveyed view Bush unfavorably than favorably, compared to Walker's 5-1 positive ratio. And 45 percent say Bush is not conservative enough. It's among the GOP conservative base that Bush finds himself trailing Sen. Ted Cruz, former Gov. Mike Huckabee and Sen. Rand Paul," said Peter Brown, assistant director of the Quinnipiac University poll.

For favorability ratings, no other candidate scored better than Rubio. Just 9 percent of likely caucus-goers said they have an unfavorable opinion of the junior Florida senator, while 69 percent said they viewed him favorably.
Additionally, of the likely caucus goers surveyed, twenty-five percent (25%) say that they would never support Bush in the caucuses. That's the highest 'would not support' number of any of the candidates mentioned in the poll, with only New Jersey Governor Chris Christie coming close at twenty percent (20%) saying that they could not support him. Moreover, the 5% that Bush registers in this polls is a dramatic drop from the ten percent (10%) that he registered in another Quinnipiac poll that was conducted back in Febraury. Assuming that this isn't an outlier, one can only assume that Bush has suffered in the wake of the entry of candidates such as Cruz, Paul, and Rubio into the race, something that the earlier  poll had not been able to fully register. It's also significantly below  a Public Policy Polling poll conducted in mid-April that had Bush at twelve percent (12%), but again that poll could not fully register the impact of the entry of other candidates into the race. With these new numbers, Bush's polling average in Iowa is now at 10.5%, which puts him behind Scott Walker and Mike Huckabee with both Rand Paul and Ted Cruz on his heels. This is a significant drop in a short period of time and doesn't portend very well for Bush in the Hawkeye State.
This leads Chris Cillizza to suggest that Bush should consider skipping Iowa and focusing his attention on New Hampshire and Florida where he is likely to get a better reception:
John McCain did it in 2000. Hillary Clinton thought about doing it in 2008. Jeb Bush should do it in 2016.

The "it" here is skipping the Iowa presidential caucuses, the quadrennial kickoff of the nomination fight for both parties. And, for Jeb, it makes total sense.

Here's why: He almost certainly can't win in the state. So why try?

(…)

Sure, Iowa was once considered the state where presidential aspirations were made and broken. But can it really be described that way after the last two elections? Former Arkansas governor Mike Huckabee won the 2008 Iowa caucuses going away and parlayed that into … a distant third-place finish (he got 11 percent!) in the New Hampshire primary five days later. In 2012, the results in Iowa were so close that no one knew who won the caucuses for weeks.  Eventually it was determined that former Pennsylvania senator Rick Santorum had won.  But it never helped him much.

Less important even than how Huckabee and Santorum won Iowa is whythey won Iowa.  They won because they became the top choice of social conservatives who have come to increasingly dominate the caucuses over the past decade. In 2012, Iowa entrance polling showed that almost six in ten caucus-goers (57 percent) identified as "born again/evangelical."  If the electorate in 2016 is even close to that heavily evangelical, Bush just isn't going to win.

But what about Rudy Giuliani, you say!  Giuliani skipped Iowa in 2008 and was irrelevant in the nomination fight before he ever had a chance to be relevant.  Sure, sort of. Giuliani's error in that campaign wasn't skipping Iowa, which he was right to do for all the reasons I outlined that Bush should, but his totally bizarre and inexplicable decision to pull out of a very winnable New Hampshire primary to stake his claim to the nomination in Florida. You can't wait until the fourth voting state to win (or even be competitive.) Youcan wait until the second state. (And yes, obviously Jeb needs to win New Hampshire if he skips Iowa. But doesn't he have to win New Hampshire regardless of what happens in Iowa?)
Cillizza's argument does have a certain logic to it. For one thing, Iowa has hardly been a harbinger of success on the Republican side in the thirty-eight years that its caucuses have been a regular part of the primary process. During that time period, the caucuses were held ten times, seven of which could be considered times when there was an actual contest rather than an incumbent President essentially running unopposed. Of those seven times, the candidate who won the Iowa Caucuses only won the Republican nomination three times (Ford in 1976, Dole in 1996, and George W. Bush in 2000) and of those three only one, George W. Bush was ultimately elected President. (Source) Mitt Romney came close to winning Iowa last time, but ultimately lost by a narrow margin to Rick Santorum. By contrast, of the same time period, the winner of the New Hampshire Primary has won the Republican nomination six times and has won the Presidency three times. (Source) To the extent that these contests are supposed to tell us anything about the relative strengths of the candidates, New Hampshire is far more reliable than Iowa, for what I would suggest are obvious reasons that go to the fundamental differences between primaries and caucuses. Given all of this, and for the reasons that Cillizza raises, the argument that Bush ought to consider either skipping Iowa altogether or at the very least not seriously contesting the state makes a lot of sense.
Some will argue that a candidate who starts talking about skipping primary or caucus states is already displaying a weakness that is likely to doom their campaign. Steven Taylor and Jonathan Bernstein both made that argument in connection with the decision by several Republican candidates to skip New Hampshire's primary in 2012 to concentrate on the primary in South Carolina. As I noted at the time, though, there are times when it makes sense for candidates to skip states that they clearly don't have much of a realistic shot in order to conserve both resources and political capital. Admittedly, skipping a contest as important as the New Hampshire primary is likely not a step toward electoral success, but that's different from the argument that it does have a certain political logic to it. Ultimately, of course, none of the candidates that skipped New Hampshire in 2012 ended up winning the nomination, and indeed they were all basically out of the race before the Florida Primary if not sooner, but that would have happened whether they seriously contested New Hampshire or not, and in 2012 the fact that Mitt Romney was effectively  a "favorite son" in the Granite State made it almost foolish for a candidate with limited resources to take him on.
Bush's calculus in Iowa is different than that faced by the candidates in 2012, but it's not that different. If this current poll holds up, then it's fairly clear that he's got an uphill battle ahead of him if he goes full bore in Iowa. Given the fact that there will be a large number of candidates in the race at that point, and that the electorate in the Hawkeye State is not entirely sympathetic to Bush to begin with, that doesn't necessarily make much sense. Sure, Bush could put millions into Iowa quite easily if he wanted to, but if he does that and walks away with anything other than a clear win then his campaign will be hobbled heading into the far more important contest in New Hampshire, and losing in New Hampshire would likely to be fatal to his campaign. It's entirely possible that Bush's numbers in Iowa will improve as the campaign goes on, but if this is any indication of what he's facing there then making only a minimal investment at best in the Hawkeye State and concentrating resources in states that are far more important, like New Hampshire, South Carolina, Nevada, and Florida. Bush may be reluctant to make this decision considering that his father won the Caucuses in 1980, and his brother won them in 2000, but these are different times.