Jeb Bush, Marco Rubio Warn Republicans On Losing Hispanic Voters
Two prominent Florida Republicans are warning their party about losing the support of the nation's fastest growing ethnic group.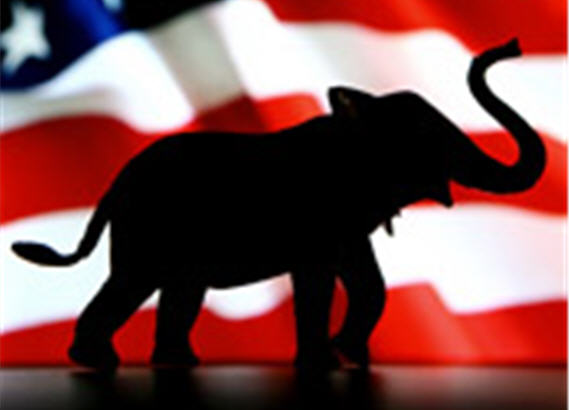 As the Republican candidates for President slog through the final days of campaigning in a state with a large Hispanic population, two Florida Republicans with strong ties to the Hispanic community are warning their party about rhetoric that threatens to alienate the fastest growing minority voting bloc in the country:
Senior Republicans including the brother of the former president George Bush have warned the party to avoid using "harsh, intolerable and inexcusable" language about illegal immigration or risk alienating Latino voters.

The Florida senator, Marco Rubio, and the state's former governor Jeb Bush made their appeal before Tuesday's primary, being contested by Newt Gingrich and Mitt Romney.

The Republican frontrunners clashed over illegal immigration in a debate earlier this week. The issue is emotive in Florida, which has the third largest Latino population in America.

Latinos make up 13% of Florida's 11.2 million registered voters, according to data from the Florida Division of Elections, compiled by the Pew Hispanic Center.

"We must admit there are those among us that have used rhetoric that is harsh and intolerable and inexcusable," Rubio said in a speech at the Hispanic Leadership Network in Miami on Friday.

"And we must admit, myself included, that sometimes we've been too slow to condemn that language for what it is."

(…)

Bush also urged Republicans to temper their comments. "Hispanic people hear these debates and I think you turn them off. It's not a good thing," he said.
Bush also addressed the issue in a Washington Post Op-Ed published earlier this week in which he urges Republicans to rethink the way they think, and talk, about immigration:
Republicans should reengage on this issue and reframe it. Start by recognizing that new Americans strengthen our economy. We need more people to come to this country, ready to work and to contribute their creativity to our economy. U.S. immigration policies should reflect that principle. Just as Republicans believe in free trade of goods, we should support the freer flow of human talent.

We need to connect immigration to other pro-growth policies, so that new Americans can apply their talents here and succeed. The United States needs an economy that is vibrant and dynamic, open to the contributions of new entrants. We have to reduce regulations across our economy, whenever they impede economic dynamism and flexibility in the labor market. We need secure energy supplies, radical tax reform and a reduced footprint of power of the state.

Immigration reform requires economic reforms. We must be able to assure new Americans the opportunity to succeed and contribute their talents.

And when they come, as surely they will, we must welcome them, no matter whether they speak Spanish or Creole or Portuguese. When we hear foreign languages in the streets of America, that is a validation of the Republican vision to create a place where people want to come and make their lives. Hispanics here speak or are learning English — not French, Chinese or Hindi. There is a lesson in that, and Republicans should be the ones to champion it.
The one thing that has been striking about the two Republican debates in Florida this week is the manner in which the tone of the discussion about immigration has changed from previous debates. The lines about "border security" and immigrants taking American jobs, while not gone completely, were being counterbalanced by discussions about compassion and the value of immigrants. Both Newt Gingrich and Mitt Romney voiced support for a modified version of the DREAM Act that would give legal residency to illegal immigrants who serve in the military. Statehood for Puerto Rico was discussed as an option. And, both Romney and Gingrich made it clear that they were not in favor of deporting Grandmothers. It's almost as if Rick Perry, another Governor from a state with a large Hispanic population who advocated programs like in-state tuition for the children of  illegal immigrants, were still in the race instead of having been shunned by his party's base for advocating a policy that he called compassionate.
Of course, this is largely because the candidates are in Florida this week and eager to attract the support of the Cuban community in Miami and the large Puerto Rican community that resides around Orlando and in other areas of the state. Earlier this month, when they were in Iowa where anti-immigrant sentiment runs bizarrely high for a state that is more than 1,000 miles from the U.S.-Mexico border, the rhetoric was very different. The same goes for South Carolina. Next month, the candidates will be competing in states like Nevada and Arizona and it's quite likely that the toned down rhetoric will be replaced with the same anti-immigrant rhetoric we saw a few weeks ago in Iowa. z
Bush and Rubio are right, of course. Thanks largely to a bizarre no-compromises position on immigration reform, the GOP is in the process of alienating even further an ethnic group that is going to become a huge part of the voting electorate in states that stretch from California, across the Southwest, into Texas, and all the way to Florida. There are also large and growing Hispanic populations in swing states like Virginia, Colorado, and North Carolina. For the GOP to ignore the problems it has with this voting bloc strikes me, and apparently Bush and Rubio, as a form of electoral suicide that would take a long time repair.  The Latino vote in California seems to be lost already and with it, most likely, the State of California itself for the foreseeable future. Other surveys have shown that Hispanics nationwide, while not necessarily thrilled with the Obama Administration's increased deportations and failure to follow through on comprehensive immigration reform, are more turned off by the GOP's stance on immigration issues than they are disappointed in the Democratic Party's to follow through on its promise.
Observing this problem in March, I said this:
The GOP stands on the verge of losing the fastest growing ethnic group in the country for at least a generation, all because the conservative base continues to cling to a restrictionist, anti-immigrant policy on immigration and refuses to even discuss the possibility of compromise on issues like amnesty for people already in the country illegally. To these conservatives, the answer to the immigration problem is an easy one but the truth it that it isn't easy, and they're leading the GOP down the road to electoral disaster.
People like Bush and Rubio clearly recognize this. Whether their fellow Republicans do, or whether they care, isn't at all clear.