Could Losing Congress Actually Help Trump?
The GOP is likely to lose control of the House of Representatives tomorrow, but could this actually help Trump?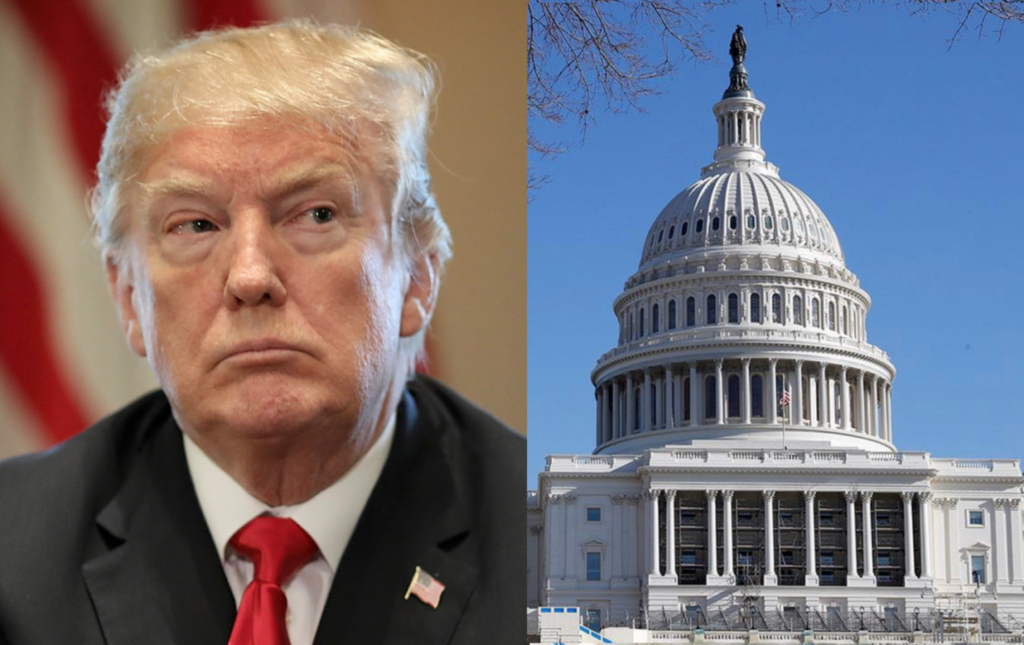 As things stand, the conventional wisdom and the polling data both indicate that Republicans will lose control of the House of Representatives in tomorrow's midterm elections. At least initially, this is likely to be interpreted by analysts and many of Trump's critics as a rebuke of the President and the Republican Party, and there is certainly some merit in that argument. After all, the President has spent the past month or so telling crowds at his rallies that he is on the ballot even though his name isn't there and that he needs their support to make sure that the GOP stays in control on Capitol Hill. Over the past week, though, there's been a noticeable change in Trump's rhetoric. While he still mentions candidates for the House at his rallies, the rallies themselves are clearly designed to boost the chances of candidates for the Senate and various Governor's races, and Trump has openly stated that it's possible that the GOP will lose the House. To some extent this is simply a recognition of reality, but, as two articles published yesterday argue, losing the House could actually be to Trump's benefit.
First up with that argument is Matt K. Lewis, a conservative who has been a frequent Trump critic, at The Daily Beast:
Consider this: In the post-World War II era, four presidents have lost the House of Representatives during their first midterm election: Harry Truman, Dwight Eisenhower, Bill Clinton, and Barack Obama. All four rebounded to win reelection two years later.

For obvious reasons, people like winning better than losing. Having congressional majorities allows presidents to pass their agendas, which—theoretically—helps them get reelected. What is more (and this is especially apt in the case of Trump's administration), losing means handing subpoena power to your political opponents. These are not small things. Yet, modern history, as we see above, suggests losing a midterm is far from fatal and is, in fact, probably helpful.
In support of his hypothesis, Lewis cites three factors:
First, winning would create challenges for Democrats. Believing they have a mandate, the party would be tempted to veer leftward and possibly pursue impeachment (falling for the same trap that Newt Gingrich and his Republican colleagues fell for in the late '90s). On the other hand, if Democrats resist the urge to lurch leftward, they could risk alienating a political base that turned out to vote for them in hopes of enacting a liberal agenda. Regardless of which side prevails, fights would break out over leadership positions (should Pelosi become Speaker again, etc.).

Second, losing the House would allow Trump to (plausibly) spread the blame. Right now, Republicans own everything that happens—or doesn't happen. That changes the minute Democrats take over the House.

Trump might even take a page from Harry Truman's playbook. Heading into the 1946 midterm elections, Truman was wildly unpopular, which resulted in Republicans picking up 55 House seats and 12 Senate seats. It was widely believed that Truman would suffer a similar fate in 1948, losing the presidential election. Yet, Truman famously defied the odds by running against the famous "Do-Nothing Congress" and winning reelection.

(…)

Lastly, one of the maxims of the tech industry is to "fail fast." It is a much better alternative to failing slow. Consider George W. Bush, who defied the odds by actually picking up seats during the 2002 midterm elections, which came in the wake of the 9/11 attacks. Although he went on to (narrowly) win reelection, his second term was a bust; the 2006 midterms swept Democrats back in control of the House, finally forcing Bush to make changes (including replacing Defense Secretary Don Rumsfeld).

I'm not suggesting that a loss on Tuesday will cause an introspective Donald Trump to pivot or "move to the center." If we have learned anything these last two years, it is that "infrastructure week" is a mirage. I don't foresee Trump deciding to work across the aisle with "Chuck and Nancy." He's much more likely to "give 'em hell" like Harry Truman than he is to "triangulate" like Bill Clinton.

Still, it is entirely possible that a midterm loss would force his administration to make some needed adjustments. And those adjustments might pay off in 2020.
Aaron Blake makes a similar point at The Washington Post:
[I]f you are looking at this purely from the vantage point of Trump's self-interest — particularly as it relates to winning reelection in 2020 — there is a compelling case to be made that a Democratic House might be a good thing for the president.

The first reason is that voters seem to like divided government. Of the last six presidents to win reelection since World War II, only one had complete control of Congress — George W. Bush in 2004. In 1996, 1988, 1980, 1972, 1968 and 1956, one party controlled all of Congress, but voters picked the other party for the White House.

(…)

The second is that it gives Trump a boogeyman — or, more apt, a boogeywoman. It's one thing to campaign against House Minority Leader Nancy Pelosi (Calif.) by warning that she could become speaker; it's another to do so if she is speaker. If Democrats win the House, Trump will have a ready-made foil for his 2020 reelection campaign, even if his Democratic opponent is not such a lightning rod.

Trump could also blame the Democratic House for his continued failures to live up to his many, many promises. (He has already done this to some degree, even though Democrats have no control over any branch of government.) Trump has fulfilled some promises, but key ones and far-fetched ones such as the border wall (not to mention making Mexico pay for it) remain improbable even if Republicans keep control of the House and Senate. If you are going to have gridlock, you might as well have someone on which to blame it who is not in your own party.

And, finally, even that subpoena power could pose some tough choices for Democrats. There will be pressure from the party's base to go after Trump heard and even impeach him, but we've seen how that can lead to overreach — most notably, when Republicans impeached Bill Clinton in the late 1990s. And Democratic leaders have already telegraphed a wariness about that. What happens when they actually have power and the base wants them to go further than they think is prudent? That doesn't mean they will go too far, but there's a clear tension.
Lewis and Blake both make valid points. As they both note, history has shown us several occasions when a President has seen his party lose control of one or both houses of Congress in their first midterm only to go on to end up winning re-election two years later. Truman did it in the wake of the 1946 election that saw Republicans win control of the House and Senate for the first time since the Great Depression. Eisenhower did it after Republicans lost control of Congress in 1956, although it's worth noting that in that case it only took a loss of two seats each in the House and the Senate for the balance of power to shift. Bill Clinton did it after Republicans won control of Congress in one of the most significant midterm elections in American political history. And, of course, Barack Obama did it after his party lost control of the House, and significant ground in the Senate, in the 2010 midterms. Part of the reason for this, it seems clear, is that the fact that the opposition party acquired at least some power in Washington made it easier to attack them while simultaneously taking some of the pressure off the President's party and gives the incumbent President a tangible thing to run against. This was most apparent, of course, in Truman's 1948 campaign against what he called the "Do Nothing Congress," in Clinton's 1996 campaign against Republicans who had made the strategic error of forcing two government shutdowns during its first year in office, and in Obama's campaign against Tea Party extremists who took the nation to the edge of fiscal disaster over raising the debt ceiling in 2011. Theoretically at least, a President Trump running for re-election in 2020 could find similar success, although of course its likely that he would attack Democrats just as thoroughly even if they didn't have control of the House.
All of that notwithstanding, though, it strikes me that the situation that President Trump is likely to face in 2020 has the potential to be markedly different from what his predecessors faced when they stood for re-election. Perhaps the most important difference is the fact that, unlike any of these predecessors except, to some extent, Bill Clinton, Trump is likely to be the subject of multiple investigations heading into 2020 in the event that Democrats capture the House tomorrow. This wil include not only the likely reopening of the Russia investigation by a Democratic-controlled House Intelligence Committee but also investigations into the Emoluments Clause issues raised by his continued interest in The Trump Organization as well as investigations of members of his cabinet over allegations that have been widely reported over the past year and a half. This is just as likely to put the Administration on the defensive as it is to give him the President ammunition with which to attack the Democrats and their nominee for President.
Additionally, the extent to which Trump will be able to use a Democratic House as a cudgel will depend significantly on how Democrats conduct themselves if they gain power. If they take the route that many of their more radical base supporters want and spend the next two years doing very little other than investigating Trump and perhaps pursuing impeachment charges, then they could very well give Trump what he needs to use Congress to advantage. On the other hand, if they use their control of Congress to pursue an agenda that lays the groundwork for 2020 by passing legislation that, even though it would be doomed in the Senate due either to Republican control or the relentless use of the legislative filibuster, is popular with the public then that could end up blunting Trump's efforts to turn Democrat's control of Congress against them.
Despite those caveats, the scenario that Lewis and Blake put forward is certainly possible and, as we've seen from history, it's one that has worked before and could very well work again. In that same respect, it's worth keeping in mind that the odds are nearly always in favor of an incumbent President getting re-elected absent the existence of extraordinary circumstances such as the economic downturns that Presidents Hoover, Carter, and George H.W. Bush faced at the end of their first and only term in office or the massive public dissatisfaction with the Vietnam War that Lyndon Johnson faced when he decided to end his bid to run for a second full term in 1968. Absent such circumstances, history in the modern era since the end of World War II has shown that it's more likely than not that a sitting President will be re-elected. In Trump's case, the biggest risk for the moment would appear to be a recession, which we are arguably overdue for given how long economic expansions have historically been since the end of World War Two. In that case, his re-election prospects could end up being grim indeed regardless of who controls Congress after tomorrow.