Networks to Limit Republican Debate Field
With 14 candidates vying for the Republican nomination, TV execs are scrambling to make the debates watchable.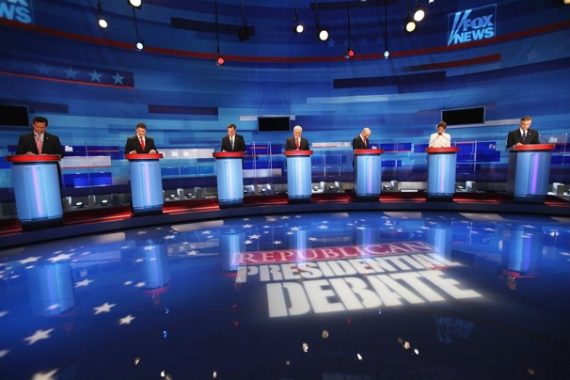 With at least fourteen nationally-recognizable candidates vying for the Republican nomination, the television networks are scrambling to make the debates watchable.
WaPo ("Fox News rules will limit the field in first GOP presidential debate"):
Fox News announced guidelines Wednesday that will winnow the field of participants in the first Republican debate of the 2016 presidential campaign.

The network will require contenders to place in the top 10 in an average of the five most recent national polls in the run-up to the event, narrowing what is expected to be a field of 16 or more by the Aug. 6 event in Cleveland.

The rule could trigger an early rush of spending by lower-tier candidates seeking to boost their standing in national surveys before the pivotal first forum.

Meanwhile, CNN laid out a different approach for the second debate on Sept. 16, which will be split into two parts — one featuring the top 10 candidates in public polling and a second that will include lower-tiered candidates who garner at least 1 percent in polls. The forum, being held at the Ronald Reagan Presidential Library in Simi Valley, Calif., will also require participants to have at least one paid campaign worker in two of the four early voting states.

Determining which contenders will get to participate in the official forums sanctioned by the Republican National Committee has been a challenge for the cable news network and party officials. No GOP primary debate has ever featured more than 10 candidates.

RNC Chairman Reince Priebus said Wednesday that the party supports the approaches taken by the two cable networks.
Even 10 candidates makes for a clown show. Depending on the format, it'll either be all screaming, all the time; all the other candidates ganging up on Jeb Bush; or most everybody saying pretty much the same thing. Either way, there's little value to the audience.
Of the two approaches, I much prefer CNN's.
The top 10 contenders in the five most recent national polls are former Florida governor Jeb Bush, Sen. Marco Rubio of Florida, Wisconsin Gov. Scott Walker, Sen. Rand Paul of Kentucky, Sen. Ted Cruz of Texas, former Arkansas governor Mike Huckabee, retired neurosurgeon Ben Carson, New Jersey Gov. Chris Christie, real estate tycoon Donald Trump and former Texas governor Rick Perry, according to a Washington Post analysis. Former U.S. senator Rick Santorum of Pennsylvania and Ohio Gov. John Kasich are a fraction of a point behind Perry.

Lagging behind those 12 are Sen. Lindsey O. Graham of South Carolina, Louisiana Gov. Bobby Jindal, former Hewlett-Packard chief executive Carly Fiorina and former New York governor George Pataki.
While I can only see myself voting for a handful of them, all of the above-named candidates, with the possible exception of Carson, are objectively qualified to the president. Trump is a yahoo but he's run a multi-billion dollar business for decades. Fiorina is widely considered a spectacular failure as CEO of HP but she has more management experience than most of our recent presidents. And the rest are governors and senators, the traditional pathways to major party nominations.
Jinal's light has dimmed considerably since an ill-fated response speech some years back but he's an honest-to-goodness genius who's run a state's university system, served in Congress, and governed a state. Graham is a very senior senator who's also an Air Force Reserve colonel. Pataki ran what was then the second-largest state in the union for a dozen years. All of them have far superior resumes to either of the last two presidents at the time they ran for office. Denying them the opportunity to compete for the nomination on the basis that they're less popular a year and a half out that Trump and Carson would be a travesty.
Frankly, even as someone who has followed national politics quite closely for more than three decades, I don't have very strong views on many of the candidates. I recall Pataki as competent and a pleasant enough fellow who's demonstrably qualified to be president but otherwise have no real idea where he stands on the national issues. Aside from his ham-handed handling of the teachers' union early in his tenure as governor, I know little about Walker. I'd never heard of Fiorina until her futile bid to unseat Barbara Boxer and paid little attention to other than the horserace aspect of that contest. In short, I don't really have much basis for choosing amongst them. I strongly suspect most Republican primary voters are less informed than I am.
Ultimately, any announced candidate who has served a full term as a US Senator, governor, or vice president should be allowed to participate in some fashion in the early debates. Indeed, we'd probably be better off with early debates featuring only the less popular of the serious candidates as a play-in to the later debates than trying to cram ten people onto the same stage, anyway.
Once the voters in Iowa and New Hampshire have spoken, it becomes reasonable to winnow the field. While those states are horribly unrepresentative, they're the early testing grounds and we've never nominated a candidate who didn't win one of them. Eliminating all the candidates who don't finish in top three in on of those contests or who aren't either registering 20% in the national polls of likely Republican primary voters would focus the subsequent debates.