Protests At Western Embassies Spread Across Muslim World
For the fourth day, American and other embassies became the focus of mass protests in many Muslim nations.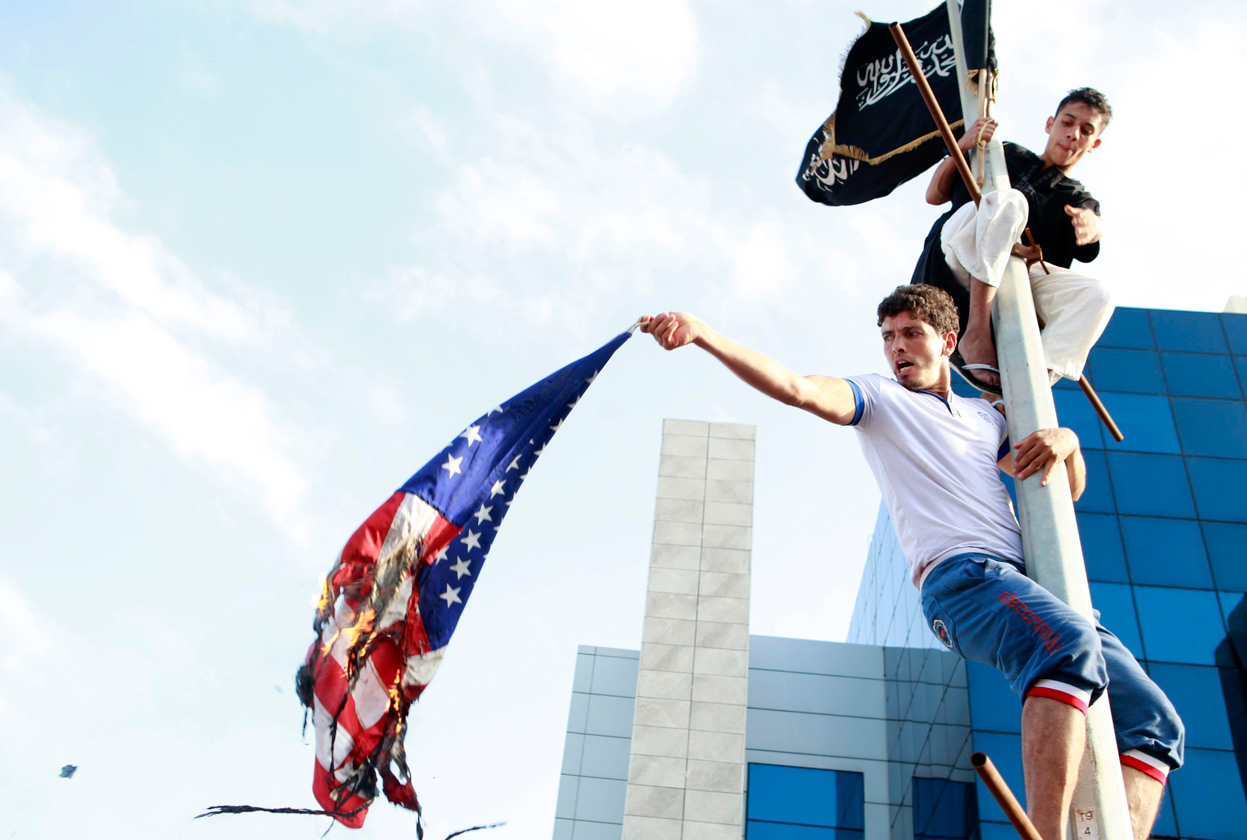 For the fourth day, the Muslim world played host to often violent protests at American, and other western, embassies and consulates, in many cases with deadly results:
CAIRO — The violently anti-American rallies that have roiled the Islamic world over a video denigrating the Prophet Muhammad expanded on Friday to more than a dozen countries, with demonstrators storming the American Embassy in Tunisia in a deadly clash and protesters in Sudan's capital broadening the targets to include Germany and Britain.

The broadening of the protests reflected what appeared to be a catharsis of rage at the Western powers and was unabated despite calls for restraint from world leaders including the new Islamist president of Egypt, where the demonstrations first erupted four days ago on the anniversary of the Sept. 11, 2001, attacks.

In Washington, the Pentagon announced that it was dispatching 50 Marines to Sana, Yemen, to secure the American diplomatic compound, which was partly defiled by enraged protesters on Thursday. At a bazaar about 30 miles east of Jalalabad, Afghanistan, protesters burned an effigy of President Obama.

The breaching of the American Embassy in Tunis, the birthplace of the Arab Spring revolutions, was at least the fourth time that an American diplomatic facility in the Middle East had been violated since the protests began. The Tunisian police said at least three protesters were killed and 28 people were wounded.

All of the embassy staff members had been safely evacuated beforehand, officials there said, but part of the compound was burned and looted.

The American Cooperative School of Tunis, which caters to expatriate families and is located across the street from the embassy, was burned and completely plundered by protesters, who carried away a range of items including hundreds of laptop computers, children's toys and musical instruments, the director of the school and members of his staff said. All of the students and faculty members had been evacuated hours before the embassy protest.

"It's ransacked," the director, Allan Bredy, said in a telephone interview. "We were thinking it was something the Tunisia government would keep under control. We had no idea they would allow things to go as wildly as they did."

Germany's foreign minister, Guido Westerwelle, told reporters at the Foreign Ministry in Berlin that the country's embassy in Khartoum, Sudan, had been "stormed and in part set aflame" in an attack by "demonstrators capable of violence." According to Mr. Westerwelle, embassy employees were safe. German missions in Muslim countries had already strengthened security measures because of the unrest.

The police fired tear gas to drive off the attacks in Khartoum, where about 5,000 demonstrators massed on the German and British Embassies, a witness told the Reuters news agency.

Thousands of Palestinians joined demonstrations after Friday Prayer in the Gaza Strip. Since there is no American diplomatic representation in Gaza, the main gathering took place in Gaza City, outside the Parliament building, where American and Israeli flags were placed on the ground for the crowds to stomp. Some demonstrators chanted, "Death to America and to Israel!" Palestinians also clashed with Israeli security forces in Jerusalem and held protests in the West Bank.

Witnesses in Cairo said protests that first flared on Tuesday — the day J. Christopher Stevens, the American ambassador in Libya, was killed in an attack in neighboring Libya — continued sporadically Friday, with protesters throwing rocks and gasoline bombs near the American Embassy and the police firing tear gas. The bodies of Mr. Stevens and three other Americans killed in the Libya attack were being returned to the United States on Friday.

In Lebanon, one person was killed and 25 injured as protesters attacked restaurants. There was also turmoil in Yemen, Bangladesh, Qatar, Kuwait and Iraq, and demonstrations in Malaysia. In Nigeria, troops fired into the air to disperse protesters marching on the city of Jos, Reuters reported.

(…)

In Yemen, baton-wielding security forces backed by water cannons blocked streets near the American Embassy a day after protesters breached the outer security perimeter there and officials said two people were killed in clashes with the police. Still, a group of several dozen protesters gathered near the diplomatic post, carrying placards and shouting slogans.

In Lebanon, hundreds of protesters set alight a KFC restaurant in the northern city of Tripoli on Friday, witnesses said, chanting against Pope Benedict XVI's visit to the country and shouting anti-American slogans, according to a Reuters report.

In Iraq, where the heavily fortified American Embassy sits on the banks of the Tigris inside the Green Zone and is out of reach to ordinary Iraqis, thousands protested after Friday Prayer, in Sunni and Shiite cities alike.

Raising banners with Islamic slogans and denouncing the United States and Israel, Iraqis called for the expulsion of American diplomats from the country and demanded that the American government apologize for the incendiary film and take legal action against its creators.

"We want the U.S. government to prove that there is justice by stopping this movie and punishing the director and his staff," said Sheik Ahmad al-A'ani, a preacher at a mosque in Baghdad.

In Hilla, in the Shiite-dominated south, a witness reported the burning of American and Israeli flags. In Kufa, another Shiite town in the south, a mosque preacher declared his belief that the four Americans killed in the attack in Libya actually died at the hands of the American government to create a pretext for the United States to seek revenge and extend its presence in the region. And in Samarra, a Sunni city north of Baghdad that is near Saddam Hussein's hometown, Tikrit, preachers at mosques demanded that Iraqis boycott American goods.
To get a true sense of the scope of the protests, John Hudson at The Atlantic created this Google Map: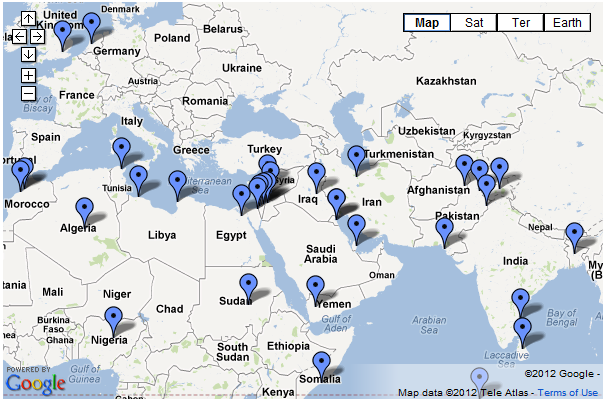 Is it really possible that all of this is over a badly made YouTube video that, in all likelihood, most of these people have never seen? Robert Wright doesn't think that the film really had anything to do with what we've been seeing unfold over the last four days:
Here is what now seems to be the case: the anti-Islam film wasn't made by an Israeli-American, wasn't funded by Jews, and probably had nothing to do with the American deaths, which seem to have resulted from a long-planned attack by a specific terrorist group, not spontaneous mob violence.

In retrospect, the original narrative should have aroused immediate suspicion. If, for example, this lethal attack on an American consulate in a Muslim country was really spontaneous, isn't it quite a coincidence that it happened on 9/11?

And as for the funding of the film: The filmmaker was said to be describing himself as Israeli-American and volunteering the fact that "100 Jewish donors" financed his project. Well, 1) 100 is a suspiciously round number; and 2) If you were this "Israeli-American," would you be advertising that this incendiary film was a wholly Jewish enterprise? (Kudos to two excellent reporters: Sarah Posner, who seems to have been the first to raise substantive doubts about the filmmaker's identity, and Laura Rozen, who seems to have been the first to suggest that he was "linked to [the] Coptic [Christian] diaspora"–a suggestion that so far is holding up.)

Maybe one reason these questions weren't asked is because the original narrative fit so nicely into some common stereotypes–about crazy Muslims who get whipped into a death frenzy at the drop of a hat, about the backstage machinations of Jews, and about the natural tension between Muslims and Jews. (How many Americans had ever heard about intra-Egyptian tensions between Muslims and Coptic Christians, which may well have been the impetus for this film? How many had even heard of Coptic Christians?)

I bring all this up partly by way of warning that, though some early misconceptions have now been stripped away, we should be careful, as events unfold in the coming days, about letting simplistic mental templates continue to shape the story.
Wrights thesis is backed by a diplomat in Cairo that The New Yorker's Peter Hessler spoke to who described the film as a pretext for the protests, not the cause. Shadi Hamid reaches the same conclusion, and points out that what America does or doesn't do rarely has much of an impact on public opinion on the Arab street:
The anti-Islam film in question was a pretext much more than the cause of yesterday's violence. It could have been anything. Anti-American anger, even in Libya, the most pro-American country in the Arab world, remains palpable, lingering underneath the surface of apparent gratitude. But, that aside, even if the United States did everything on Arabs' wish lists, there would remain a small, influential fringe that would find another reason to hate — or at least dislike and distrust — the United States.

Outside of exceptional cases where the United States intervenes decisively on one side or another, Arab attitudes toward the world's preeminent power are generally what economists would call inelastic. In other words, even when the United States does "good" things — such as ending the war in Iraq — Arab public opinion does not seem to change all that much. Even in Libya, anti-American sentiment will almost certainly increase after the NATO operation fades from memory. In fact, in several Arab countries, U.S favorability ratings have been lower under Obama than they were in the final years of President George W. Bush's administration.

It is sometimes difficult for Americans to understand just how deep-seated Middle Eastern anger is. Some of it is illegitimate, but much of it is at least based on things that have actually happened. Algerians will bring up 1991, when what was then the region's most promising democratic transition was aborted by a Western-backed military coup. Iranians will often bring up 1953, when their democratically elected prime minister was toppled in a CIA-sponsored coup. These dates, far from a remote, forgotten history, are very much alive for those who still suffer the consequences of those tragedies. Anti-Americanism can diminish, and probably will, but to expect an overnight transformation is fantasy.
That's really the rub here. You can argue that the Muslim attitude toward the United States is irrational, and in many cases it is, but it's also based quite often in things that we've done over the years in a region that clearly has a longer historical memory than we do. We've supported brutal dictatorships, many of whom have jailed people considered respected religious leaders. We've bombed, we've invaded, and we've occupied two Muslim nations in the past ten years. We engage in drone strikes that often result in innocent civilian deaths from "friendly fire," and, from their perspective, we put a thumb on the scale in the Israeli-Palestinian crisis while claiming to be an "honest broker." Add all of this together with the fact that many of these nations have large populations of people who are at best only semi-literate and easily influenced by radical clerics. None of this is to excuse acts of violence committed against Americans and others, of course. The people who commit those acts need to be dealt with harshly. However, it would probably help if we understood what motivated the hatred of the United States that we see exploding from Libya to Bangladesh, and it would answer the questions of those who has why they don't love us since we helped "liberate" them.
It's hard to tell where these protests are going to lead. The typical course of action for these types of things, as we saw during the protests lasts year over Terry Jones's planned Koran burning or the protests earlier this year in Afghanistan when it became public that members of the U.S. military had, apparently inadvertently, burned copies of the Koran while disposing of material confiscated from prisoners, is for these things to die out relatively quickly. If this follows that pattern, then it's likely that these protests will largely be a memory by next Friday as people move on to something else. The other possibility, of course, is that the rabble rousers will continue to exploit public anger over this film and other issues and keep the protests going. If that happens, I'm not sure where this ends, or what we can do about it.