Republican Candidates Behind In Key Senate Races
It's a bit too early for Republicans to be celebrating that Senate majority that so many people are predicting.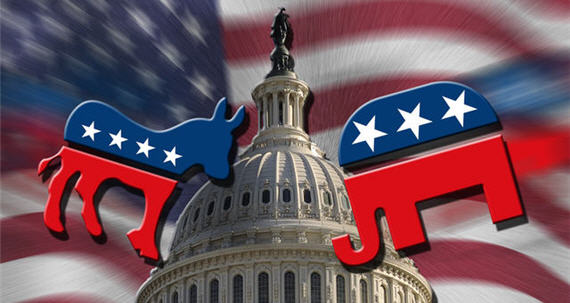 The big question surrounding the 2014 midterm elections, of course, will be whether or not Republicans will be able to take back control of the Senate after losing it in the 2006 elections and falling short in each of the past two election cycles. As things stand right now, the field looks very good for the GOP. They need a net pickup of at least six seats in order to get to the the 51 seats necessary to give them a majority, and there are seven states that Mitt Romney won in 2012 (six of which McCain won in 2008)  with Democratic incumbents running or an open seat held by a retiring Democrat. Of those seven, it seems fairly certain that Republicans will win the three open seat races in Montana, South Dakota, and West Virginia, although none of these are certain obviously.  Additionally, races in Michigan, Oregon, and New Hampshire look as though they might be more competitive in November than analysts firsts anticipated. On the downside, the GOP needs to worry about protecting seats in Kentucky and Georgia, both of which are potentially open to becoming Democratic pickups in the fall. Given all of that, the odds of the GOP picking up enough net wins to take the Senate back seems pretty high.
At the same time, though, it's worth remembering that we are still more than six months left until Election Day, that there are primary challenges in GOP-held states that could lead to another O'Donnell/Angle/Akin situation, and that we have no idea what will happen between now and Election Day that could influence the debate. Apropos of those observations, a new poll from The New York Times shows Republican candidates in four key Southern Senate seemingly failing to breakthrough with voters:
Four Senate races in the South that will most likely determine control of Congress appear very close, with Republicans benefiting from more partisan intensity but a Democratic incumbent, seen as highly vulnerable, holding a surprising edge, according to a New York Times Upshot/Kaiser Family Foundation poll.

The survey underscores a favorable political environment over all for Republicans in Kentucky, North Carolina, Louisiana and Arkansas — states President Obama lost in 2012 and where his disapproval rating runs as high as 60 percent. But it also shows how circumstances in each state are keeping them in play for the Democrats a little more than six months before the midterm elections.

Senator Mark Pryor of Arkansas, a two-term incumbent who has been considered perhaps the most imperiled Democratic senator in the country, holds a 10-point lead over his Republican opponent, Representative Tom Cotton. Mr. Pryor, the son of a former senator, has an approval rating of 47 percent, with 38 percent of Arkansas voters disapproving of him.

Senator Kay Hagan, Democrat of North Carolina, appears more endangered as she seeks a second term. She has the support of 42 percent of voters, and Thom Tillis, the Republican state House speaker and front-runner for his party's nomination, is at 40 percent. Unlike Mr. Pryor, however, Ms. Hagan's approval rating, 44 percent, is the same as her disapproval number.

In Kentucky, Mitch McConnell, the Senate Republican leader, is also effectively tied with his Democratic rival, Alison Lundergan Grimes, a race that may be close because Mr. McConnell, first elected to the Senate in 1984, has the approval of only 40 percent of voters, while 52 percent disapprove. But Ms. Grimes must overcome Mr. Obama's deep unpopularity in the state, where only 32 percent of voters approve of his performance.

With 42 percent support, Senator Mary L. Landrieu, Democrat of Louisiana, has an early lead in a race that is not fully formed against a large field of Republicans. Representative Bill Cassidy, the Republican front-runner, was the choice of 18 percent, and 20 percent had no opinion. There are two other Republicans in the race, but Louisiana has no primary. So all candidates of both parties will be on the ballot in November and, absent one of them taking 50 percent, there will be a runoff in December.
As Rod Dreher notes, there's been some push back from Republicans over whether or not these poll numbers are an accurate reflection of the state of the race in each of these four states, and it is true that there are some issues regarding the sampling in the poll that make one wonder if we might be dealing with outliers here. At the same time, though, the other polling in these four races is largely consistent with the polls that the Times conducted. RealClearPolitics shows that North Carolina, Kentucky, and Arkansas are all basically dead heats, while Mary Landrieu continues to perform surprisingly strongly in the polling in Louisiana. In other words, the allegations that some on the right have made that these polls are somehow "skewed" is belied by the fact that they are largely consistent with all of the other polling that has been done in this race to date.
Dreher speculates on why Republicans might be underperforming in races that, at least on paper, one thinks they should be able to win:
Now one would expect significantly better results for Republican candidates in a midterm, given turnout differences and second-term fatigue and all the rest. I expect better results. But still: This kind of pattern is consistent with a deeper reality, which is that the G.O.P. is still a weak party with a weak message, and weak parties with weak messages have a way of underperforming the fundamentals, struggling in races that feature larger electorates and more persuadable voters (hence the Senate-House difference), and losing narrowly.
This, of course, is the same problem that the GOP had in the last two election cycles, but it goes far beyond the well known message, and messaging, problems that the GOP has suffered from since the later years of the Bush Administration.
In both 2010 and 2012 it seemed as though Republicans had a good shot of grabbing control of the Senate. While they came close in 2010, they fell short largely due to the fact that the primary process in states such as Delaware and Nevada resulted in the nomination of candidates that proved to be an embarrassment to the party. In 2012, the reasons behind the GOP's failure were more complicated, but again candidate selection seemed to play a major role in failing to pick up a win in Missouri and actually losing a formerly Republican seat in Indiana. Additionally, the Republican Senate candidates in both Montana and North Dakota lost even though Mitt Romney won both states by double digits, an outcome which indicates that the candidates themselves were part of the problem.
Republicans face the possibility of a similar outcome in 2014. In Kentucky, for example, Mitch McConnnell at least remains competitive against Allison Grimes in polling, his Tea Party backed challenger Matt Bevin would most likely have a more difficult time in a General Election in no small part because he would not have access to McConnell's campaign war chest. In North Carolina, the Republican primary next month remains something of a toss up and the possibility remains that North Carolina Republicans could end up nominating someone like Tea Party favorite, and Rand Paul endorsed, Greg Bannon who would likely be the Christine O'Donnell/Todd Akin of the 2016 cycle if he did get the nomination. Republicans are also battling it out for an open seat in Georgia and for the right to challenge Senator Mark Begich in Alaska and, in both cases, the nomination of the so-called "Tea Party" candidate could cause the GOP to lose a race that they ought to win. Finally, even in a state that will be won by a Republican such as Mississippi, there is Chris McDaniel's challenge to Thad Cochran. The possibility of candidates like this causing problems for the GOP this year seems to be quite high.
With six months to go before Election Day, it is far too early to be writing any of these Senate races off, of course. However, the polling in these four states, along with news from elsewhere around the country, should stand as a warning to Republicans that they shouldn't celebrate just yet.