Republican Race Descends Into Childish Taunts, Name Calling
Ever since last week's debate, the race for the Republican nomination has come to resemble a schoolyard fight among a bunch of nine year-olds.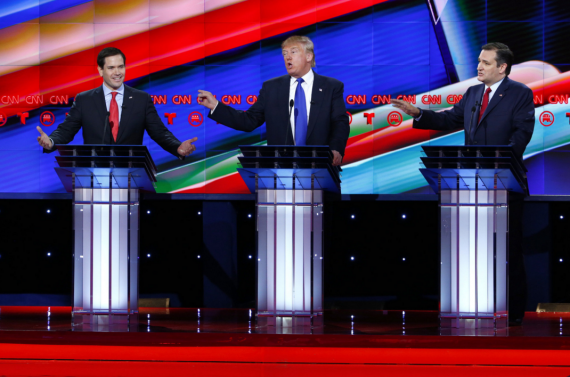 Ever since last week's debate in which Marco Rubio and Ted Cruz attempted to bring down Donald Trump a peg or two by attacking him more directly than he has ever been attacked before, the race for the Republican nomination has come to resemble a schoolyard argument between a bunch of nine year-olds:
There's talk of bad spray tans, sweat and urination. Accusations that a rival has ties to the mob. They've called one another "little" or "a con artist." And they all agree that the other guys are liars.

In the run-up to Super Tuesday, Republican presidential candidates Donald Trump and Sens. Marco Rubio (Fla.) and Ted Cruz (Tex.) are hurling deeply personal attacks about one another's appearances and personal backgrounds — amounting to a level of petty and profane discourse unprecedented in a presidential campaign. Voters express more sorrow than anger as the insults fly, while Republican Party leaders fear that the deteriorating tone of the race could have longer-term implications.

"I had hoped that this would be a campaign only about ideas and a vision for tomorrow. . . . But unfortunately, this has been a very different election year and things have worked out in ways no one anticipated," Rubio told supporters Sunday at Patrick Henry College in Purcelville, Va

Moments later, his rally quickly grew chaotic as protesters stood, shouted and waved signs reading, "Marco Rubio Empty Suit."

Supporters jeered at the protesters, while Rubio responded with a smile: "My suit wasn't made in China. It's not a Trump suit."

The name-calling has long been the province of Trump, who has elevated the insult-tweet to an artform and who spent months tormenting now-departed candidate Jeb Bush as "low energy" and worse. But now Trump's two main rivals — particularly Rubio — have suddenly joined in as Trump is poised for big wins in this week's Super Tuesday primaries, personally attacking the billionaire GOP front-runner.

"I never thought I would see the Republican Party come to this, to act like children," said Gail Garner, 67, who attended a Rubio rally Saturday in Birmingham, Ala. "It sounds like a bunch of kindergartners messing around on the playground."

Party elders already concerned about how Trump's rise could rob the GOP of a White House victory said they worry about how Rubio and others are now adopting his tactics.

"The catfight going on in the Republican Party right now is just an embarrassment," said Fred Malek, finance chairman of the Republican Governors Association and a longtime major party donor. "This is schoolyard stuff. It's disgusting and juvenile."

Former Senate majority leader Trent Lott (R-Miss.), a supporter of Ohio Gov. John Kasich, said he's "totally embarrassed by a lot of the things Trump has said and I understand why Rubio is swinging to the fences, but to get into who's tall, who's short, who's got a decent haircut, who's sweaty — I don't like it."

On the trail, Cruz has repeatedly called Trump and Rubio liars and on Sunday he suggested that Trump is refusing to disclose his tax returns because he has close business ties to the Mafia.

Trump complained Sunday about the fresh attacks and suggested, as he has before, that he might leave the party if they keep up.

"I've been very good, I've been very straight and honest and honorable and they're not treating me well," he said about party leaders on CBS's "Face the Nation."

He accused Rubio of "saying terrible things, just personal, terrible things. And I don't think it's fair the way that the establishment is treating Donald Trump."

On Twitter, however, Trump kept up the invective — mocking Rubio as a "little boy," a "no-show senator" and a "lightweight." Another tweet said Cruz "has accomplished absolutely nothing" for his Texas constituents.

At rallies in recent days, Trump also has repeatedly called Rubio "Little Marco" or "Little Rubio." Rubio hit back Sunday night by mocking Trump at a rally at Roanoke College in Salem, Va., saying the businessman has tiny hands.

"You know what they say about men with small hands," Rubio said, pausing for laughter. "You can't trust them."

(…)

Rubio especially has made his attacks more personal since deciding to go aggressively after Trump during the most recent Republican debate, on Thursday. The freshman senator on Friday read a series of Trump tweets aloud to thousands of supporters in downtown Dallas. He called Trump "a con artist" who "spent his entire career sticking it to the little guy." He mocked Trump's tough-guy demeanor, saying the front-runner "was the first guy who begged for Secret Service protection." During Thursday's debate, Rubio said that Trump needed extra makeup to cover up sweat and said Trump wanted a full-length mirror backstage "to make sure his pants weren't wet."

On Saturday in Alabama, Rubio told voters in Birmingham that "I've used strong words. My parents didn't raise me that way, but I feel passionate about it."

Then in Huntsville, he told voters that Trump "should be worrying about the lines around his eyes from the horrible spray tan."

Rubio supporters appear to be reluctantly accepting his shift in tone.

"It's like playground-at-the-school kind of behavior," said Haydee Wilensky, 57, of Purcelville. "He needs to just focus on telling Republicans that Trump is not qualified."

Trina Weir, 57, of Front Royal, Va., said, "I hate to see the sophomoric activity like that, but after the smoke clears, let's see who's being more substantive."
To be fair, of course, you can't exactly blame Rubio and Cruz for the fact that this campaign has descended into name-calling, ridicule, and vaguely sexual innuendo on the part of the candidates. That kind of rhetoric, and worse, has been a part of Donald Trump's repertoire from the beginning of his campaign. In virtually every stump speech Trump has given, he has found the time to make fun of, or openly scorn in rhetoric that seems designed to rile up resentment in the audience, his fellow candidates, the President of the United States, the media (and especially the reporters covering his events, which always strikes me a odd), whatever random protester might happen to show up for a given event. He's reserved especially vehement and demeaning rhetoric for Mexicans, John McCain, Megyn Kelly, Carly Fiorina, Ben Carson, a disabled New York Times reporter, and Muslims. . In many cases, such as Trump's early effort to tag Jeb Bush as "low energy," the attacks have been particularly effective, while in others even something that you would think would actually start offending people has had virtually no impact on his standing in the polls. And, of course, Trump's Twitter feed has been an unremitting source of childish taunts since long before he entered the Presidential race. Given the example that Trump has set, it's not entirely surprising that Rubio and Cruz, both of whom are arguably at the end of their ropes at this point, have decided to resort to the same sorts of attacks on Trump. They may or may not work, but both candidates are at the point in the race now where they've really got nothing left to lose. Seven months of calmly trying to explain how Trump is not a "true conservative" and waiting for him to implode have failed, and if Trump's momentum isn't stopped soon he is going to be alone on the path to the 1,237 delegates he needs to be the Republican Party nominee for President.
It's also true that 2016 is hardly the first campaign in history where we've seen silly, insulting, and childish, and even offensive rhetoric. The 1884 election saw Grover Cleveland become the target of insinuations that he had fathered a child out of wedlock while his opponent, James G. Blaine, was given the title the "Continental Liar from the State of Maine." The 1920 election was fought amid innuendo that Republican nominee had an African-American ancestor and thus had "Negro blood," although somehow the newspapers of the time missed out entirely on the real story that Harding had had numerous extramarital affairs and would eventually father a child while serving as President that was kept secret from the public. The 1860 election was, of course, among the most vitriolic in all of American history and included incidents such as Abraham Lincoln being called a 'gorilla,' and, as would happen with Harding sixty years later, the rumor that Lincoln was part African-American. Worst of all among American elections, perhaps, was the election of 1800, which, as this short video reminds us, descended to levels that make the worst of what we see today seem rather tame by comparison:
As I noted four years ago, it's tempting to say that the current campaign is the "nastiest campaign ever," but history makes clear that this isn't really true and that there has always been a level of nastiness and childishness to American politics that we'll likely never get rid of. That being said, the rise of Donald Trump has seen the race for the Republican nomination dragged down into the gutter in a way that we haven't seen in quite some time. The fact that Marco Rubio and Ted Cruz have followed Trump into that gutter, while perhaps understandable, is nonetheless a fairly good indication of just how substance-free the race has become, and how desperate Rubio and Cruz have become in the face of the on-rushing train that is Donald Trump. Indeed, as they become more desperate we're likely to see more of this childish nonsense until, finally, they come to accept the fact that their party has been taken over by Donald Trump.