The Nastiest Campaign Ever? Or Just The Pettiest?
Maybe the real problem this year isn't that the campaign is unduly nasty, but that it's incredibly petty.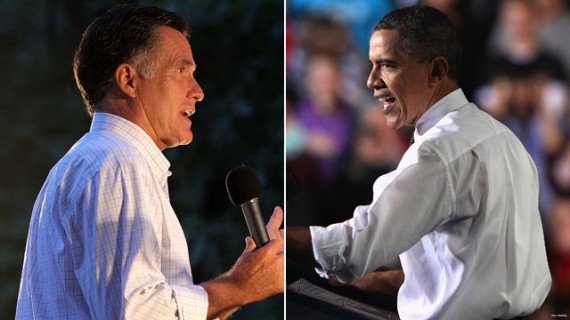 The past several weeks has seen much discussion among political pundits and the like about the nasty turn that the campaign for President has taken of late, ranging from an ad accusing Mitt Romney of somehow being responsible for the death of a man's wife, Joe Biden's clearly racially charged "chains" remark, the President making jokes about Seamus the Romney dog, and Mitt Romney going after the President and basically calling him a Chicago thug. James Joyner and myself have both written about it here at OTB, and it's been a daily topic of discussion on the cable news networks. Former Obama and Hillary Clinton campaign aide Blake Zeff, though, pushes back against the idea that 2012 has been any nastier than any other recent race:
"A most poisonous campaign." "How low can they go?" "The nastiest campaign ever!"

It's suddenly become de rigueur to complain that we're now witnessing the nastiest presidential campaign of all time. Pearl-clutching chroniclers — surely determined to cover the finer points of the Romney gubernatorial record and adjudicate differences on tax policy, if the campaigns would just let them — are horrified that one candidate teased another about his pet-care philosophy; that the other has focused more on attacking his rival's economic performance than his own attributes; and that a high-ranking official alleged that a candidate benefited from a legal tax write-off strategy.

The truth? Not only is this not the most negative campaign ever — it's not the most negative campaign of your lifetime, unless you happen to be three years old.

Back in 2008, when I was an Obama spokesman in the general election, and worked in the Clinton war room during the primary, we were dogged by the same cries. The Obama and McCain camps were chastised by the late David Broder for our "personal bitterness and negativism." Cindy McCain told us we were waging the "dirtiest campaign in American history." And John McCain was running such a "fiercely negative" campaign, we were told, that his fellow Republicans were allegedly very worried about it.

The primary was no different. People forget now, but back then the Clinton campaign was accused of mud-slinging and dividing the party so often that we started a short-lived web site called AttackTimeline.com to chronicle the incoming negative charges we constantly received from our opponents. The purpose: to prove that we, too, were victims of all this negativity, so don't put the blame squarely on us. And this was a primary.
Zeff has a point, of course, the 2008 campaign was pretty vicious, so was the 2004 campaign, and 2000, and 1992 (like Zeff I don't remember the 1996 campaign being overly negative, but I also don't remember it being all that interesting either. Going further back into American history, one can point to any number of points in history where a political campaign was incredibly negative in ways that would shock us even today. In 1800, former friends John Adams and Thomas Jefferson, through their campaigns and surrogates, traded some of the most outlandish charges against each other that we've ever seen in a Presidential campaign. The election of 1828, which elected Andrew Jackson to the first of two terms, was pretty vicious as well. The election of 1860 was about as vicious an election as you'd expect on the eve of the Civil War. Even in the middle of that war, in 1864, Lincoln's bid for re-election was marked by attacks by his former General, George McClellan, and his supporters that not only attacked the President's war record but personally demeaning to Lincoln himself. So, to say that this election is the nastiest ever is, perhaps, just a little bit of an exaggeration.
For example, here's what negative ads might've looked like during the Election Of 1800:
Perhaps the reason that people think that contemporary campaigns are so bad is because, thanks to the mass media, they are so much more in our face than they used to be in the past. There was no cable news coverage of the Election of 1800, for example, and people had to rely on newspapers and pamphleteers. When the campaign is on your television, your radio, and the Internet 365/24/7 it's very easy to think that things have never been worse, even when that isn't necessarily true.
Kevin Drum picks up what the real problem with the 2012 election, and many of our recent elections actually is. It's not that their nasty, it's that they are incredibly petty:
Personally, what strikes me most about the 2012 campaign isn't its viciousness per se, but — how do I put this? It's somehow more petty in its viciousness than I remember in the past. Taken as a whole, the 2012 campaign has had plenty of days in the gutter, but the individual attacks all seem pretty forgettable. So far, anyway, there are no Swift boats, no Jeremiah Wright, no inventing the internet, no Gennifer Flowers, no Willie Horton. It's all small potatoes: Obama gutting work requirements for welfare, Romney killing people's wives, etc. Not very edifying stuff, to be sure, and I'm sure it has its intended effect when this stuff is running 24/7 in the entire state of Ohio. Still, there's nothing that will ever make it into the Top Ten annals of dirty campaigning. It's the volume of new crap that's striking, along with the relentless daily invention of obscure new lies, not the viciousness of any one piece of it.
I think Drum is on to something here. Notwithstanding all the talk about "big picture" elections, the truth of the matter is that most of what we've been dealing with in this election from the beginning, including during the Republican primary, has been incredibly dumb stuff. Whether its Gardisil shots in Texas, the story of Seamus the dog, the story about Obama once eating dog meat as a child, or the endless obsessive attention paid to what are actually relatively minor and inconsequential gaffes (Etch-A-Sketch anyone?), the "big issues" of this campaign have been mostly mindless stupidity. Rather than talking about the impending "Fiscal Cliff" or the important foreign policy issues that are facing this nation, we're spending our time talking about things that are, quite literally, a distraction. It's not so much that the campaign is distastefully nasty, then, as it is that it's just depressingly boring. And we've got another two-and-a-half months of it to live through.