So What Did Silver Opponent Jay Cost Have to Say?
More griping about poor analysis.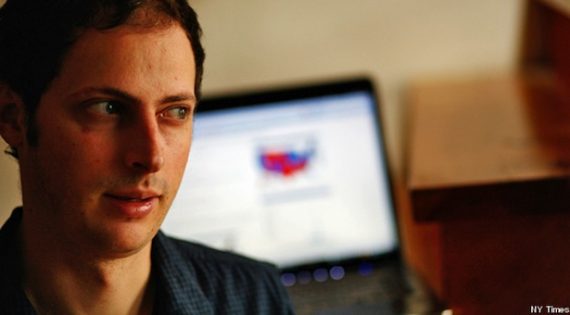 Interestingly, Jay Cost (the Weekly Standard's supposed numbers guy) is a lot less gracious than was Dean "UnSkewed" Chambers.  Instead of just flat out admitting he was wrong about things that were demonstrably untrue (such as his fantasies about Pennsylvania), his first post-election post is called "Barack Obama and the Triumph of Identity Politics" which appears to focus on the fact that he thinks the Obama campaign was mean by trying to draw contrasts with Romney (which I seem to recall reading somewhere is what happens in campaigns) and the fact that identity politics were more important than anything else (which comes across, as is often the case in these types of discussions, as an argument that  minorities don't really vote based on rationality, but instead on skin color and such).  I note, again, my post from yesterday on demographics (this year's post-election buzzword)  because it is a major mistake to chalk up the Democratic advantage amongst women, African-Americans, Latinos, and Asians as simplistic identity politics.  The reason for those numbers has to do with policy differences.
For example, Cost writes:
The idea was to maximize turnout for the president's core groups by focusing on identity politics, encouraging them to come out and vote against a fictitious GOP bogeyman who would suppress their rights to vote, deport their friends and neighbors, deny them Medicare, ship their jobs overseas, raid their pensions, and eliminate their access to contraception. And it worked.
But here's the deal: that list is not about identity, that list is about policy.    There were policies put into place by Republican-controlled states that could have suppressed votes, the immigration policies passed in Arizona, Alabama, and elsewhere (by Republican-controlled governments) did, in fact, threaten to deport friends and neighbors, the Ryan plan did contain provisions that would have altered Medicare as we know it, and there were policies supported by Romney and other Republicans that would have denied some persons in certain circumstances access, at least via insurance, to contraception.
One can debate these policies as well discussion whether they were properly portrayed during the campaign, but to pretend like these issues were made up, or that opposition to them was based on identity politics rather than, well, opposition to the policies makes no sense (or is simply denial).
In regards to some other items in the list, I will note that there were claims about jobs going overseas, and I think that both sides played on these fears.  The pro-Obama commercial with Romney singing "America the Beautiful" (or whichever patriotic song it was) as well as the pro-Romney ads in Ohio about Jeep shipping jobs to China come to mind.  The Obama ad was somewhat atmospheric, but clearly played unfairly (I would argue) on some of Romney's actions, and the Jeep ad was actually false.
I don't recall much about pension raiding, so I will leave that one alone.
BTW, I thought this took, well, some balls (I think that is technical political science term):
Team Obama worked assiduously on turning Mitt Romney into the "other." The message to these voters was essentially: you don't like me, but this guy is worse. They got the point, and a shockingly large number stayed home. My back of the envelope estimate, assuming 2008 turnout levels and steady population growth, suggests that almost 10 million white voters did not show up this time around.
This is remarkable only because there has been no president or candidate more cast in the role of the "other" than our first Muslim, Kenyan-born, communistic socialist, terrorist of a president, yes?
Romney was certainly painted as a mega-millionaire who was out of touch with common folks.  Now, this may or may not have been a fair characterization, but it hardly a reach and in the realm of "other" creation hardly moves the needle.  This was no different than the treatment that John Kerry received (and, in honesty, I thought it was fair line of attack in both cases).  The real "other" issue with Romney (at least vis-a-vis Evangelicals) was his Mormonism, but that seemed to be a non-issue as far as I could tell. It certainly wasn't part of the Obama campaign strategy, or even any of it surrogates.
I also find this following almost LOL funny (at least the first part):
one might be able to win reelection by ruthlessly splitting the country in half, hoping to collect a fraction of the vote more than your opponent, but one cannot govern after having made such a mess. Much like Truman, Obama enters a second term with no mandate to speak of, and with roughly half of the country intractably opposed to his policies.
For a supposed political analyst, Cost appears not to have been paying attention, but the way one typically wins two-persons elections, especially in a country with clear partisan divides that are close to 50/50 is to "hop[e] to collect a fraction of the more than your opponent"—what does he think Romney was trying to do?  Further, has he not been paying attention to US elections since, oh I don't know, 2000?  They have more often been tight than not.
Now, does Obama lack a mandate?  This is actually a tricky question that probably deserves its own post.  At a minimum, it is true that he still has to deal with a divided Congress and an empowered minority in the Senate.  As such, mandates one way or the other may not mean much anyway.
I recognize that this post is a bit of a mess, but I think that this, in part is because Cost's argument is a bit of a mess.
To bring this to a point:  I am sincerely curious about how those who got the election profoundly wrong are reacting and I am especially curious about those were wrong and who claim to be true students of politics.  Cost made himself out to be such, and both made some bold claims and laid down some pointed critiques of the stats geeks (Nate Silver in particular).  Those predictions were wrong (because the underlying analysis Cost based them on were wrong) and the critiques ended up being unfounded.  I think that someone who believes in empirics and science (broadly defined) has to take into account both successful and failed experiments.  The way people react to the failures therefore says a lot about themselves as analysts, but it also matters because if the GOP is going to get on track, it needs to listen to the right people, and those right people need to be people who learn from failure and glean data therefrom. Those who can't do that should be ignored (unless, of course, all one wants out of political writers is entertainment and confirmation of one's preferences…).
And yes, I will endeavor to move on from this hobby horse soon.