Time To Reassess George W. Bush?
There seems to be an effort underway to reassess the legacy of our 43rd President.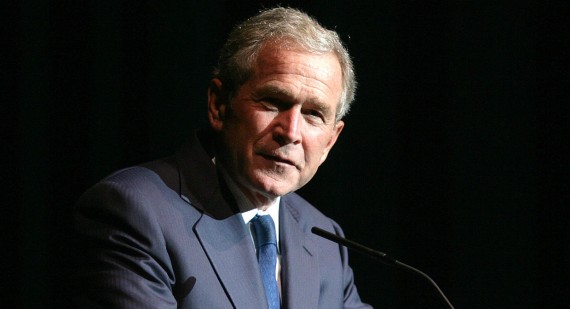 With his Presidential Library scheduled to open on Thursday in a ceremony that will be attended by President Obama and all of the living former Presidents as well as pretty much everyone from the Bush-Cheney Administration, President George W. Bush has been back in the news recently in ways that he hasn't been since he left office in January 2009. We've learned in recent weeks about his post-Presidency pursuit of painting, apparently to the surprise of his closest friends and family. He recently became a Grandfather for the first time when his daughter Jenna gave birth to a girl last week. And, he'll be sitting down for some of his first post-Presidency interviews (other than those connected to his book tour a few years back) later this week as the press covers the library opening. Finally, a new poll finds that Bush's approval numbers are far higher than they were when he left the White House:
Bush has a 47 percent approval rating and a 50 percent disapproval, according to a ABC News/Washington survey. When Bush left office, he had a 33 percent approval rating.

Fifty-three percent of Americans disapprove of his handling of the economy, while 43 percent approve. That's compared with 73 percent disapproving in late 2008 and 24 percent approving.

"It's not unusual for a former president to advance in public esteem after he's left the fray of partisan politics, but neither is it guaranteed," pollster Gary Langer, of Langer Research Associates, wrote in the release.

Bush's average second-term approval rating was the lower among any president in modern polling, Langer noted. The poll only asked about Bush's approval rating and not of any other presidents. Still, Langer noted that "in polls four to five years after the end of their presidencies, Bush's father gained 18 points in approval, but Bill Clinton slipped by 4 and Ronald Reagan lost 12 [percentage points]."
To some degree, then, Bush's jump in the polls is part of the same process that other former President's have gone through in the years after they left office. Indeed, it's likely the case that once these men are out of office, Americans tend to begin to have a more charitable view of their legacies than when they were in office and actually in charge of getting things done. Indeed, even Richard Nixon found that he was able to remake himself as something of an elder statesman in the foreign policy field in the years after he left office, ironically finding an eventual sympathetic ear in the person of former McGovern campaign staffer William Jefferson Clinton. So, it's not surprising that Americans might come to have a more sympathetic view of the 43rd President as time goes by.
All of this sentimentality regarding the Bush years that the library opening is engendering is causing some Bush loyalists to make the case that their hero was judged too harshly by the public and that history will vindicate him. One version of this campaign to rehabilitate the 43rd President can be seen in an Op-Ed by Stephen Knott, directs his animus toward scholars who were already speaking negatively about Bush before his Presidency even ended:
All of this overheated rhetoric and fear-mongering has come from academics who profess to live the life of the mind. In their hasty, partisan-tinged assessments of Bush, far too many scholars breached their professional obligations, engaging in a form of scholarly malpractice, by failing to do what historians are trained to do before pronouncing judgment on a presidency: conduct tedious archival research, undertake oral history interviews, plow through memoirs, interview foreign leaders and wait for the release of classified information.

There is a difference between punditry and scholarship. The latter requires biding one's time and offering perspective as the evidence emerges and the passions of the day cool. An assessment of Harry Truman's presidency looks quite different today than it did immediately after he left the White House in 1953. And no historian, especially Schlesinger, would have predicted in 1961 that 21st-century scholars would rank Dwight Eisenhower among the nation's greatest presidents.

George W. Bush's low standing among academics reflects, in part, the rise of partisan scholarship: the use of history as ideology and as a political weapon, which means the corruption of history as history. Bush may not have been a great president; he may even be considered an average or below-average president, but he and — more important — the nation deserve better than this partisan rush to judgment.
To some degree, Knott may be correct that some scholars who have written about Bush, especially during the years he was in office, were motivated in at least some small part by their own partisanship. After all, it's kind of difficult to determine what the judgment of history is going to be with regard to the Bush Administration while that Presidency is still ongoing, or even only four years after he's left office. As with the recent reassessments of Presidents ranging from Truman and Eisenhower to George H.W. Bush and Calvin Coolidge, it some sense it requires the passage of time, and the cooling the political feelings, to really be able to make an honest assessment about a President's performance in office. At the same time, though, it strikes me that Knott wears the same kind partisan blinders as the historians he criticizes in that he seems to view any negative evaluation of the Bush era as being blinded by anti-Bush sentiment. In reality, there are plenty of reasons to have a negative view of the Bush Presidency that go beyond partisanship. In both the domestic and foreign policy spheres, the Administration engaged in policies that were just plain wrong and which, in some cases, were seriously misguided. Say what you wish, for example, but it is doubtful that history will be kind to President Bush's decision to engaged in an unprovoked war in Iraq, especially given the fact that he did so without any real plan for how the U.S. military would handle a post-Saddam Iraq, thus leaving us largely unprepared for the rise of the insurgency in the spring and summer of 2003. No matter how much Americans come to think of George W. Bush as a nice guy, I doubt they're going to forgive him that mistake.
Another example of the ongoing campaign to rehabilitate George W. Bush came today from Jennifer Rubin, who thinks it's Bush's time again:
Aside from the "memories fade" point, many of his supposed failures are mild compared to the current president (e.g. spending, debt). Unlike Obama's tenure, there was no successful attack on the homeland after 9/11. People do remember the big stuff — rallying the country after the Twin Towers attack, 7 1/2 years of job growth and prosperity, millions of people saved from AIDS in Africa, a good faith try for immigration reform, education reform and a clear moral compass.

And, it turned out that the triumvirate of Iraq-Iran-North Korea really was the Axis of Evil. Unlike the current president, who's played politics with the withdrawal of U.S. troops from Afghanistan, President Bush took huge political risks to back the surge in Iraq, which worked. He is responsible for one of the most popular and fiscally sober entitlement plans, Medicare Part D. He did not foist a grandiose unpopular and exorbitant program like Obamacare on the public. And then there were his tax cuts, 99 percent of which were approved by the most liberal president in history. Even the TARP program, reviled by conservatives, can be credited with helping to calm the markets and stabilize financial institutions.

To the left's horror, it turns out that most of his anti-terror fighting techniques (e.g. the Patriot Act, enhanced military commissions, Guantanamo) were effective and remain in place. Even the dreaded enhanced interrogation, according to two CIA agents and the former attorney general, contributed to our locating and assassinating Osama bin Laden. The essence of his view on Islamic terror — that we are at war with those espousing a jihadist ideology – has been confirmed, painfully so.

Hey, he's not so bad! In fact, to some degree his qualities and accomplishments were taken for granted. Only when we see a robotic, cold president like Obama do we remember fondly the tender, tearful love of country Bush often conveyed and the steely anger directed at our enemies. Only when a president completely bollixes up our relationship with both the Palestinians and the Israelis do we recall how warm and productive was our relationship with the Jewish state under Bush and how Israel proved willing to take "risks for peace" under the right circumstances. And only when we see our current president kick our friends and kowtow to our foes can we fully appreciate a president with strong personal bonds with leaders (e.g. Tony Blair) and fierce determination not to appease our foes.
To a large degree, this strikes me as a huge amount of wishful thinking on Rubin's part. If you actually look at the polls on the issues she writes about, you'll find that the public largely disagrees with many of the positions that Bush took during his Presidency, and supports the actions that Obama has taken which she criticizes. Indeed, to a large degree the policies of the Obama Administration in areas such as a the "war on terror" aren't substantially different than the Bush Administration's policies were and, in some cases (i.e., the drone campaign) are arguably more aggressive than Bush ever tried to be. Rubin would have you believe that this uptick in Bush's approval numbers constitutes some kind of endorsement of neo-conservative foreign policy and a rejection of the policies of the Obama Administration. Given the results of the 2012 election, that is obviously absurd. Instead, what we're looking at here is the same bump in the polls that every ex-President gets when they leave office. Now that Bush isn't in office anymore, people are inclined to view him more charitably. That doesn't mean they endorse the policies that the heirs of the Bush Administration would want us to adopt.
I've been harshly critical of President Bush for some time now. On the domestic side, his fiscal policies were utterly disastrous. At the same time that he was cutting taxes, he was massively increasing spending through domestic programs like Medicare Part D and No Child Left Behind and two wars that were not financed by any special means. He increased discretionary spending at a faster rate than any President since Lyndon Johnson. He signed into law a campaign finance bill that he had publicly stated he believed was unconstitutional. He authorized warrantless wiretapping, supported laws like the PATRIOT Act that stripped away important 4th Amendment protections. He made airport security a function of the Federal Government. He authorized the use of enhanced interrogation techniques and extraordinary rendition in the name of his "war on terror." And, he set American foreign policy on a course that may well lead us to things we we are likely to come to regret in the future. He was, in other words, not all that great of a President in my opinion and, depending on how the future goes, possibly the one responsible for a world that isn't going to be very pleasant.
Given all that, I've got to say I'm rather skeptical of the rehabilitation project that Knott, Rubin, and others seem to want to engage in. The American people are forgiving, but they're not stupid and they're not going to forget the eight years of the Bush Presidency all that easily. At this point, Bush's approval numbers are rising for largely the same reason that he was able to win the Presidency to begin with. Everything else aside, George W. Bush strikes me as a pretty nice guy, and the American people are pretty forgiving of nice guys. One they make mistakes, though, they're unlikely to trust them very much. This Bush "rehabilitation" will only go so far before it runs headlong into the reality of what people actually remember about the Bush years, and the overwhelming evidence that they don't want to return to those days.