Trump Asked Jeff Sessions About Dropping Criminal Case Against Joe Arpaio
President Trump's attempts to interfere in the administration of justice go beyond the Russia investigation.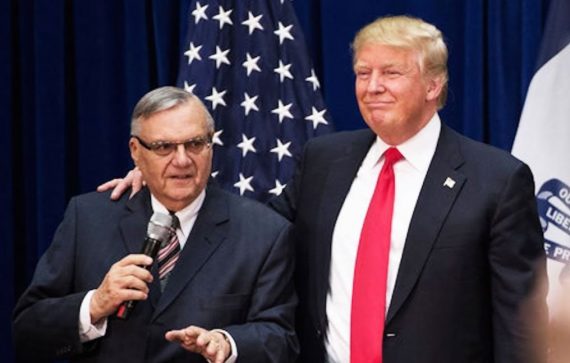 The Washington Post is reporting that President Trump asked Attorney General Jeff Sessions to drop the criminal case against former Maricopa County, Arizona Sheriff Joe Arpaio, who the President of course pardoned on Friday evening:
As Joseph Arpaio's federal case headed toward trial this past spring, President Trump wanted to act to help the former Arizona county sheriff who had become a campaign-trail companion and a partner in their crusade against illegal immigration.

The president asked Attorney General Jeff Sessions whether it would be possible for the government to drop the criminal case against Arpaio, but was advised that would be inappropriate, according to three people with knowledge of the conversation.

After talking with Sessions, Trump decided to let the case go to trial, and if Arpaio was convicted, he could grant clemency.

So the president waited, all the while planning to issue a pardon if Arpaio was found in contempt of court for defying a federal judge's order to stop detaining people merely because he suspected them of being undocumented immigrants. Trump was, in the words of one associate, "gung-ho about it."

"We knew the president wanted to do this for some time now and had worked to prepare for whenever the moment may come," said one White House official who spoke on the condition of anonymity because of the sensitivity of the action.

Responding to questions about Trump's conversation with Sessions, White House press secretary Sarah Huckabee Sanders said, "It's only natural the president would have a discussion with administration lawyers about legal matters. This case would be no different."

The Justice Department declined to comment.

(…)

Arpaio faced up to six months in prison and was due to be sentenced in October. During his 23 years as Maricopa County sheriff, Arpaio was a lightning rod, in part because of his aggressive crackdown on illegal immigrants. He also was accused of racial profiling, failure to investigate sex crimes, poor treatment of prisoners and other instances of police misconduct.

To Trump, however, Arpaio is an American hero — a man who enlisted in the military at 18 after the outbreak of the Korean War, worked as a beat cop in Washington and Las Vegas and as a special agent investigating drug crimes around the world, then was elected sheriff in the epicenter of the nation's roiling immigration debate.

Arpaio's age weighed on Trump, some of his confidants said. The 71-year-old president could not stomach seeing an 85-year-old he admired as a law-and-order icon wasting away in a jail cell.

Trump's spring inquiry about intervening in Arpaio's case is consistent with his alleged attempts to influence the federal investigation of Michael Flynn, the former national security adviser. Trump also made separate appeals in March to Director of National Intelligence Daniel Coats and National Security Agency Director Michael S. Rogers to publicly deny the existence of any evidence of collusion between the Russians and the Trump campaign during the 2016 election.

Trump's pardon of Arpaio "was his backhand way of doing what he wanted to do at the front end," said Robert Bauer, a former White House counsel in the Obama administration. "He just wanted to kill the prosecution off. He couldn't do it the one way, so he ended up doing it the other way. This is just another vivid demonstration of how far removed from an appropriate exercise of the pardon power this was."

Presidents can set law enforcement priorities, but they are expected to steer clear of involvement in specific cases to avoid the perception of politicizing the impartial administration of justice.

Trump backed off the Arpaio case after being advised it would be inappropriate, but that he even tried is "beyond the pale," said Chiraag Bains, a former senior counsel in the Justice Department's Civil Rights Division.

Bains said he believes Trump "has a sense that the chief executive controls everything in the executive branch, including the exercise of criminal power. And that is just not the way the system is set up."​
The most immediate analogy this brings to mind, of course, is the Russia investigation and Trump's efforts to intervene in that process in several ways over the past seven months. In February, for example, he asked F.B.I. Director James Comey if he could drop the investigation into former National Security Director Lt. General Michael Flynn, who had been dismissed just the day before due to his failure to disclose his contacts with Russia's Ambassador to the U.S. and lied to the Vice-President about the nature of those meetings. Three months later, Trump fired Comey just a week after the Director had testified before a Senate Committee, where he confirmed that the Bureau was investigating both attempts by Russia to interfere in the 2016 elections and contacts between Russian officials and Trump campaign officials. While the initial White House claim was that Comey was fired due to the way he conducted the investigation into Hillary Clinton's use of a private email server and her handling of classified information while Secretary of State, it soon became clear that Trump's real motivation for firing Comey was the Russia investigation. Within a week after the firing in May, Trump had admitted this in both a televised interview with NBC News's Lester Holt and in an Oval Office conversation with the Russian Ambassador and Foreign Minister. Later, we learned that Trump's attempts to intervene in the Russia investigation extended beyond Comey and included conversations with top intelligence officials about ending the investigation.

Trump's inquiries to Sessions about the Arpaio case, of course, had no impact at all. The case went forward to trial and Arpaio was convicted in a bench trial earlier this month. As with his efforts to intervene in the Russia investigation, though, the fact that the President made the inquiry at all is troublesome due to the fact that he has absolutely no understanding of how the Justice Department is supposed to work. While it is true that the Attorney General and his chief deputies, as well as the F.B.I. Director, are Presidential appointees who can be removed at the President's discretion, it's long been an unwritten rule that the department's law enforcement role should be conducted without political interference. This became an even more important priority in the wake of Watergate due to President Nixon's efforts to impede the investigation into the burglary of the Democratic National Committee office that began the scandal and the subsequent cover-up by Nixon Administration officials and, ultimately, the President himself. Previous Presidents have largely obeyed this rule even when ongoing investigations threatened to get very close to them and the inner workings of their Administration, such as President Reagan during the Iran-Contra Affair and President Clinton during the Whitewater investigation that eventually led to Clinton's impeachment on charges entirely unrelated to the initial investigations. President Obama in particular was very strict about not interfering with Justice Department investigations and not commenting in public about ongoing investigations. The fact that Trump either doesn't understand these limitations on his role as President, or that he quite simply doesn't care. Whichever explanation is true, it doesn't bode well for the Rule Of Law as long as he's in the Oval Office.