Trump Is Unlikely To Ever Be A Popular President
Donald Trump is unlikely to ever be a popular President, but that may not matter.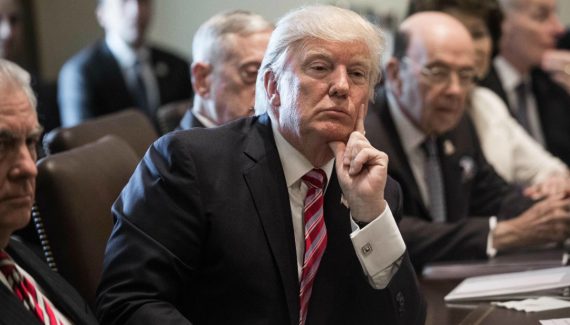 As we sit here just a few days after the six-month anniversary of the beginning of the Trump Presidency, the President finds himself in something of a historically unique situation. In addition to being one of only five U.S. Presidents elected without winning the popular vote, Donald Trump continues to suffer from historically low job approval numbers.  As of today, his average job approval number according to RealClearPolitics stands at 40.1% while disapproval stands at 55.2%. On specific issues, Trump isn't doing much better, with 44.7% approving of his handling of the economy while 45. 9% disapprove and 38.7% approving of his performance on foreign policy while 54.3% disapprove. At Pollster, the President's overall job approval numbers stand at 39.4% approve while 56.3% disapprove. As I've noted before, these are the lowest job approval numbers that any newly-elected has seen since modern polling began and the lowest of any incoming President since the end of World War II. The only comparable situation during that time frame is the Gerald Ford, who saw his job approval briefly fall below 40% early in his Administration, no likely due to the twin impact of his controversial decision to pardon former President Nixon and the dismal state of the economy in the mid-1970s. Similarly, Ronald Reagan's job approval numbers briefly dipped below 40% in 1982 as the nation dealt with the impact of a particularly severe albeit short-lived recession.
In these first six months, of course, Trump and his Administration have done many things that have helped contribute to these low approval numbers. In his first week in office, for example, Trump largely stumbled out of the gate by making exaggerated and easily disproven claims about the size of the crowd that witnessed his Inauguration and enacting a Muslim travel ban that both proved to be unpopular and found itself under attack in Federal Courts across the country. Additionally, while the President has signed a number of bills into law, most of those have been relatively innocuous bills that repeal some regulations enacted during the Obama Administration. On major policy initiatives such as tax reform or health care, there has been either no action at all or ideas proposed that have proven to be overwhelmingly unpopular with the American public. Additionally, Trump has continued to use his Twitter account to attack his usual targets in the media and spread obviously false information while at the same time undercutting the message his own Administration is trying to communicate to the public. Hanging over it all, of course, is an investigation regarding Russian interference in the 2016 election and questions about ties between himself and members of his inner circle to Russian government officials, an issue that is far from resolved and unlikely to go away anytime soon.
Even without all these negatives, though, historian Michael Kazin argues in a piece in The Washington Post  that Trump is unlikely to ever see his job approval numbers turn positive:
[T]hese unforced errors don't quite explain his inability to take advantage of a boost in economic confidence or to expand, even slightly, the passionate base that carried him to victory. The problem lies with that very victory — the one that won him not only the presidency but also 3 million fewer votes than Hillary Clinton. The legacy of such deficits suggests there's little he can do to gain the trust of the majority. American history is clear: Presidents who've lost the popular vote don't win popular support.

The four previous presidents who finished second in votes cast all struggled to convince Americans that they were doing a good job. Each battled the perception that his victory was undemocratic and illegitimate; each soon lost the confidence of his own partisans in Congress and led an administration that historians regard as a failure. Each faced an uphill struggle to keep his base happy and mobilized while also reaching out to the majority, which preferred policies his voters detested. Most, like Trump so far, did not even try to square that circle.
As Dave Schuler notes in his post on Kazin's article, of the other Presidents who were elected with a minority of the popular vote, the four previous Presidents who were elected under circumstances similar to Trump were John Quincy Adams in 1824, Rutheford B. Hayes in 1876,  Benjamin Harrison in 1888, and George W. Bush in 2000. Of those four, only Bush went on to be re-elected to a second term. Adams, who had become President via the House of Representatives due to the fact that nobody running in 1824 had received a majority of the Electoral College vote, was defeated in a one-on-one rematch with Andrew Jackson in 1828. Hayes, whose election in 1876 was equally controversial due to the existence of a dispute over balloting in Florida where both major parties appear to have cheated in one way or the others, didn't even run for re-election in 1880. Harrison, meanwhile, lost rather decisively in a rematch with former President Grover Cleveland in 1892. Bush was the exception to this rule, of course, no doubt in large part to the boost he received in his job approval numbers in the wake of the September 11th attacks. Even this then, though, Bush's victory over John Kerry in 2004 was among the narrowest margins for any incumbent President seeking re-election. But a 120,000 vote win in Ohio, Bush would have lost his re-election bid.  The only incumbent President who was re-elected with a smaller Electoral College margin than Bush was Woodrow Wilson in 1916.
At least on paper, this doesn't bode well for either Trump specifically or the Republican Party generally going forward. Absent some kind of as-yet unforeseeable event that causes a turnaround, Donald Trump is likely to remain a minority President for the entirety of his first term in office. Under ordinary circumstances, this would suggest that Republicans are likely to lose ground in the 2018 midterms, for example. Historically, in fact, the President's party has generally lost seats in Congress in their first midterm election, and that's likely to happen this time as well. What seems unlikely, though, is a situation where Democrats end up grabbing control of one or both houses of Congress. In the House, the simple fact is that there are unlikely to be enough House seats that are truly on the line to cause control to change in that body. So, while it's likely that Democrats will gain seats in the House, the odds that they'll be able to grab control away from Republicans. The Senate is a more complicated issue. While the Republican majority there is much thinner than in the House, the odds that Democrats will be able to grab even a slim majority seem low. Of the 33 Senate seats that will be up for re-election, 23 are held by Democrats, 8 are held by Republicans, and 2 are held by Independents who are caucusing with the Democrats. Of those 23 Democratic seats, ten are in states that have voted Republican in the last several Presidential elections or which went for Trump in 2016. On the Republican side, meanwhile, there is just one seat in a state that went for Hillary Clinton last year, Dean Heller's seat in Nevada. This suggests that it's possible that Republicans could actually gain seats in the upper chamber in 2018, or at least break even when all is said and done.
Looking ahead to 2020, the crystal ball gets murkier. Once again, the numbers don't seem to be in Trump's favor, and if they stay at this level and the Democrats manage to get beyond their current struggles to find a coherent message beyond being against Donald Trump, then re-election is likely to be a difficult task. At the same time, though, it's worth noting that recent history shows us that unseating an incumbent President is not an easy task. In the past fifty years, for example, incumbents have stood for re-election eight times and have lost that bid on only two occasions, Jimmy Carter in 1980 and George H.W. Bush in 1992. If you add Lyndon Johnson, who declined to stand for re-election after a narrower than expected victory over Senator Eugene McCarthy in the 1968 New Hampshire primary, then that makes it three times out of nine bids for re-election. Looking back to the beginning of the 20th Century, there was only one President defeated for re-election over a period lasting from 1900 to 1968. In either case, that makes the odds of unseating an incumbent rather long at best. Perhaps Trump will be the exception that will prove the rule and become the first incumbent defeated in a re-election bid since 1992, but even if his poll numbers stay where they are it's far too early to make any prognostications about that.