Trump's Goes Off On Insane Late Night Iran Tirade
The President was up late last night sending an incredibly over-the-top tweet directed at Iran.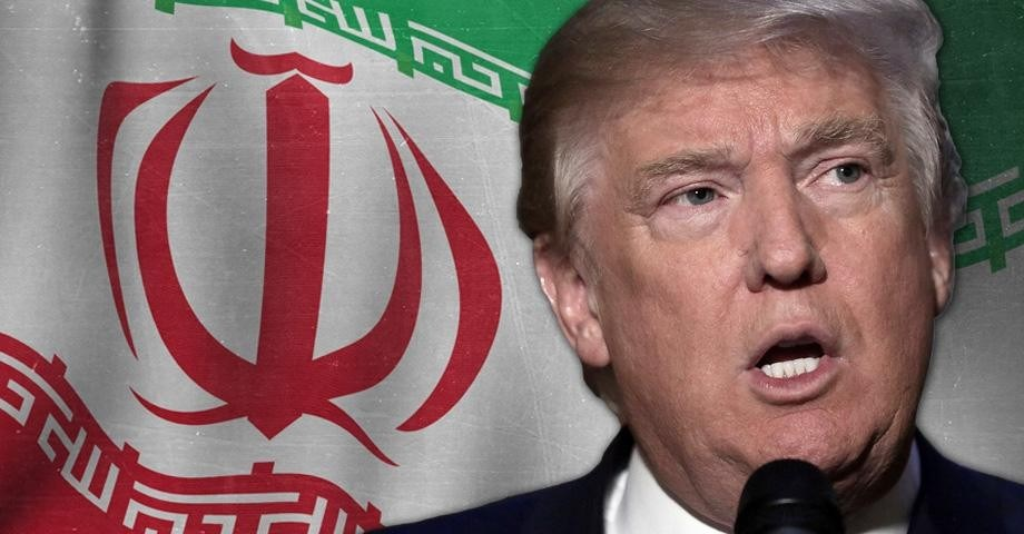 Late last night, President Trump went off on an all capital letters rant on Twitter in response to statements from the President of Iran and remarks by Secretary of State Mike Pompeo using language that mirrors much of the inflammatory rhetoric that he once directed at the leadership in North Korea:
President Trump threatened Iran late Sunday, warning of severe "consequences," as rhetoric between the two countries' presidents escalated dramatically.

Mr. Trump, in an all-caps message on Twitter addressed to President Hassan Rouhani of Iran, wrote that the country would face "CONSEQUENCES THE LIKES OF WHICH FEW THROUGHOUT HISTORY HAVE EVER SUFFERED" if he continued to threaten the United States.

Mr. Trump's message was apparently in response to a speech on Sunday by Mr. Rouhani, who warned the United States that any conflict with Iran would be the "mother of all wars."

Mr. Rouhani had earlier threatened the possible disruption of regional oil shipments if its own exports were blocked by United States sanctions.

On Saturday, Iran's supreme leader, Ayatollah Ali Khamenei, said he supported Mr. Rouhani's suggestion, an indication that Iran's leadership was in accord over the apparent threat. Mr. Rouhani has long been considered a more pragmatic leader who was seen as tolerable to moderates.

Mr. Trump announced in May that the United States was withdrawing from the 2015 Iran nuclear deal, and last month the United States said it would impose sanctions on all exporters of Iranian oil. American officials have since moderated the sanctions demand, which roiled oil markets.

With the withdrawal from the nuclear deal, the United States resumed tough sanctions on Iran. The country's economy was already in trouble, with its currency, the rial, dropping sharply in value against the dollar and a record amount of capital being taken out of the country last year.

That has led to increasing complaints among the Iranian public about the state of the economy, and a harsher crackdown on dissent by wary authorities.

(…)

Mr. Trump's warning to Iran came hours after a speech by Secretary of State Mike Pompeo that was harshly critical of Iran's leadership. Mr. Pompeo accused Iran's leadership of widespread corruption at the expense of its citizens' welfare.

"Governments around the world worry that confronting the Islamic Republic harms the cause of moderates, but these so-called moderates within the regime are still violent Islamic revolutionaries with an anti-America, anti-West agenda," Mr. Pompeo said in the speech at the Ronald Reagan Presidential Library in Simi Valley, Calif. "You only have to take their own words for it."

Mr. Pompeo also sought to reach out to the people of Iran in his speech and messages posted online. "The United States hears you. The United States supports you. The United States is with you," he tweeted Sunday in Persian and English.
Here's Trump's Tweet:
To Iranian President Rouhani: NEVER, EVER THREATEN THE UNITED STATES AGAIN OR YOU WILL SUFFER CONSEQUENCES THE LIKES OF WHICH FEW THROUGHOUT HISTORY HAVE EVER SUFFERED BEFORE. WE ARE NO LONGER A COUNTRY THAT WILL STAND FOR YOUR DEMENTED WORDS OF VIOLENCE & DEATH. BE CAUTIOUS!

— Donald J. Trump (@realDonaldTrump) July 23, 2018
The head of Iran's Revolutionary Guard has already responded to the President:
A top commander in Iran's Revolutionary Guards said on Monday that President Trump's overnight Twitter warning to Iranian President Hassan Rouhani amounts to "psychological warfare."

Gholamhossein Gheybparvar said America wants to "destroy Iran," but Trump "cannot do a damn thing," Reuters reported, citing Iranian news agency ISNA.

"We will never abandon our revolutionary beliefs," Gheybparvar added, according to the news service.  "We will resist pressure from enemies."

"America wants nothing less than (to) destroy Iran," he continued. "Trump cannot do a damn thing against Iran."
Trump's tweet last night will sound familiar, of course, to anyone who has been paying attention to this President since he took office in January 2017. For the better part of last year, for example, the President spent considerable time on Twitter and in statements to the press attacking the leadership of North Korea and threatening "fire and fury" if the DPRK threatened the United States, including calling Kim Jong Un "Little Rocket Man" and bragging about the size of his "nuclear button." Within less than a year, of course, Trump was speaking in obsequiously praiseworthy rhetoric about Kim Jong Un and meeting him in Singapore in a summit that accomplished exactly nothing notwithstanding the fact that the details of what was accomplished at that meeting fell far short of the rhetoric. This has already led some people this morning on Twitter to jokingly (I assume) speculating about when we might see a summit between the President and either President Rouhani or Ayatollah Khamenei. While amusing, it seems clear that the situation vis a vis Iran is far different, and in many respects, far more serious than the situation with North Korea and that the leaders of the Islamic Republic are not going to be quite as forgiving or react to Trump's rhetoric in quite the same way that Kim Jong Un did. Indeed, at least in the short term, this is likely to make the situation with Iran far more dangerous than it had already become in light of the President's ill-advised decision to withdraw from Joint Comprehensive Plan of Action (JCPOA), more informally known as the Iran Nuclear Deal.
As Daniel Larison notes, the comment from Iranian President Rouhani — which stated that "Americans should know that peace with Iran is the mother of all peace….Likewise a war would be the mother of all wars"— was not really a threat to the United States but was, instead a warning that a future conflict with Iran, which certainly seems like the road down which this Administration wants to head, would not be an easy one or one without consequence for the United States. This is a truth that has, in the past, restrained previous American Administrations and led to policies that have largely been followed by the past three Presidential Administration vis a vis Iran that eventually led to the JCPOA itself which, while imperfect, went further in addressing the issue of Iran's nuclear program and bringing Iran into compliance with previous agreements regarding nuclear technology than we had ever been able to get previously. The President's rhetoric, on the other hand, is utterly irresponsible:
Trump's reaction reminds us that his Iran policy is a very dangerous and hostile one, but the most worrisome thing about this episode is that it shows how quick to escalate tensions the president is. At best, Trump's response to Rouhani's comments shows how ready he is to threaten war against another country over nothing more than words, and that by itself greatly increases the likelihood that he might order an attack on Iran over some perceived slight. Trump and his allies have already made sure that tensions with Iran are high and getting worse daily, and the president's latest outburst will makes things even worse than they were.

Talking about inflicting consequences "the likes of which few throughout history have ever suffered" strongly suggests a willingness to cause massive death and destruction in Iran. It is imperative that Congress make clear that the president has no authority to order an attack on Iran, which would be a flagrant act of aggression, a violation of the U.N. Charter, and a breach of his oath of office.
Larison is, of course, absolutely correct, but it's also correct that his plea to Congress will largely fall on deaf ears. While Democrats and some Republicans are likely to stand up and say that the President would have to seek Congressional authorization for any military action against Iran he may contemplate in  the future, in the end, Congress will do absolutely nothing just as it did nothing when President Obama decided to intervene in the Libyan civil war and when Presidents Obama and Trump both decided to significantly ramp up the extent of American involvement in the Syrian civil war. Instead, they'll sit back and basically let the President do whatever he wants even if that means the United States gets itself involved in a conflict that will make either of those wars seem tame by comparison, and which could have a huge impact on the Middle East as a whole, on oil prices around the world, and on the American economy.
For his part, Kevin Drum isn't impressed:
So this is where we're at. The president of the United States threatens to annihilate a country he doesn't like and…

…it's mostly treated like playground bluster from a ten-year-old. Nearly everyone seems to be acting like this is just a stupid joke to make fun of, as if it came from a parody of a James Bond movie or something.

By Monday morning Sarah Sanders will have invented some absurd interpretation of what Trump meant and everyone will shrug and pretend to accept it. Trump himself, of course, will refuse to explain anything, claiming that he doesn't want to give away his game plan. The State Department will issue some kind of tough-but-not-really statement that will explain nothing. And the rest of the Republican Party—aside from the usual lunatic fringe cheering this on—will slink away to their offices, desperately hoping that no one will ask them for comment.

And then we'll move on.
Drum has a very good point, and it's worth remembering that this tirade isn't occuring in a vacum. It comes in the wake of last week's disastrous summit meeting with Vladimir Putin and was capped off by the revelation on Friday that Trump's long-time lawyer Michael Cohen had recorded a conversation between the two regarding potential pre-election payoffs to former Playboy model Karen McDougal, who says she had an affair with Trump back when his wife was pregnant with their son. This week, former Trump campaign manager Paul Manafort goes to trial in the first of two major criminal cases pending against him. Given this, and a domestic situation that quite simply isn't going well for him, it isn't entirely surprising that the President would lash out like this against an international rival like Iran, which already does not have a great reputation here in the United States. In fact, I'd expect more tweeting like this in the days and weeks to come, especially since there's not much good news for the Administration to look forward to. The fact that, in this case, he's willing to ramp up an already dangerous international situation with irresponsible rhetoric on Twitter, just makes the whole thing more serious and potentially more damaging to American interests.