Two Republican Senators Rebuke Trump For His Attacks On The Press
Two Republicans spoke out today against the President's war on the news media, but don't expect their colleagues to follow suit.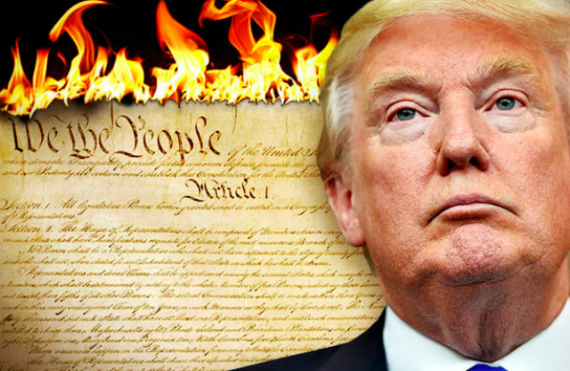 Arizona Senators John McCain and Jeff Flake both spoke out today to rebuke President Trump for his attacks on the press:
WASHINGTON — Senator Jeff Flake, Republican of Arizona, took to the Senate floor on Wednesday to castigate President Trump for his "assaults" on American media and to compare the president's words to those of a former Soviet dictator who slaughtered millions of his own citizens in a reign of terror.

"It is a testament to the condition of our democracy that our own president uses words infamously spoken by Joseph Stalin to describe his enemies," Mr. Flake said, referring to the former Soviet dictator who regularly used the phrase, "enemy of the people," which Mr. Trump has borrowed.

"When a figure in power reflexively calls any press that doesn't suit him 'fake news,' it is that person who should be the figure of suspicion, not the press," Mr. Flake said.

Mr. Flake had promised to speak out against Mr. Trump's "reckless, outrageous and undignified" behavior when he announced in October that he would retire at the end of the year. True to his word, Mr. Flake delivered his remarks on the day the president had said he would issue "Fake News Awards," to "the most corrupt & biased of the Mainstream Media."

As of late morning on Wednesday, there was nothing on the president's public schedule for such an event. Mr. Trump had initially scheduled these awards for earlier this month, but announced in a Twitter post that they would be ]postponed.

Mr. Flake and the president have not disguised their dislike of one another. Mr. Flake has been a target of the president's tweets and has written a book denouncing Mr. Trump. He is among a small group of Republican senators that has criticized the president, with others including Bob Corker of Tennessee, who is also retiring, and John McCain of Arizona, who is battling an aggressive form of brain cancer.

In an opinion piece in The Washington Post on Tuesday, Mr. McCain joined his fellow Arizonan in calling for the president to stop attacking the news media, and he encouraged Congress to embrace a free press in ways Mr. Trump won't.

"We cannot afford to abdicate America's longstanding role as the defender of human rights and democratic principles throughout the world. Without strong leadership in the White House, Congress must commit to protecting independent journalism, preserving an open and free media environment, and defending the fundamental right to freedom of opinion and expression," Mr. McCain wrote.
You can read the transcript of Flake's speech on the Senate floor at the link, or watch the video below:
In his Op-Ed, meanwhile, Senator McCain notes that the President's attacks on the media have coincided with a seeming increase in restrictions on press freedom across the globe:
According to the Committee to Protect Journalists, 2017 was one of the most dangerous years to be a journalist. Last year, the organization documented 262 cases of journalists being imprisoned for their work. Reporters around the world face intimidation, threats of violence, harassment, persecution and sometimes even death as governments resort to brutal censorship to silence the truth.

The committee's report revealed a bleak global climate for press freedom, as more governments seek to control access to information and limit freedom of opinion and expression. They do this not only by arresting journalists but also by fostering distrust of media coverage and accusing reporters of undermining national security and pride. Governments dub the press the "enemy of the people," weaken or eliminate their independence, and exploit the lack of serious scrutiny to encroach on individual liberties and freedoms.

This assault on journalism and free speech proceeds apace in places such as Russia, Turkey, China, Egypt, Venezuela and many others. Yet even more troubling is the growing number of attacks on press freedom in traditionally free and open societies, where censorship in the name of national security is becoming more common. Britain passed a surveillance law that experts warn chills free speech, and countries from France to Germany are looking to do the same. In Malta, a prominent journalist was brutally murdered in October after uncovering systemic government corruption. In Poland, an independent news outlet was fined (later rescinded) nearly half a million dollars for broadcasting images of an anti-government protest.

Unfortunately, the Trump administration's attitude toward such behavior has been inconsistent at best and hypocritical at worst.  While administration officials often condemn violence against reporters abroad, Trump continues his unrelenting attacks on the integrity of American journalists and news outlets. This has provided cover for repressive regimes to follow suit. The phrase "fake news" — granted legitimacy by an American president — is being used by autocrats to silence reporters, undermine political opponents, stave off media scrutiny and mislead citizens. CPJ documented 21 cases in 2017 in which journalists were jailed on "fake news" charges.

Trump's attempts to undermine the free press also make it more difficult to hold repressive governments accountable. For decades, dissidents and human rights advocates have relied on independent investigations into government corruption to further their fight for freedom. But constant cries of "fake news" undercut this type of reporting and strip activists of one of their most powerful tools of dissent.
Trump's war on the news media isn't new, of course, and it began long before he became President of the United States. From the earliest days of his campaign, Trump used his speeches to attack the reporters who were covering the campaign and the news networks that were airing his speeches. More than once he would make the false claim that networks such as CNN had turned off their cameras and were not airing the speech even as it was being aired live on CNN, MSNBC, and Fox News Channel at the same time. He often repeatedly referred to the media in general and specific reporters in derogatory ways, accused them of hating America, and encouraged the crowd to turn on the reporters and camera crews that were covering the speech. On more than one occasion, this was followed by the pro-Trump crowd shouting vile epithets and threats at individual reporters to the point that they would need to be escorted out of the venue by local law enforcement or a member of the Secret Service for their own safety. During the campaign, Trump banned reporters from two publications, The Des Moines Register and The Washington Post, from receiving press passes to cover events and speeches and then go on to accuse them of trying to censor his message to the voters because they weren't there to cover it. On another occasion, he had Univision anchor Jorge Ramos physically removed from a press conference when he asked a question about Trump's position on immigration. Later during the campaign, Trump suggested that the nation strengthen its libel laws in ways that would clearly violate the First Amendment. This rhetoric continued throughout Trump's campaign right up until Election Day in 2016.
After taking office, Trump's attacks on the media continued and took on a more sinister tone considering the fact that he was at that point President of the United States. Less than a month after taking office, for example, Trump called the news media the "enemy of the people" for the first time, a phrase he returned to several times over the past year. Over the summer, one of his close advisers suggested that the media should be criminally charged for publishing leaked information even when that information isn't classified. During a campaign rally style speech in Arizona in August, Trump upped his rhetoric by referring to members of the media as "sick people" who "don't like our country," and are "trying to take away our history and our heritage." In October, he took to Twitter to threaten NBC with unspecified government action including pulling their broadcast license notwithstanding the fact that broadcast licenses are issued to individual stations, not networks, and that the FCC has no similar licensing requirement for cable networks such as MSNBC. Most recently, the President directed his private attorneys to send a "cease and desist" letter to the author and publisher of a book critical of the Trump White House and once again brought up the possibility of strengthening the nation's libel laws in response to the negative coverage his Administration was receiving.
As I've said before, Trump's rhetoric has crossed a line and there's only one right side to be on:
These are the words of an authoritarian dictator, not the words of the leader of a republic with a Constitution where freedom of speech and of the press are not only enshrined in our Constitution but are also the very lifeblood of American democracy. The fact that it has been reported that the Trump Administration had multiple contacts with Russia during the campaign is most certainly real news, especially in light of what we already know about Russian hacking and apparent efforts to influence the election itself apparently in Trump's favor. At the very least, these allegations need to be investigated both by law enforcement and by Congress in a fair and efficient manner.  If it weren't for someone reporting this, we wouldn't know about it. Just like if it weren't for reporters we wouldn't have known about Watergate, or Iran-Contra, or the reports that Hillary Clinton was taking the extraordinary step of using a private email server while Secretary of State. All of these stories were broken first by what the so-called President is calling the "fake" news media."  This is why I agree with Thomas Jefferson. Given the choice between government without newspapers and newspapers without government, I will choose the latter. In reality, of course, we don't want to live in either a world where there is no government or one where there are no newspapers (i.e., news media). They are both essential to the survival of a free society, but as long as we have government, we need a free and independent media that isn't being intimidated by a wannabe dictator in the White House. There are two sides in this war between Trump and the media, but only one of them is the right side.
In that respect, it is good to see at least two Republicans on Capitol Hill willing to say what their colleagues will not. One hopes that others will follow but, quite frankly, I'm not optimistic.
Update: This post was updated to include the link to the text of Senator Flake's speech and the  embedded video, both of which were inadvertently omitted at the time the post was published.