Weak Economy Continues To Hold Obama's Poll Numbers Down
Mitt Romney has had a rough two weeks, but Barack Obama has to deal with a bad economy.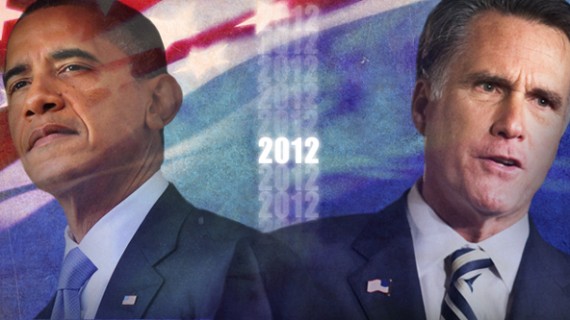 A new CBS News/New York Times poll shows the Presidential race as a dead heat nationally, but there are indications that the state of the economy is continuing to have a negative impact on President Obama's job approval numbers, and potentially the race itself if these conditions continue for the next several months:
Declining confidence in the nation's economic prospects appears to be the most powerful force influencing voters as the presidential election gears up, undercutting key areas of support for President Obama and helping give his Republican challenger, Mitt Romney, an advantage on the question of who would better handle the nation's economic challenges, according to the latest New York Times/CBS News Poll.

Despite months of negative advertising from Mr. Obama and his Democratic allies seeking to further define Mr. Romney as out of touch with the middle class and representative of wealthy interests, the poll shows little evidence of any substantial nationwide shift in attitudes about Mr. Romney.

But with job growth tailing off since spring and the Federal Reserve chairman, Ben S. Bernanke, wondering aloud whether the labor market is "stuck in the mud," the poll showed a significant shift in opinion about Mr. Obama's handling of the economy, with 39 percent now saying they approved and 55 percent saying they disapproved.

In the Times/CBS poll in April, when the economy seemed to have momentum, 44 percent approved and 48 percent disapproved.

The new poll shows that the race remains essentially tied, notwithstanding all of the Washington chatter suggesting that Mr. Romney's campaign has seemed off-kilter amid attacks on his tenure at Bain Capital and his unwillingness to release more of his tax returns. Forty-five percent say they would vote for Mr. Romney if the election were held now and 43 percent say they would vote for Mr. Obama.

When undecided voters who lean toward a particular candidate are included, Mr. Romney has 47 percent to Mr. Obama's 46 percent.

Both results are within the poll's margin of sampling error of plus or minus three percentage points. But it is the first time Mr. Romney has shown a numeric edge in the Times/CBS poll since he emerged from the primaries as the presumptive nominee. Mr. Obama had a three-point advantage in March. The two were each favored by 46 percent in April.

The poll, conducted between July 11 and 16 and including 982 registered voters, is reflective of the national mood, not the views of voters in the handful of swing states most likely to decide the outcome — and where most of the campaign advertising war is being waged.
On job approval numbers, the President is underwater overall job approval (44% approve/46% disapprove) as well as job approval on the economy (39% approve/55% disapprove) and foreign policy (41% approve, 42% disapprove). Romney, meanwhile, is leading the President in a wide variety of policy areas on the question of which candidate would do a better job handling specific issues. This includes the economy (Romney 49% Obama 41%), the Budget deficit (Romney 50% Obama 36%), taxes (Romney 47% Obama 42%), illegal immigration (Romney 46% Obama 36%). In two other areas, health care and "terrorism and security," the candidates are essentially tied. Obama only holds a lead in two policy areas at the moment, social issues (Obama 48% Romney 37%) and foreign policy (Obama 47% Romney 40%).
Two other polls released in recent days are consistent with the CBS/NYT poll. A poll conducted for National Public Radio shows Obama leading Romney 47% to 45%, and a poll conducted for Fox News as a joint operation of a Democratic and a Republican polling firm shows Obama leading Romney 45% to 41%. In both cases, these results in the margin of error for the respective polls. Meanwhile, the current tracking poll results from both Rasmussen and Gallup show the race essentially tied; Rasmussen has Romney up by one point while Gallup has the race tied. That leaves us with a RealClearPolitics average for the national polls at +1.8 in the President's favor, again essentially a tie, and a chart over the past three months, starting back on April 1st, that looks like this: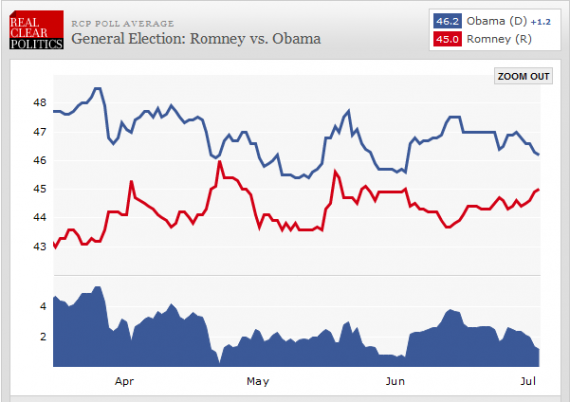 There isn't an indication in any of these polls that the Bain issue, or the Romney campaign's decision not to release any additional tax returns is having much of an impact on the race. However, that's not entirely surprising. It usually takes several weeks for stories getting heavy play in the news media have any impact on polling, so I'd suggest waiting a week or two to see if Romney's position has been harmed by the last two weeks of news and political ads. Of course, with the Olympics coming up and many Americans on summer vacations or otherwise engaged with that thing they like to call real life, one wonders if we'll see much of an impact even then. As I've said before, those of us who follow politics closely tend to forget the fact that most Americans aren't like us and they don't obsessively read the blogs and watch cable news coverage of the Presidential campaign.
What Americans most likely are paying attention to, though, is the economy. It's something they deal with every day at the grocery store and the gas station, and the prospect of losing their job or finding work if they're unemployed likely keeps many people up at night. Just today, we learned that initial claims for unemployment jumped by 34,000 last week. Partly, that was a reflection of the fact that the previous week's report was understated because of the holiday week at the beginning of the month, but it's also a likely indication that the jobs picture for July isn't going to look that much better than it was in June.  Additionally, as I reported earlier this week, we had hugelydisappointing Retail Sales figures for June, and several analysts have already started downgrading their GDP forecasts for the rest of the year, and on into 2013. Then, of course, there's the "Fiscal Cliff" scenario and the dangers that portends. We may not actually end up in a recession when all this is over, but it's fairly clear that the economy is going to remain weak all the way through the election, and that's certainly not good news for the incumbent President.