Whites Now Minority of American Births: So What?
White babies now constitute slightly less than half of American births.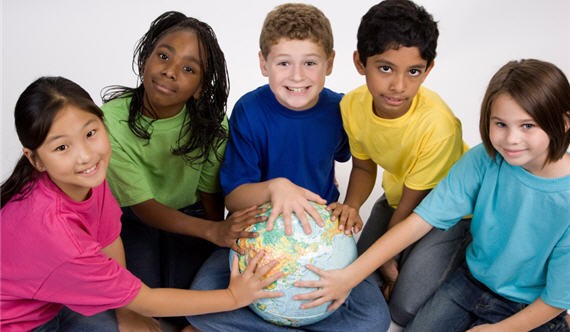 The long-predicted has happened: White babies now constitute slightly less than half of American births. At least, if we don't count white Hispanic babies.
NYT ("Whites Account for Under Half of Births in U.S.")
After years of speculation, estimates and projections, the Census Bureau has made it official: White births are no longer a majority in the United States.

Non-Hispanic whites accounted for 49.6 percent of all births in the 12-month period that ended last July, according to Census Bureau data made public on Thursday, while minorities — including Hispanics, blacks, Asians and those of mixed race — reached 50.4 percent, representing a majority for the first time in the country's history.

Such a turn has been long expected, but no one was certain when the moment would arrive — signaling a milestone for a nation whose government was founded by white Europeans and has wrestled mightily with issues of race, from the days of slavery, through a civil war, bitter civil rights battles and, most recently, highly charged debates over efforts to restrict immigration.

While over all, whites will remain a majority for some time, the fact that a younger generation is being born in which minorities are the majority has broad implications for the country's economy, its political life and its identity. "This is an important tipping point," said William H. Frey, the senior demographer at the Brookings Institution, describing the shift as a "transformation from a mostly white baby boomer culture to the more globalized multiethnic country that we are becoming."

Signs that the country is evolving this way start with the Oval Office, and have swept hundreds of counties in recent years, with 348 in which whites are no longer in the majority. That number doubles when it comes to the toddler population, Mr. Frey said. Whites are no longer the majority in four states and the District of Columbia, and have slipped below half in many major metro areas, including New York, Las Vegas and Memphis.

A more diverse young population forms the basis of a generational divide with the country's elderly, a group that is largely white and grew up in a world that was too.
WaPo ("Census: Minority babies are now majority in United States"):
For the first time in U.S. history, most of the nation's babies are members of minority groups, according to new census figures that signal the dawn of an era in which whites no longer will be in the majority.

Population estimates show that 50.4 percent of children younger than 1 last year were Hispanic, black, Asian American or in other minority groups. That's almost a full percentage point higher than the 49.5 percent of minority babies counted when the decennial census was taken in April 2010. Census Bureau demographers said the tipping point came three months later, in July.

The latest estimates, which gauge changes since the last census, are a reflection of an immigration wave that began four decades ago. The transformation of the country's racial and ethnic makeup has gathered steam as the white population grows collectively older, especially compared with Hispanics.

The census has forecast that non-Hispanic whites will be outnumbered in the United States by 2042, and social scientists consider that current status among infants a harbinger of the change.

"This is a watershed moment," said Andrew Cherlin, a sociologist at Johns Hopkins University who specializes in family issues. "It shows us how multicultural we've become."

Although minorities make up about 37 percent of the U.S. population, the District and four states are majority minority — California, Hawaii, New Mexico and Texas.
While this may be a statistical watershed, it's not at all clear that it much matters in the short term.
A decade ago, Ruy Teixeira and John Judis forecast The Emerging Democratic Majority, which argued that the rise in minority voting power spells doom for the GOP. Some far-right commenters on this site have embraced that prediction with despair. But this presumes that blacks and Hispanics will continue the voting patterns of past generations and that the two American political parties will forever more hold the same policy positions as they do now. Both are highly dubious.
Hispanics, in particular, are a very diverse group. And there's good reason to think that those in the second, third, and fourth generation will increasingly identify with the United States, not their country of origin.
Additionally, while many longtime Republicans, such as myself and former Senator Chuck Hagel*, despair at the hard right retrenchment our party has undergone over the last couple of years, we have over 150 years evidence that parties evolve. We're seeing massive cultural shifts at an unprecedented speed and people are quite naturally up in arms about it.  But issues like gay marriage simply won't be on the agenda a decade from now, much less in 2042.
Thirty years is a long, long time in American politics. Thirty years ago, Ronald Reagan was just getting settled in to the Oval Office and the notion that married, middle class women would have careers outside the home was scandalous. Thirty years before that, Harry Truman was in the last days of his presidency and he'd shocked the nation's consciousness decreeing that black men would be allowed to serve in our armed forces as equal citizens.  Thirty years before that, Warren Harding was serving his short tenure as president, women had just been granted the right to vote in federal elections, and the Constitution had been amended to outlaw the sale of alcoholic beverages.
I haven't the foggiest notion what issues will divide Democrats and Republicans thirty years from now but am confident it won't be the social issues that have dominated the 2012 cycle thus far. (Except for Jimmy Carter and Reverend Wright; they will of course always be with us.)
UPDATE: I neglected to develop the argument I hinted at with the introductory quip: the degree to which "race" is a social construct. I don't mean that in the pedantic, academic sense that we can't technically define it so that it therefore doesn't exist. There's a reason that Barack Obama identifies himself as a black man even though his mother was white and he was raised by his white grandparents in places where the American black-white divide didn't much matter.  But it's worth noting that our definition of "white" in this context has evolved considerably.
Once upon a time in America, "white" meant of English or German descent. Even the Irish didn't count as white, much less Italians. Within living memory, Jews didn't count.  Now, these people all get lumped together into this concept we call "white." If that hadn't changed, we'd have crossed this imaginary threshold quite a long time ago.
__________
*In full disclosure, Hagel is my boss' boss. While we more-or-less agree on this issue, it's unlikely, indeed, that he much cares. If I had to guess, the majority of my colleagues are Democrats and he's shown no indication that he cares about that, either.