Will He Or Won't He? Washington Waits On Paul Ryan's Decision On Running For Speaker
With Congress set to come back from its recess, attention is once again turning to the race for Speaker and one Paul Ryan, Congressman from Wisconsin.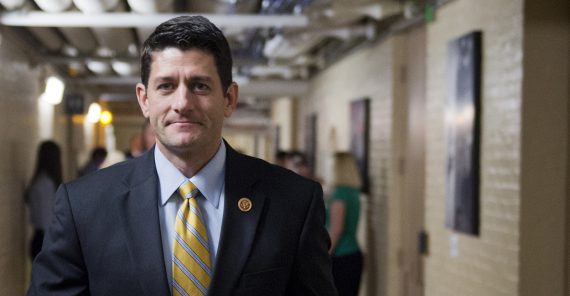 With the House of Representatives set to return from its recess tomorrow, the question hanging over members will be about how to handle the selection of a new Speaker of the House. When John Boehner announced his impending resignation, which may or may not be delayed depending on how long it takes for his successor to be chosen, it seemed as though Majority Leader Kevin McCarthy would be able to easily win election to the Boehner's spot, especially since it seemed as though House conservatives were unable to unite behind a candidate that could appeal to anyone outside their ranks.. McCarthy's path to victory, though, was impeded by the House Freedom Caucus and other conservatives and he ultimately ended up stepping aside at the last minute, sending the race into chaos. Almost immediately, many Republicans turned to Wisconsin Congressman Paul Ryan, who had previously passed on opportunities to run for Speaker, as the candidate best able to united the House GOP Caucus and lead the body. While Ryan had initially rejected the idea of stepping in after McCarthy stepped aside, he does appear to have been seriously considering the possibility of getting into the race. Conservative groups, meanwhile, have spent the week-long recess gearing up attacks on Ryan, who has often strayed from conservative orthodoxy in his sixteen years in Congress, attacking Ryan and laying the ground work for what would likely come if he got into the race, and if he won the position. All of this leaves the race for Speaker as up in the air as it was when Congress left town before Columbus Day.
This morning, though, CBS News is reporting that Ryan may be willing to get into the race, but only if the conservatives call off the dogs:
After weeks of insisting he would not run for Speaker, Wisconsin Republican Rep. Paul Ryan – according to those close to him – is now open to leading the fractured Republican conference, and seriously considering launching a bid for speaker of the House.

But there's a caveat. And it's a big one.

Ryan's confidants tell CBS News he will not horse trade with the House Freedom Caucus, a group of 40 or so deeply conservative members who have beendemanding changes to House rules and other very specific promises from candidates for Speaker in exchange for their support. Ryan's confidants say he is not going to negotiate for a job he never sought, and that he has a record of conservative leadership that should be clear to every member of the GOP conference.

They say Ryan hasn't ruled out meeting with the House Freedom Caucus if asked, but "he's not going to go to the Freedom Caucus and say, 'I'll do this and this'…otherwise you've sold yourself to them from the very beginning, and set yourself up for failure" said someone with knowledge of his deliberations.' "He still really, really does not want to do this. He has his dream job. If he's Speaker, his whole career path changes. He's not going to make concessions to get a job he didn't want in the first place."

Either members believe in his conservative leadership, or they don't – and if Ryan concludes that he's unlikely to get a near-unanimous vote of support from republicans, his allies say he is happy to stay exactly where he is as the chair of the House Ways and Means committee.

Those close to Ryan say the true test will come on Wednesday. The House returns from a weeklong recess on Tuesday evening, and House Republicans are likely to meet behind closed doors on Wednesday morning. There, Ryan will likely be asked to speak – and he'll have his first chance to gauge reaction from members as they go to the microphones to express their views.

Do they say "we know who you are, you're the guy," as one Ryan confidant put it? Or do they express skepticism after a week of attacks on Ryan by far right media outlets?

While many Republicans – including some running for or considering running for Speaker — have openly exhorted Ryan to run, some hardline conservative members have refused to say whether they would back Ryan on the House floor if he wins in a closed door vote among republicans. Rep Blake Farenthold, R-Texas, told CBS News last week, "I want to see who else is in the race. You don't pick a candidate until you know who all of the players are."

Rep John Fleming, R-Louisiana, said "Until we find out who's running and interview the candidates, we're non-committal at this time." And Daniel Webster, R-Florida, who picked up the Freedom Caucus' endorsement earlier this month, wouldn't commit to back Ryan on the House floor if he defeats Webster in a House GOP vote.

"Well, we'll see what happens," Webster said.

Given that environment, a Ryan ally says, "I don't know how he'll come down" on whether to run for Speaker. One leadership aide put the chances of Ryan mounting a bid at 60-40. Another insider pegged it at 50-50. All said they expect Ryan to make a decision soon. House Speaker John Boehner has scheduled a vote on the House floor for October 29th.

If Ryan chooses not to run, House Republicans will be in an even bigger bind than they are in already. It's unlikely that any of the Republicans in the Speaker's race now – or any of the several who have signaled an interest in running if Ryan doesn't – have a better chance of getting 218 votes than he does.

A source close to House Speaker John Boehner says that if Ryan bows out, there is a growing recognition that Boehner may have to postpone his plans to leave Congress, cancel the October 29th vote for Speaker and stick around until the end of the year as Republicans work out their leadership issues.
In essence, then, Ryan's fate, and the future of the Republican Caucus in the House isn't in Ryan's hand, but in the hands of the conservatives in the Freedom Caucus and those outside Congress who spent the past five years attempting to undermine John Boehner and Kevin McCarthy, and who has spent the better part of the past ten days trying to undermine Ryan. If history is any indication, then, the most logical conclusion would be that Ryan would find it as impossible to deal with these people as Boehner and McCarthy have and that this will lead him to lean against running. At the same time, though, it's generally the case that Ryan has a better relationship with House conservatives than leadership has had in the past, and this is likely to mean that whatever opposition there might be to him would be far less extensive, and the very least not sufficient to pose a serious challenge to him getting the 218 votes needed to become Speaker. Given that, it all comes back down to whether or not Ryan is willing to put aside the policy-based work he's doing as Chairman of the Ways and Means Committee, and the Budget Committee before that, to take on the largely thankless task of being Speaker of the House, which is usually a position that Members of Congress take at the end of their political careers rather than something that has historically been a stepping stone to higher office. The one exception to that rule appears to be James G. Blaine, who became a Senator from Maine, and later Republican candidate for President and Secretary of State. For the most part, though, Speaker has not been the kind of job that someone in Ryan's position takes on.
In the end, though, some kind of choice will have to be made. If Ryan gets in, then his election should be pretty straightforward. If he doesn't, then we may have John Boehner to kick around for a few more months until Republicans figure out how to govern a seemingly ungovernable caucus.