As Hillary Clinton's Poll Numbers Drop, Is A Biden Candidacy Becoming More Likely?
The reports about Vice-President Biden possibly entering the Presidential race continue to persist.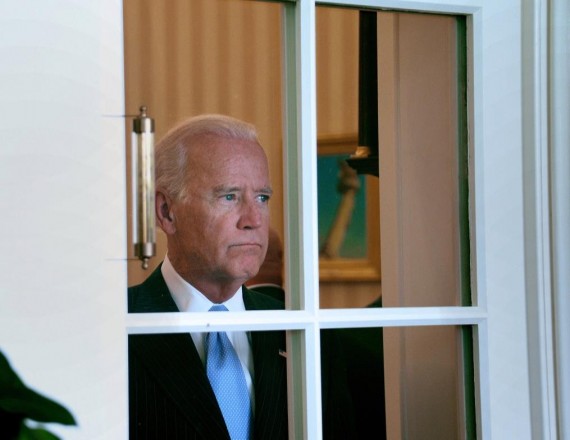 The New York Times  is reporting that Vice-President Biden is looking more seriously at entering the Presidential race amid new reports about Hillary Clinton's email issues and polls showing her support slipping:
WASHINGTON — As Hillary Rodham Clinton's campaign struggles with sliding poll numbers, Vice President Joseph R. Biden Jr.'s exploration of a presidential candidacy is taking on a new seriousness.

Mr. Biden has been in contact with donors who could help finance a campaign, eyeing major contributors to President Obama and pillars of his own fund-raising network: trial lawyers, Jewish leaders and Greek-Americans. On Thursday, the vice president, who is not known for aggressively courting donors, spoke to George Tsunis, a Long Island developer and longtime supporter, who raised more than $750,000 for the Obama-Biden ticket in 2012.

"I think he is doing the prudent thing, which is to look at it and lay down some groundwork should he run," said Mr. Tsunis, saying that Mr. Biden is aware that Mr. Tsunis will help him if he enters the race.

At the same time, some Democrats supporting Mrs. Clinton have quietly signaled that they would re-evaluate their support if Mr. Biden joined the race. For example, Tom Daschle, an influential former Senate Democratic leader who has given the maximum amount allowable to Mrs. Clinton's campaign, has indicated that he would reassess his position if Mr. Biden entered the race, according to people who have been in contact with him in recent days.

In addition, a "Draft Biden" group has started to build an infrastructure to use if the vice president enters the race. After initially focusing on raising money for their effort, they have begun to hire field organizers.

"Over the next few weeks we hope to expand our operations so we can communicate with more voters about Vice President Biden's record," said Josh Alcorn, a Biden family friend working for the group.

Mr. Biden's supporters have, in private conversations, signaled that if he does enter the race he will portray himself as the rightful heir to Mr. Obama's legacy, given his loyalty to the president. They also argue that given the unpredictability of a campaign season in which both Bernie Sanders and Donald J. Trump have won a following, it is folly to dismiss Mr. Biden's chances.

Mr. Biden "is authentic and spontaneous and real," said James P. Kreindler, a New York lawyer who helped raise money for Mr. Biden's 2008 campaign.

But the vice president and his closest advisers are also monitoring Mrs. Clinton as she tries to put questions over her use of a private email server while secretary of state behind her. On Thursday, Quinnipiac University released a poll showing troubling signs for Mrs. Clinton in three key states: Florida, Pennsylvania and Ohio. In each state survey, at least 6 in 10 voters said the former secretary of state was not honest and trustworthy. Fewer than 4 in 10 voters in each state held a favorable view of Mrs. Clinton, compared with nearly 6 in 10 who viewed her negatively.

Those who have spoken directly to Mr. Biden, who spent part of this week with his grandchildren in Delaware, increasingly believe that he is going to take several more weeks to decide whether to pursue a candidacy. They hope the time will provide more clarity about how much political damage Mrs. Clinton has suffered as a result of the email issue, and whether the problems will last.

Mr. Biden is still mourning the death of his son Beau, and his aides had previously said that he would make an announcement about whether he will run by the end of this summer. But it now appears that deadline could slip. He would need to make a declaration before the first Democratic debate on Oct. 13.

"He's not unrealistic that if she's able to right the ship here, at this point it's tough, really tough, to see a lot of Democrats coming off her," said one former senior Obama administration official who recently discussed the merits of a campaign with Mr. Biden. "On the other hand, the things with the emails and everything else could deteriorate — who knows? So I think he's figuring he's got another month or so to see what happens, to sort of put feelers out there."

Kendra Barkoff, a spokeswoman for Mr. Biden, declined to comment on questions about calls that have been made and the efforts of the vice president's allies.

Members of Mr. Biden's inner circle have asked the Democrats they have spoken with to be circumspect about conversations, but the advisers have followed who is saying favorable things in the news media about the vice president's prospects, and are contacting them after they do so.
This isn't the first time we've seen speculation about the Vice-President getting into the race for the Democratic nomination, of course.  Rumors to that effect have been part of the political conversation for the better part of a year now, as matter of fact. As 2015 approached, and before it as was clear that Hillary Clinton would even be entering the race, the Vice-President was remaining mum about his intentions for 2016. At the same time, though, there were no signs that Biden was actually taking the kind of steps you would expect to see from someone mounting a serious campaign for the Presidency. There were no real trips to Iowa or New Hampshire, no hiring of campaign staff or gathering of donors, and no real efforts for Biden to put himself on the national stage beyond his Vice-Presidential duties. As I speculated at the time, it seemed more likely that Biden was keeping the door open to a Presidential both in case Clinton ultimately didn't enter the race and as a means of keeping himself relevant within the Democratic Party during the final years of the Obama Administration. As late as March of this year, this seemed to be exactly the strategy that Biden was following.
In recent months, though, the speculation about Biden entering the race has taken a different turn. Starting early in the summer, we started seeing reports that Biden was "seriously considering" entering the race. More recently, The New York Times  has seemed to be a constant source of Biden rumors. Earlier this month, the paper reported that Biden was was taking a "new look" at the race on the same day that it published a Maureen Dowd column on the topic that seemed to include information that could have only come from someone very close to the Vice-President. Now, we have this report and, once again the fact that it is combined with all of the ongoing news regarding Hillary Clinton's campaign, the controversy surrounding her use of a private email server, and the fact that she is slipping in the polls at the moment notwithstanding the fact that it is still quite early in the race. If for no other reason than the fact that we are in the midst of a summer news cycle that has been dominated by little more than Donald Trump, it's only natural that speculation regarding Biden's attention would run rampant. Additionally, it's worth noting that Biden could shut the speculation down once and for all with a firm denial that he is interested in running for President. The fact that he hasn't done so indicates that there is at least some truth to the rumors, even if many of them do amount to little more than speculation at the moment.
Despite all of this, though, the prospects for a Biden campaign still don't seem all that great. In the past, polls have shown that while the American public has a positive view of Biden individually they really aren't very enthusiastic about the idea of Joe Biden being President. Perhaps more importantly, a recent poll of Democrats taken just a few weeks ago shows very little enthusiasm for a Biden candidacy. Given the other factors arguing against a Biden run, such as his age and the fact that his two previous runs for the White House didn't exactly demonstrate a wide Biden appeal in America that he could tap into, this would seem to argue that Biden will probably decline to run but may stay on the sidelines just in case Clinton's campaign implodes. On the other hand, this is the year that has brought us Donald Trump and so many other unexpected things in American politics. A Biden candidacy wouldn't make a lot of sense, but then there's not much going on right now that does.