Capitol Riot Could Have Been Much Worse
The live coverage of Wednesday's assault on American democracy underplayed its seriousness.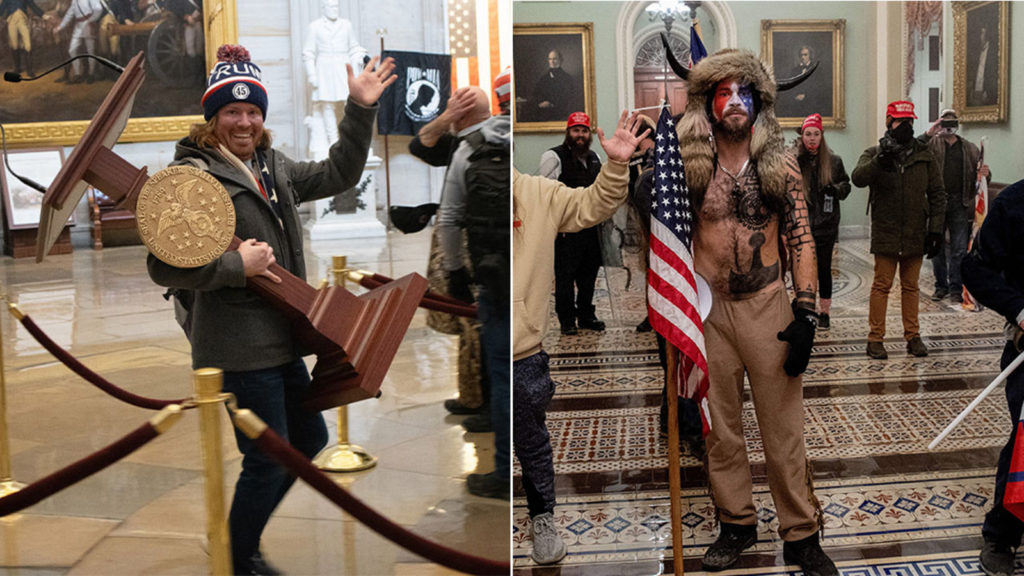 CNN's Brian Stelter declares, "Now it's sinking in: Wednesday's Capitol Hill riot was even more violent than it first appeared."
News outlets are publishing more and more videos, photos and testimonials from Wednesday's pro-Trump riot on Capitol Hill. And it's becoming clear that as heinous as the attack looked in real time, on live TV and in our social feeds, it was even worse than we knew then.

It was even more violent. It was even more treacherous. And Trump's behavior was even more disturbing.

On Wednesday we witnessed history through a handful of soda straws, to borrow a metaphor from the 2003 Iraq invasion. Journalists bravely covered the riot in real time and deserve enormous credit for doing so. But in the fog of chaos, it was impossible to see the full picture as it was happening. The public didn't find out that a US Capitol Police officer was gravely wounded until Thursday, for example. Officer Brian D. Sicknick died Thursday night, and federal prosecutors have now opened a homicide investigation.
Stelter explains that this was mostly a function of access: journalists were only able to see and process bits of it in real time. But the consequence was a misperception of reality.
Only later did it become clear that lawmakers feared for their lives; that some of the attackers were hunting for congressional leaders; that there could have been a massacre.

On Wednesday "the images broadcast were largely not the most horrifying ones of the day," MSNBC's Chris Hayes said Friday night. "Much of what we saw — silly costumes, people taking selfies, grabbing the speaker's lectern — looked like of kind a group that might even attend a Trump boat parade. But there was something way, way darker, more violent, more sinister, and more organized happening in that Capitol on Wednesday. And it's time we see it clearly."
The text I bolded very much captures how I perceived the event in real time. Criminal and outrageous, to be sure. An assault on our democracy for which the President of the United States was directly responsible. A very dark day.
But talk of "insurrection" and "domestic terrorism" seemed overwrought. This was a riot accompanied by what a Facebook friend dubbed "aggressive tourism."
In a different context, people in silly costumes taking selfies at the desks of Congressmen and carrying around (but not stealing) a lectern would have been amusing. Confederate flags being waved in the Capitol? Insulting, yes. But not dangerous.
Reporting for the Washington Post ("The Capitol mob desecrated a historical workplace — and left behind some disturbing artifacts") Maura Judkis and Ellen McCarthy note that even the non-violent protestors did more damage than it first appeared.
It was after the House had reconvened Wednesday night, and after Rep. Andy Kim (D-N.J.) had voted to certify the Arizona vote for President-elect Joe Biden, that he decided to take a walk. He exited the House chamber through doors with bashed-out glass windows. He walked to the middle of the Rotunda and looked around at the remnants of the riot that had engulfed the Capitol hours earlier. There were American flags and splinters of historic furniture scattered with gloves and cigarette butts and the powdery residue left behind by fire extinguishers. The meaningful mixed with the mundane.

Kim was overwhelmed with sadness at the desecration of what he considers the most beautiful building in the country. "Under that great dome was just ransacked, just garbage and debris everywhere, all of it all over the statues, all over the floor," he says. "It was really painful to see this room and this building that I love so much hurting."

So he got a trash bag, and started to pick it up.

He cleaned up car keys, and Trump flags, and water bottles — as well as some alarming items such as body armor. There were some police posted nearby. "I asked the officers if it was theirs, and they said no," says Kim. He says he found a manufacture date on the armor: It had been bought just weeks earlier, as if for this very occasion.

Kim kept cleaning. He cleaned the Rotunda, Statuary Hall, the crypt. It was 1 a.m. The litter was a testament to the violence. "There was some metal furniture that was broken, which was pretty amazing to me," he says. "These are like, metal benches that were just broken to pieces."
Regardless, it turns out that the folks in funny costumes taking selfies were a distraction, whether intentionally or by happenstance. Steltzer again:
The fuller videos that came out on Thursday and Friday provided much more detail. The Daily podcast from The New York Times played audio clips of rioters chanting "Where's Mike Pence? Where's Mike Pence? Where is Mike Pence? Find Mike Pence."Progressive writer Mike Konczal, a director at the Roosevelt Institute, tweeted on Friday, "That the occupation of the Capitol was far more violent, and had the capacity for far more violence, than I understood while it was happening is the most jarring thing I've learned about the putsch over the subsequent days. It's terrifying."

As for the president and his behavior, CNN's Sunlen Serfaty, Devan Cole and Alex Rogers revealed on Friday that Trump "tried to call senators" and pressure them to overturn the election even as the riot was raging.

Something else that was even worse than we knew at the time: The attacks against members of the media. Erin Schaff of The New York Times later described what happened when the mob saw her Times ID. "They threw me to the floor, trying to take my cameras. I started screaming for help as loudly as I could," she said. "No one came. People just watched. At this point, I thought I could be killed and no one would stop them. They ripped one of my cameras away from me, broke a lens on the other and ran away." She fled and found a place to hide.
There were people with zip ties out to "arrest" select Members of Congress and perhaps Pence. There was at least one gallows.
More alarming still, there were vans full of weapons and explosive devices. Why they weren't deployed is unclear, at least to me, at this stage.
Regardless, while parts of this might have been a mere riot sparked by Trump's incitement and still other parts might have amounted to mere criminal mischief by people caught up in the moment, there was something far, far more sinister going on underneath.
In addition to the folks in silly costumes, we've now seen pictures of neo-Nazis with "Six Million Wasn't Enough" insignia. There also appear to have been some number of police officers from around the country, quite possibly including some off-duty members of the DC Capitol Police, who were part of the plot. All of which seems to have been organized more-or-less openly on the Web, including at the various "chan" sites and sub-Reddits.
Another WaPo report ("A mob insurrection stoked by false claims of election fraud and promises of violent restoration") by Greg Miller, Greg Jaffe, and Razzan Nakhlawi explains,
By mid-December, President Trump's fraudulent claims of a rigged election were failing in humiliating fashion. Lawsuits were being laughed out of courts. State officials, including Republicans, were refusing to bend to his will and alter the vote. And in a seemingly decisive blow on Dec. 14, the electoral college certified the win for Joe Biden.

It was a disorienting sequence for legions of supporters who believed Trump's lies that the election had been stolen from him but that he would prevail and reclaim it — especially those who had already descended into deeper, more disturbing conspiracies.

Some clung to the hope that Vice President Pence would use his procedural role on Jan. 6 to write an alternative ending. But as it became clear that Pence would refuse with the backing of most Senate Republicans, Trump's most ardent abettors began planning the siege of the Capitol.

"War it is," read a post on TheDonald.win, a rabid pro-Trump forum that exploded in fury at post-election realities. "We kill now," said another user identified only as "AngloMercia."

[…]

By Dec. 19, Trump was, as he so often does, feeding these flames with accelerant. "Big protest in D.C. on January 6th," he tweeted. "Be there, will be wild!"

Come they did. And by day's end, insurrectionist fantasies nursed online culminated in one of the most harrowing, horrifying events in the 244-year history of U.S. democracy.

[…]

By early January, raiding Congress had emerged as a clear objective in dozens of far-right forums.

"If Congress illegally certifies Biden," a Jan. 4 post on TheDonald.win said, "Trump would have absolutely no choice but to demand us to storm Congress and kill/beat them up for it." Some referred to Trump as GEOTUS: "God Emperor of the United States."

Discussion boards filled with messages on implements to bring for violent confrontation, including riot shields and flagsticks that could also serve as bayonets or clubs for breaking windows. Some sought guidance on how to smuggle weapons into the District of Columbia with its strict gun possession restrictions.

"There is not enough cops in DC to stop what is coming," wrote one user.

Trump continued to goad them. "JANUARY SIXTH, SEE YOU IN DC!" he tweeted on Dec. 30. But his scheme to derail certification would have remained in the realm of fringe fantasy were it not legitimized by some Republican lawmakers.

When Sen. Josh Hawley (R-Mo.) declared his intent to object to accepting the Biden victory in Arizona, Sen. Ted Cruz (R-Tex.) and 11 other Republican senators fell in line behind him.

Their decisions to back Trump's baseless charges further convinced fanatics of their cause's righteousness, said Bruce Hoffman, a terrorism expert and senior fellow for homeland security at the Council on Foreign Relations.

Hoffman described radicalized Trump loyalists as a floating force of intimidation that Trump has been able to mobilize against shifting adversaries and targets. " 'End the lockdown' translates very smoothly into 'stop the steal,' " Hoffman said, referring to rallies last year by Trump supporters against state measures to contain the coronavirus.

The 2017 protests in Charlottesville showed the potential of such a mob to overwhelm law enforcement, Hoffman said. The occupation of the Michigan Capitol last spring, and the exposed plot to take the governor hostage, provided templates for this month's assault in Washington.

"When you have a president pushing them to descend on state capitols and take them over with few consequences," Hoffman said, "the next logical step is to move from states' to the nation's capitol."

One after another, far-right groups declared their violent intentions.

The "Three Percenters" — a name based on the erroneous belief that only 3 percent of U.S. colonists fought the British — posted a short manifesto expressing their preparedness "to take back our country from the pure evil that is conspiring to steal our country away from the American people."

The statement mentioned Cruz and praised Trump lawyers Rudolph W. Giuliani, Sidney Powell and Lin Wood as inspirational figures in this looming battle. But it voiced particular reverence for former U.S. Army Gen. Michael Flynn, who after being pardoned by Trump appeared at rallies, spread falsehoods about the election and urged using the U.S. military to reverse the election outcome.

"We are ready to enter into battle with General Flynn leading the charge," the Three Percenters' statement said.

On the eve of the assault on the Capitol, Flynn delivered an incendiary speech riddled with falsehoods, claiming that more dead voters had cast ballots for Biden than filled the cemeteries of Gettysburg and Normandy.

He then issued a veiled threat to members of Congress. "Those of you who are feeling weak tonight, those of you who don't have the moral fiber in your body — get some tonight because tomorrow we the people are going to be here," Flynn said.

The next morning, Giuliani appeared before the same crowd and called for a "trial by combat." Then, as Pence made his way to the Senate chamber, Trump took the stage — behind sheets of bulletproof glass — and instructed the sea of red-clad supporters to follow the vice president and refuse to accept anything short of victory.

"You'll never take back our country with weakness," Trump said. "You have to show strength, you have to be strong."

Clint Watts, a former FBI counterterrorism analyst, compared the rhetoric of Flynn, Giuliani and Trump with the radicalizing messages from leaders of al-Qaeda and the Islamic State that so worried U.S. security officials in the aftermath of the 9/11 attacks.
To be clear: there's no evidence of which I'm aware that Trump, Flynn, or Giuliani coordinated with these groups or understood what was happening. Conspiracy-minded folks have a knack for filling in the gaps. But it's not inconceivable to me that the violence was intentional.
Trump, in particular, seemed to cheer it on while it was happening, stunned that his staff and other Republicans didn't welcome it. And he was calling Members of Congress, while they were under siege from this attack, to get them to help steal the election.
It's going to take some time to truly understand what happened Wednesday. But it could have been a whole lot worse. And worse may still be ahead of us.