Conservative Media Bubble
If you're a white Southerner who gets most of his information from Fox News and Rush Limbaugh, you probably don't know a lot of people who voted for Barack Obama.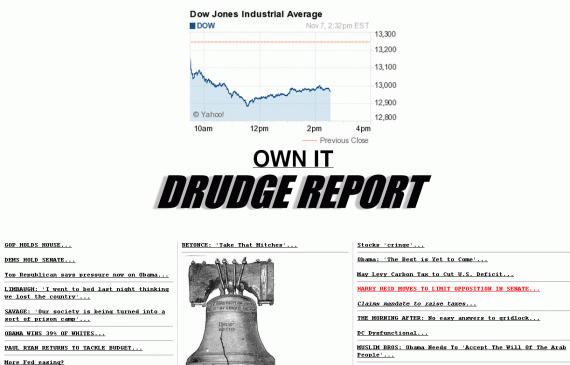 Conor Friedersdorf explains "How Conservative Media Lost to the MSM and Failed the Rank and File."
Before rank-and-file conservatives ask, "What went wrong?", they should ask themselves a question every bit as important: "Why were we the last to realize that things were going wrong for us?"

Barack Obama just trounced a Republican opponent for the second time. But unlike four years ago, when most conservatives saw it coming, Tuesday's result was, for them, an unpleasant surprise. So many on the right had predicted a Mitt Romney victory, or even a blowout — Dick Morris, George Will, and Michael Barone all predicted the GOP would break 300 electoral votes. Joe Scarborough scoffed at the notion that the election was anything other than a toss-up. Peggy Noonan insisted that those predicting an Obama victory were ignoring the world around them. Even Karl Rove, supposed political genius, missed the bulls-eye. These voices drove the coverage on Fox News, talk radio, the Drudge Report, and conservative blogs.

Those audiences were misinformed.

Outside the conservative media, the narrative was completely different. Its driving force was Nate Silver, whose performance forecasting Election '08 gave him credibility as he daily explained why his model showed that President Obama enjoyed a very good chance of being reelected. Other experts echoed his findings. Readers of The New York Times, The Atlantic, and other "mainstream media" sites besides knew the expert predictions, which have been largely born out. The conclusions of experts are not sacrosanct. But Silver's expertise was always a better bet than relying on ideological hacks like Morris or the anecdotal impressions of Noonan.
This is largely right, although I'd issue two minor caveats.
First, Scarborough has been an outstanding analyst of the race from the outset, correctly pegging the woes of his party at every turn. But he's a politico, not an analyst, by trade and he shares that class' conceit that the campaign and candidates are all that matter. He couldn't buy into Nate Silver's notion that there was a 76% chance of Barack Obama winning a race that Gallup told him was too close to call. That's worlds apart from the yahoos "predicting" a Romney landslide in the Electoral College.
Second, I'm skeptical of the degree to which the average liberal was a Nate Silver acolyte. Yes, liberals are more likely to read the Times and Silver than conservatives; but  FiveThirtyEight was and will remain a site for political nerds, not the masses.
But, again, Conor's larger point is right and important. The film critic Pauline Kael has been widely misquoted as having said "How can Nixon have won? No one I knew voted for him." Sadly, too many conservatives live in that sort of bubble. If you're a white Southerner who  gets most of his information from Fox News, the Drudge Report, Rush Limbaugh, and National Review Online you probably don't know a lot of people who voted for Barack Obama.
At the top of the post is a screencap of the Drudge Report at mid-afternoon. Aside from leading with a graphic suggesting that the stock market is tanking on the news of Obama's re-election—which, of course, Wall Street had long expected and, in any case, the market has been going gangbusters the last four years–are stories headlined:
No wonder you  think Obama is a secret Muslim born in Kenya and sits around hating America while palling around with his terrorist friends.  Of course you can't fathom that he'd be re-elected. I mean: Benghazi!
Now, of course, George Will*, Karl Rove, Dick Morris and others don't live in a media bubble. Yes, they may be old school horserace analysts and dubious of advanced metrics like Silver's. But they were fully aware of the polling data and chose to discount it, either out of sheer wishful thinking, hackery, or something else.  Many of their viewers, though, likely bought what they were selling quite easily because of Pauline Kaelism.
________________
*I should note that I didn't get around to watching the "This Week" roundtable Sunday and mistakenly understood that Will predicted an Obama landslide but with Romney winning some states that it would have made no sense for him to win.  What's odd is that Will correctly predicted an Obama landslide in 2008, so it's not like this is his default position.