GOP Growing Increasingly Nervous About Governor's Races
The GOP's potential troubles in 2018 don't just exist at the Congressional level.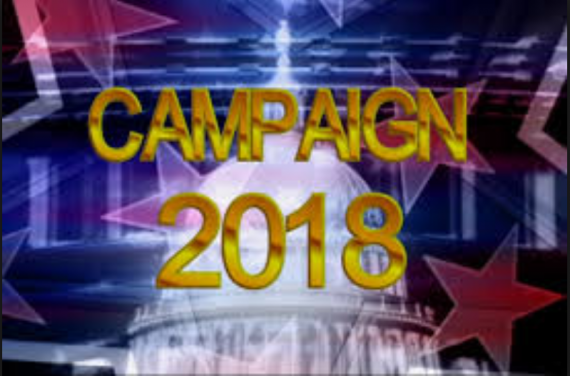 While most of the attention of political analysts and pundits is primarily focused on the impending battle for control of Congress in this year's mid-term elections, it's worth remembering that there's more on the table than just the House and the Senate. In addition to those Federal races, a number of states will be holding elections for the legislature and Governor's mansions that Republicans have dominated ever since the 2010 midterms, and Republicans are starting to worry about the races at the Gubernatorial level in particular:
Buoyed by November election results, a surge in fundraising and expectations of a massive liberal wave, Democrats are preparing for an assault on one of the GOP's most heavily fortified positions: governors mansions.

It's a far cry from last summer, when Democrats bottomed out at the state level. Back then, after West Virginia Gov. Jim Justice switched allegiance to the GOP, the number of governorships in Democratic Party hands fell to just 15, a historic low.

But the atmospheric conditions have changed since then. Republicans are hampered by an unpopular President Donald Trump. Suburban voters are threatening to desert the party en masse. And Democrats have seen a massive increase in their fundraising numbers after gubernatorial wins in Virginia and New Jersey in November.

The GOP is forced to defend 13 states that former President Barack Obama won — from Maine to New Mexico to Wisconsin — while Democrats are protecting just one — Pennsylvania — that fell to Trump.

Republicans now admit that a handful of once-competitive battlegrounds are nearly out of reach for them in 2018. Meanwhile, Democratic hopes are rising in a handful of conservative strongholds.

"I would describe our attitude as rational exuberance, and the reason I say 'rational' is it's based on objective evidence that's consistent in basically every election since the 'stable genius' got to the White House," said Washington Gov. Jay Inslee, chairman of the Democratic Governors Association, using Trump's recent Twitter description of himself. "The map has expanded in the last several months, because these patterns exist even in red states."

Democratic confidence has been building since the party's sweeping wins last fall. At the DGA's meeting in New Orleans last month, political director Corey Platt gave governors a presentation indicating that the organization is now targeting 17 GOP-held seats for pickup in 2018, according to slides from the presentation obtained by POLITICO.

The growing optimism on the left is mirrored by a burgeoning Republican pessimism, according to a wide range of GOP operatives and lawmakers involved in this year's races.

Their concerns are legion: With the White House dominating the news across the country on a daily basis, pollsters are seeing signs of a prospective surge in Latino voters that could swamp Republican candidates in battleground states like Florida and Colorado, put New Mexico's governor's race even further out of reach and making Arizona's competitive.

The 2017 off-year election results in Virginia and New Jersey and the special Senate election in Alabama have also given GOP candidates and incumbents reason to believe they will face an energized Democratic base that could turn out in record numbers, matched by a backlash among highly educated white women whose votes are usually Republican.

"If we nominate bad candidates, we are going to lose: We have to be aware that suburban folks — and suburban women in particular — are going to stay home," warned Republican strategist Jay Williams, who lives in Georgia, a traditionally conservative state that both parties' leaders believe is on the cusp of coming into play.

With exactly half of the 26 Republican-held seats up for grabs in 2018 being left open by a departing governor, a surge of Democratic turnout could overwhelm any goodwill individual GOP incumbents may have built up in tight states.

"We're playing [on] a little bit of an uphill playing board," said Tennessee Gov. Bill Haslam, the Republican Governors Association chairman. "Add that to the traditional challenges of having your party be in the White House, and for that president's first midterm, and I think there's no question we have our work cut out for us."

Much of the GOP anxiety stems from the way a handful of potentially competitive races have broken strongly toward the Democratic candidate. Rep. Michelle Lujan Grisham is now heavily favored to replace Republican Gov. Susana Martinez in New Mexico, while multiple top New York Republicans have passed on challenging Democratic Gov. Andrew Cuomo. According to top strategists from both parties, similar skepticism about GOP chances has overtaken the races in Pennsylvania — where Democratic Gov. Tom Wolf is running for reelection — and Maine, where Republican Gov. Paul LePage is vacating his seat.

While Republicans still see a clear opportunity to replace outgoing Democratic Gov. Dannel Malloy in Connecticut, they acknowledge they will likely need to spend more resources than they hoped to defend their seats in Ohio, Michigan, Florida, New Hampshire, Illinois and even Maryland, where Gov. Larry Hogan remains popular despite the state's heavily liberal skew.

Add in the costs of competing in expensive battlegrounds like Nevada, Wisconsin, Minnesota and Colorado, and it means they are less likely to spend extensive money or resources to flip once-vulnerable Democratic seats in Rhode Island or Oregon.

Meanwhile, Democrats are on the offensive, expanding their sights into races where they usually wouldn't venture.

"This was always going to be a huge map, and a map with a lot of opportunity for us, regardless of the larger environment. [But] the suburban dynamic, the young voters dynamic, the fact that Democrats are so enthusiastic — all of those things we hoped would be true, and which were certainly true in Virginia and New Jersey — are making us look anew at some states," acknowledged DGA executive director Elisabeth Pearson.

Some of that optimism centers around states like Iowa, which broke hard for Trump in 2016 but where his numbers have since taken a dive. While recent polls differ over GOP Gov. Kim Reynolds' popularity, one December survey that described her as broadly popular still reported that roughly half the state thinks it's time for her to be replaced.
All of this anxiety on the GOP's part would seem to be well-placed.
While 2017 started out with Republicans managing to hold on in Special Elections for Congressional seats vacated by members who were appointed to fill positions in President Trump's cabinet, by the end of the year the tide had changed significantly by the end of the year. The biggest setbacks, of course, took place in Virginia and New Jersey, where Democrats managed to hold on to control of the Governor's Mansion in one case and flip control in the other. The result in New Jersey, of course, was not unexpected due to that state's long history as a blue state and the fact that neither outgoing Governor Chris Christie nor the Republican candidate to replace him Lt. Governor Kim Guadagno were particularly popular. Virginia, however, came as something of a shock and a warning to the GOP both because they had hoped that their nominee Ed Gillespie would prove to be moderate enough for the suburban voters in Northern Virginia that are an increasing decisive part of any successful statewide campaign in the Old Dominion. Instead of that outcome, though, not only did Democrats once again sweep all three statewide elected offices but they also cut what had been a seemingly insurmountable Republican majority in the House of Delegates to a bare majority of just one vote. The final shock of the year came in December when the Republican nominee to replace Jeff Sessions in the Senate lost to Democratic Senator Doug Jones, marking the first time a Democrat had won a Senate race in that state in more than twenty years. Added into all of that, of course, is the fact that Republicans are led by a man who is without question the most unpopular newly elected President since World War Two and the signs that GOP control of both the House and the Senate is increasingly in doubt, as I've noted here, here, and here, and it's easy to see why Republicans are so nervous.
To be fair, the issues that drive races for the House and Senate often differ from those that drive elections for Governor or state legislature, it's also true that a party that is faced with what could end up being a wave election at the Federal level is likely to face significant problems at that state level. This is one of the main reasons why Republicans were so successful in capturing control of state governments in 2010, and it could play a significant role in what we'll see at the state level. Of course, it also helped that Republicans were successful at recruiting a number of strong candidates in states that had previously been controlled by Democratic Governors, which is one of the main reasons why they were able to win in states that had long been controlled by Democrats such as Wisconsin, Michigan, and Pennsylvania. Several of those Governors elected in 2010 and re-elected in 2014 are now term-limited, though, and the fact that there will be open seat elections in many of these states opens up the possibility of Democratic pickups, especially if the midterms result in higher turnout among traditionally Democratic voting blocs seeking to send a message to the GOP and to President Trump.