How Economic Doldrums Are Impacting The Election
A spate of bad economic news foretells a shift in the campaign for President.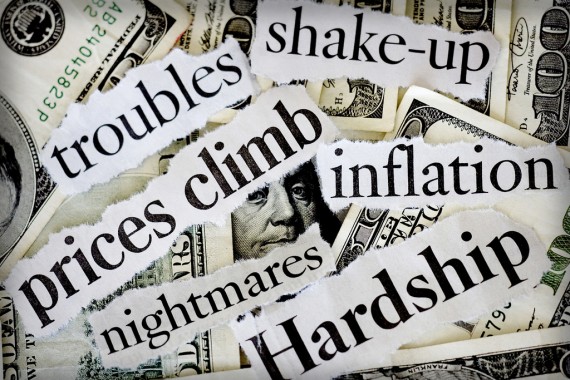 We've always known that the economy would be the driving force in the election, but last weeks economic news, starting with a disappointing GDP revision and signs of economic downturns in Europe, China, and India, and ending with an abysmally weak employment report, is bringing that issue back to front and center again. At the beginning of the year, when it seemed like the economy was starting to improve significantly and job growth was approaching levels that could be called respectable, the general assumption was that this would work to the President's advantage and the Republican's disadvantage. After all, it's fairly hard to kick an incumbent President out of office to begin with and an improving economy would make it even harder. With the news this week seeming to confirm that we're yet again entering a spring/summer slump, just as we have for the previous two years, though, re-election is looking like a tougher prospect for the President if these economic trends continue or get worse:
WASHINGTON — The weak employment report on Friday held the potential to reshape the presidential campaign, members of both parties said, lifting Mitt Romney's efforts to make the race all about President Obama's handling of the economy and making it harder for Democrats to break through in their efforts to define Mr. Romney on their terms.

On Capitol Hill, the signs of a slowdown focused new attention on the economic implications of the partisan standoff over tax and spending policy. On the campaign trail, both sides saw the news as a potential turning point in a critical battle at this stage. The race may be a referendum on Mr. Obama, as Republicans want, or, as Democrats prefer, a choice between a president nursing the economy back to health and a challenger who represents the failed policies that caused the crisis in the first place.

Democrats in particular were left off balance, sensing that most of their policy ammunition has been spent and that Republicans have nothing to gain politically from lending a hand on a compromise that could spur economic growth this year.

"It's going to be a close election. Everybody's worried," said Representative Jim Cooper, Democrat of Tennessee. "We've already floored the accelerator. We've already gripped the steering wheel. I'm not sure they're attached to anything anymore."

At a stop in Minneapolis, Mr. Obama renewed his call on Congress to enact measures to revive the economy, warning that they were needed not only to shake the United States out of its torpor, but to act as a buffer against storm clouds in Europe.

"Our economy is still facing some serious headwinds" from high gas prices and the financial crisis in Europe, he said from a factory floor at Honeywell International. Europe, in particular, he said, is "having an impact worldwide and is starting to cast a shadow on our own" recovery.

Mr. Romney fired back that the president was simply finding a new way to deflect blame for an economic malaise that his policies were prolonging. His campaign said that Mr. Romney's core message that it was time for a change in economic stewardship would resonate more clearly among voters.

"This is the race that we came ready to run," said Stuart Stevens, Mr. Romney's chief strategist. "This is the race that we believed we would be in."

The signs that the recovery is being derailed could further complicate maneuvering over the fiscal cliff the federal government faces at the end of the year. The government faces nearly $8 trillion in higher taxes and automatic spending cuts when all of the Bush-era tax cuts expire at the same time that $1.2 trillion of automatic spending cuts on military and domestic programs go into force in January.

Republicans have called for an extension of all those tax cuts and a cancellation of the military cuts, and said Friday that a weaker economy would make it all the more urgent to avoid tax increases this year. Mr. Obama and Congressional Democrats favor allowing tax cuts for the rich to expire and have stood firm on the automatic cuts.

"Instead of another campaign speech, the president might want to engage with Democrats and Republicans here on Capitol Hill to handle the big policies that are affecting our economy," the House speaker, John A. Boehner of Ohio, said, citing the looming tax increases and spending cuts and the growing national debt.
Dan Balz argues that the plethora of bad economic news means that the President's campaign must begin doing more than just going negative on Mitt Romney:
What Obama hasn't yet done is offer any clear idea of what his second term would be about. He argues that the country should not go back, but what his real goals are for a possible second four years in office remain cloaked largely in campaign generalities.

The meager jobs report puts additional pressure on him to do more than bemoan the possible consequences of turning the White House over to the Republicans. If he is campaigning on a new agenda to lift the economy, most voters couldn't describe it. If he hopes to come out of the campaign with a mandate for particular policies, he hasn't talked much about them.
And Nate Silver sees serious risk for the President in the months ahead:
The concern for Mr. Obama, however, is not so much what might happen if the election were held today but what will happen in November. The economic news in recent weeks has been poor enough to suggest that if the economy finally breaks from its pattern of tepid growth in the second half of the year, it could be toward the downside.
Walter Russell Mead, meanwhile, points out the rather obvious fact that, if the trend we've seen since April continues through the summer then things are likely to become very difficult for the President electorally. The problem that the President faces in that regard is that, if the economy truly is heading for another slowdown, there's very little that he'll be able do about it, at least in the short term between now and Election Day.  Partly, this is because the odds of actually getting anything through Congress in the next five months are fairly low. Partly, it's the fact that even something like another stimulus package would take months to trickle through the economy and show up in the statistics, assuming it worked at all which is by no means guaranteed. To a large degree, though, it's simply because a large part of what could go wrong between now and November is out of the control of any American politician. The situation in Europe, which seems to vacillate between crisis mode and complacency on a regular basis, is due by and large to a structural problem in European politics that can only be solved by the Europeans themselves. And, of course, there's little the United States can do about economic conditions in China or India. Perhaps the only good news in all of this is that, thanks to what appears to be a slowing world economy, oil prices have been declining fairly rapidly recently, which means that there will be no $5.00 gas this summer and that some parts of the country may even see gas prices dip below $3.00/gallon.
Balz gets it largely correct, I think, when he says that the state of the economy right now means that the Obama campaign is going to have to shift away from simply attacking Romney and start explaining to the country what a second Obama term would be all about. Even in the midst of an economic boom that would make the current state of our economy look pathetic by comparison, Ronald Reagan didn't just spend the 1984 election talking about the great job he'd done the previous four years, he also talked about what a second term would be all about, both domestically and internationally (and remember, this was a year before Mikhail Gorbachev was anything other than a Politburo member most Americans had never heard of). Obama is going to have to do the same, especially if the economy continues to be as stagnant as it has been for the past several months.
None of this is to suggest I'm anywhere close to predicting a Romney blowout. Whoever wins this election, I continue to think we're looking at a close election like we saw in 1976, 2000, and 2004. More importantly, while the head-to-head polling continues to show a tight race between the two candidates,there's yet to be any evidence of a series dip in the President's job approval numbers. Until that happens, I'd argue that the odds still favor the incumbent. However, it seems rather undeniable that bad economic news is bad news for Team Obama, and they must surely recognize that by now.