Quixotic 'Stop Trump' Movement Still Out There, Still Doomed To Fail
Despite a year of utter failure, one group of Republicans apparently still thinks they can deny Donald Trump the Republican nomination.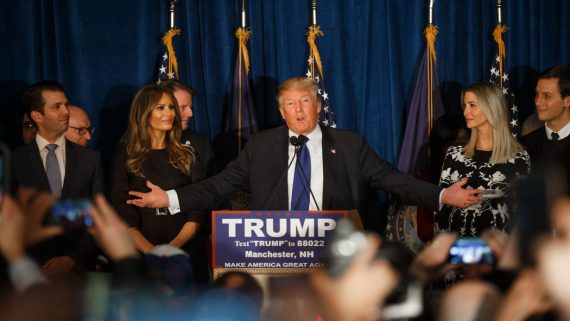 With less than two weeks to go until the Republican National Convention, and Donald Trump reportedly set to announce his Vice-Presidential running mate next week, the putative "Stop Trump" movement among Republican insiders and pundits, which largely failed to, well, stop Donald Trump, at every crucial point during the primary campaign, is still out there working, although its efforts seem even more quixotic than before:
Republican convention delegates hoping to snatch the party's presidential nomination from Donald Trump are still coming up short.

Leaders of "Free the Delegates," a coalition of various groups hoping to stop Trump at the Republican convention in Cleveland this month, conceded Tuesday night that they're far short of the votes needed to change GOP presidential nomination rules and reopen the battle.

"It's just continuing to be the uphill battle that I knew it would be," said Kendal Unruh, a group leader.

Despite near-daily conversations with delegates worried about Trump's presumed nomination, "There's just a lot of pressure, a lot of fear, a lot of 'I'm with you in theory, but I'm trying to get the courage to come out and support it,'" she told group members on a weekly conference call.

Unruh is a member of the 112-member convention rules committee, which will determine exactly how Trump will be formally nominated by the party. The panel's meetings are scheduled to begin July 14 and could run as long as three days, depending on how long it takes to debate potential rules changes.

Unruh would need at least 56 votes to approve her proposal to allow delegates to vote however they want, instead of being bound to the results of state caucuses and primaries. After that, a majority of the convention's delegates would need to vote for her plan when the party meeting opens on July 18.

But Unruh's idea has the public support of less than 10 members of the rules panel, according to a Washington Post tally of delegates.

Given those odds, "Courage is not in excess" among delegates, another group leader, Dane Waters lamented on the call.

Trump has dismissed attempts to unseat him as "illegal" and has a team of up to 150 paid staffers and volunteers preparing to thwart any attempt to stop him at the convention. Four of his top convention lieutenants are on the rules committee and prepared to help stop Unruh's proposal, according to campaign aides familiar with the plans.

Unruh and Waters are part of a small, but vocal group of GOP activists who believe that national Republican leaders have bucked long-standing rules that grant presidential nomination powers only to convention delegates. They argue that as members of a private association, only they can ultimately decide who the party nominates.

Unlikely to prevail in the rules committee, Free the Delegates is now focused on a federal court challenge set to be considered on Thursday in Virginia.

Carroll "Beau" Correll, one of Virginia's 49 GOP convention delegates, filed suit in federal court in Richmond on June 24 challenging a state law binding him to the results of the March 1 primary. He supported the presidential campaign of Sen. Ted Cruz (R-Tex.). His suit argues that the state law binding him to the primary results violates his First Amendment right to vote his "conscience, free from government compulsion."

"States shouldn't be compelling members of a private organization" to vote a certain way, Correll told the conference call on Tuesday night. He said a favorable court ruling could eventually strike down laws binding convention delegates to the results of caucuses and primaries and "send a resonating message to about 20 states" that have such laws.

A group of eight Virginia delegates, backed by the Trump campaign, intervened in Correll's case by asking the judge to dismiss the challenge. Virginia Attorney General Mark Herring has said he will defend the current state law in court.
From the start, it's important I think to distinguish between this group of Republican delegates and insiders, who seem to continue to believe that there is some realistic chance of denying the Republican nomination to Donald Trump and the broader "Never Trump" movement, which largely consists of Republicans and Republican-leaning voters, pundits, and activists who have vowed not to vote for Trump notwithstanding the fact that he will be the Republican nominee for President. The second group is at least realistic enough to recognize the fact that denying Trump the nomination at this point, when the delegate count shows him with more than 300 more delegates than he needs to win the nomination after having garnered more than 13 million popular votes over the course of the four month primary race would be nothing short of a fool's errand. The first group is made up of the same people who have been involved in all of the previous efforts to stop Trump that cropped up over the course of the past year, whether it was the effort to rally behind Marco Rubio despite the fact that he showed no ability to win a single significant primary, the failed alliance between Ted Cruz and John Kasich, the efforts to get some white knight candidate such as Mitt Romney to enter the GOP race at the last minute and save the day, Mitt Romney's own too little, too late effort to urge Republicans to unite against Trump, to the effort to find some establishment candidate, or even just some dude who writes for National Review, to run for President as an Independent largely as an effort to deny Donald Trump the Presidency and/or force the race for President into the House of Representatives due to the fact that no candidate obtained a majority of Electoral Votes. For various reasons, including primarily the fact that they all came far too late in the process to have any real impact, all of these efforts failed.
Now, it appears, the same forces behind these failed efforts are engaged in one last ditch effort to deny Trump the nomination. As with all the previous plans, this one is marked by unrealistic goals, the apparent lack of a plan for what would happen next if they somehow succeeded, and a certain level of "Hail Mary" desperation that the whole thing seem incredibly pathetic. The idea that some small group of insiders is going to be able to deny Trump the nomination at this point in the process is, quite simply, absurd. Like it or not, and you can count me among those who doesn't like it, Donald Trump has won this nomination fair and square and using obscure parliamentary maneuvering and rules manipulation to change the rules of the game at the last minute isn't going to succeed due to the fact that Trump's level of support among the delegates is simply to high to allow it to happen and because the powers that be at the Republican National Committee are now clearly committed to a convention that runs as smoothly as possible, meaning that so-called "establishment" delegates on the Rules Committee are likely to join with Trump supporters in blocking this latest effort to change the rules of the game in the Rules Committee meeting next week. At that point, the "stop Trump" movement will be over for sure and its backers will be faced with the same choice that Republicans all over the country will be faced with in the fall.