Sarah Huckabee Sanders, A Virginia Restaurant, And The Politicization Of Everyday Life
Sarah Huckabee Sanders was asked to leave a restaurant in Virginia last night, and the incident raises questions of how far we should let politics infiltrate everyday life.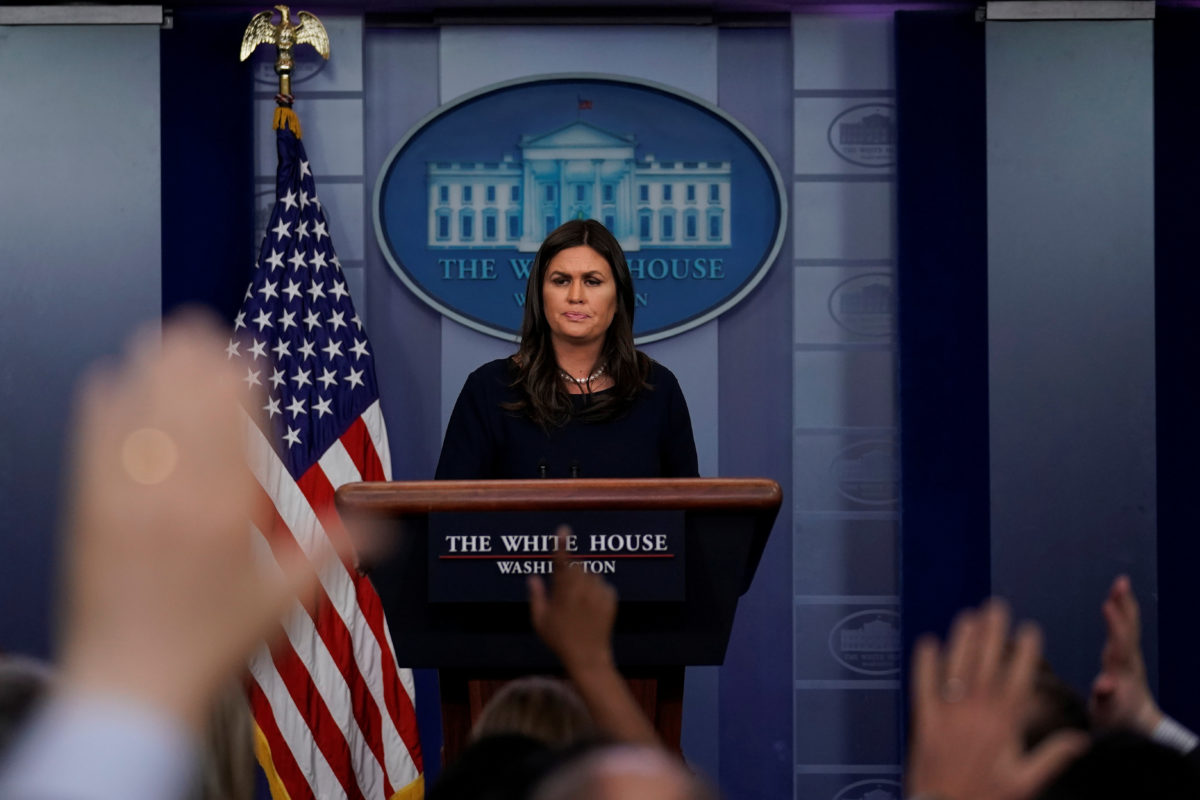 It's a slow news day relatively speaking so one story getting a lot of media attention today is the report that White House Press Secretary Sarah Huckabee Sanders was denied service at a restaurant in western Virginia last night because the restaurant owner objected to the fact that someone who worked for the President was in his establishment:
WASHINGTON — Sarah Huckabee Sanders, the White House press secretary, said she was asked to leave a Virginia restaurant Friday night because of her work in the Trump administration, becoming the latest official to be singled out for her support of the president's policies.

After the owner of the restaurant, the Red Hen in Lexington, suggested she leave, Ms. Sanders tweeted on Saturday, she complied.

The woman's actions "say far more about her than about me," Ms. Sanders said. "I always do my best to treat people, including those I disagree with, respectfully and will continue to do so." A person who identified as a waiter at the restaurant said in a Facebook post that Ms. Sanders had been accompanied by seven other guests.

The restaurant did not respond to phone calls, and its website appeared to have crashed Saturday morning as reports of the episode began circulating.
Here's Sarah Huckabee Sanders' tweet about the incident, which was sent after the reports about the incident had become public:
Last night I was told by the owner of Red Hen in Lexington, VA to leave because I work for @POTUS and I politely left. Her actions say far more about her than about me. I always do my best to treat people, including those I disagree with, respectfully and will continue to do so

— Sarah Sanders (@PressSec) June 23, 2018
As did her father former Arkansas Governor Mike Huckabee:
Bigotry. On the menu at Red Hen Restaurant in Lexington VA. Or you can ask for the "Hate Plate". And appetizers are "small plates for small minds" https://t.co/rHEVdcQwwh

— Gov. Mike Huckabee (@GovMikeHuckabee) June 23, 2018
This isn't the first incident that members of the Trump Administration have encountered this week in apparent response to the ongoing controversy over the Administration's "zero tolerance" policy and the subsequent separation of parents and children which the President purported to end via Executive Order earlier this week after saying repeatedly he couldn't do that. On Tuesday night, Secretary of Homeland Security Kirstjen Nielsen was heckled and yelled at while eating dinner at a Mexican restaurant in Washington, D.C. Before this on Sunday, Stephen Miller, who is widely seen as the President's top adviser on immigration issues inside the West Wing was denounced as a fascist by a protester on Sunday while dining at a Mexican restaurant, according to The New York Post. While it's unclear that the incident involving Sanders, which occurred in Lexington, Virginia a small city in western Virginia that lies roughly three hours southwest of Washington, D.C.  was related to the current situation at the border, all three of them are indicative of the extent to which disdain for the Trump Administration is impacting the people who work for him. In a similar vein, Politico ran an article yesterday detailing the disdain that younger White House staffers are facing as they try to socialize in Washington, D.C. during the Trump Era, including the fact that they are apparently, well, striking out in the dating area.
Inevitably, perhaps, the reaction to this report on social media at least seems to depend on which side of the ideological divide you stand on. For the anti-Trump crowd, there's been no small degree of schadenfreude and joking about what happened to Sanders. On the right, people are citing this, along with the reports about what happened to Nielsen and Miller earlier this week, as examples of how "the left" was trying to silence people and to punish them merely because they happen to work for the President.
Additionally, both sides seem to be trying to tie these situations into some kind of analogy to the situation in the recently decided Masterpiece Cakeshop case in which the Supreme Court decided in favor of a Colorado baker who had refused to bake a cake for a same-sex wedding reception, although in that case the Court based its decision on evidence of bias against the baker from the tribunal that had ruled against him below rather than making a broader statement on the line between religious liberty and the enforcement of anti-discrimination laws. Whichever side of the debate you fall on, though, the analogy with Masterpiece Baker fails because we are not dealing with a situation where the restaurants or the protesters may have violated an existing anti-discrimination law. In the case of Nielsen and Miller, while heckling people trying to eat dinner is rude, it's not a situation in which the Constitution or any existing law I'm aware of would apply to. Additionally, with respect to the restaurant, Virginia is not among the handful of jurisdictions that have a law barring discrimination in public accommodations based on political beliefs. While I understand the desire to analogize these cases to Masterpiece Cakeshop, the situations are simply too different for the analogy to mean anything.
On a broader level, what happened to Sanders on Friday night strikes me as yet another example of how partisanship has taken over even the most mundane areas of our lives and is, slowly but surely, finding its way into areas where politics has been before. One of the best examples of that, of course, has been the ongoing controversy over N.F.L. players kneeling during the National Anthem, an issue that, of course, has been stoked by the President of the United States and which he apparently intends on raising during the upcoming midterm elections. Reports like this are just another indication that this politicization is carrying over into everyday life, which is usually where people go when they want to get away from politics. I suppose it's inevitable that we've reached this point given the extent to which hyperpartisanship, the refusal to listen to each other, and the apparent inability of people on both sides of the political aisle to differentiate between fact and opinion.
Even if it's inevitable, though, it's not healthy, and it still seems like we're at a point where we can pull ourselves back from the brink before we reach the point where literally everything has become political. If we want to, that is. I'm not saying that restaurant owners should be forced to serve everyone as long as they are complying with existing anti-discrimination laws, nor am I saying that people don't have the First Amendment right to speak out against government officials they disagree with, I suppose I am arguing that, at least when it comes to political differences, there ought to be some line drawn between acceptable political opposition and behavior that is, at the very least, culturally unacceptable even if it is legal. Where that line gets drawn is a question is something we're going to have to figure out, because if we don't then everything will become political, and that won't be a pleasant world for any of us.