Sarah Palin Losing Support Among Republicans
Republicans are starting to sour on Sarah Palin, meaning that they're finally starting to catch up to the rest of the country.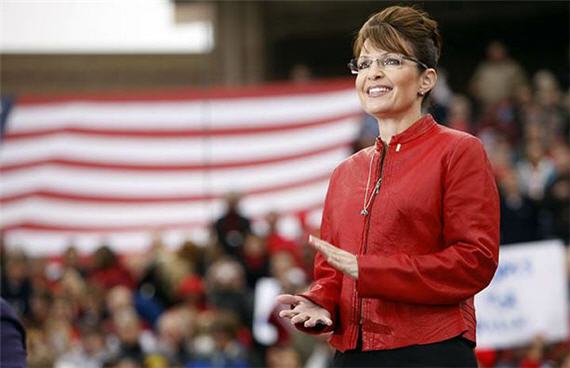 The downward trend in Sarah Palin's favorable numbers is showing up within her own party now as well:
Sarah Palin's ratings within the Republican Party are slumping, according to a new Washington Post-ABC News poll, a potentially troubling sign for the former Alaska governor as she weighs whether to enter the 2012 presidential race.

For the first time in Post-ABC News polling, fewer than six in 10 Republicans and GOP-leaning independents see Palin in a favorable light, down from a stratospheric 88 percent in the days after the 2008 Republican National Convention and 70 percent as recently as October.

In one sense, the poll still finds Palin near the top of a list of eight potential contenders for the GOP nomination. The former vice presidential candidate scores a 58 percent favorable rating, close to the 61 percent for former Arkansas governor Mike Huckabee and 60 percent for former Massachusetts governor Mitt Romney, and better than the 55 percent that onetime House speaker Newt Gingrich (Ga.) received.

But Palin's unfavorable numbers are significantly higher than they are for any of these possible competitors. Fully 37 percent of all Republicans and GOP-leaning independents now hold a negative view of her, a new high.

In another first, fewer than 50 percent of Republican-leaning independents — 47 percent — hold favorable views of Palin.
This is a significant change since the Palin first burst on to the Republican scene as John McCain's running mate:
Of course, this is a trend that matches the masses increase in Palin's unfavorable numbers among the public at large: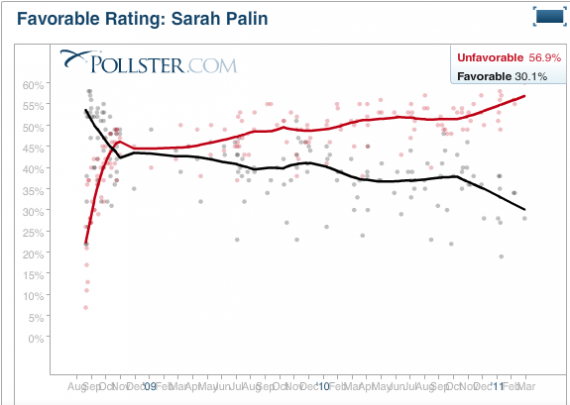 The difference, of course, is that the ABC/Washington Post poll spoke to the type of people that Palin would have to gain the support of if she actually did run for President. It also comes at the same time that many conservative pundits seem to be having second thoughts about Palin:
Among those taking aim at Palin in recent interviews with POLITICO are George F. Will, the elder statesman of conservative columnists; Peter Wehner, a top strategist in George W. Bush's White House, and Heather Mac Donald, a leading voice with the right-leaning Manhattan Institute.

Matt Labash, a longtime writer for the Weekly Standard, said that because of Palin's frequent appeals to victimhood and group grievance, "She's becoming Al Sharpton, Alaska edition."

Conservative intellectuals, while having scant ability to drive large blocs of votes on their own, traditionally have played an outsize role in the early stages of Republican nominating contests. Their approval has lent credence to politicians from Ronald Reagan onward hoping to portray themselves as faithful adherents to an idea-driven conservative movement.

This year, the conservative intelligentsia doesn't just tend to dislike Palin — many fear that her rise would represent the triumph of an intellectually empty brand of populism and the death of ideas as an engine of the right.

"This is a problem for the movement," said Will about what Palin represents. "For conservatism, because it is a creedal movement, this is a disease to which it is susceptible."
Additionally, over the weekend, former New Hampshire Senator Judd Gregg  noted that the fact that there is no clear frontrunner or heir apparent in the race for the GOP nomination means that Palin could end up being victorious despite the fact that many Republicans have doubts about her:
Because the nominating process has become so dominated by primary elections, with the vast majority of the delegates chosen by direct vote, it is entirely possible that with no presumptive winner or even favorites, a candidate who runs second or third in a great many primaries could go into the convention with a sizable block of delegates.

Who would this favor? Does Sarah Palin come to mind? Although she is not viewed by most as strong enough to win, she is viewed by many as a person worth voting for to make a statement. And primaries tend to be populated by people who go to the polls with the purpose of making a statement.

Finishing second and third isn't really a big deal — until you get enough delegates to be the nominee. And picking a nominee who it seems would be easily defeated by President Obama might not be the best statement.
All of this, of course, leads to the question of whether or not Palin will actually throw her hat into the ring. During the fall, it seemed as though the answer to that question was a rather obvious yes, but events since then, most particularly the aftermath of the shootings in Tucson, have thrown all of that into doubt, and nobody can tell what Palin is actually thinking. Therefore, until she announces her intentions, she hangs over the GOP field as a presence, and Republicans who are beginning to realize (finally!) that nominating her would be an act of political suicide seem to be starting to worry.