Scott Walker Surges In New Iowa Poll
Wisconsin Governor Scott Walker isn't officially a candidate for President yet, but he's doing quite well in Iowa anyway.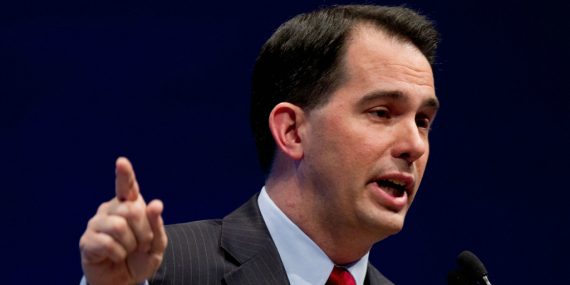 Scott Walker hasn't officially entered the Presidential race, but he is already pulling ahead of the pack in the latest Des Moines Register/Bloomberg poll of Republican caucus goers:
Scott Walker's popularity streak in Iowa is real: He's seven percentage points ahead of his nearest competition in the presidential horse race here, chased by a tight pack of four in a clear top tier: Ben Carson, Rand Paul, Jeb Bush and Mike Huckabee.

Marco Rubio lags in a single-digit scrum, but a deeper look into the numbers shows that if Walker is the hare in Iowa, Rubio may be the tortoise, potentially positioned to pull ahead if he campaigns hard, a new Des Moines Register/Bloomberg Politics Iowa Poll finds.

Walker, a Wisconsin governor known for imposing restrictions on labor unions, hasn't officially announced he's running for the White House in 2016, but he's the first choice for 17 percent of likely GOP caucusgoers in Iowa, making him the one to beat in an oversized field of 16 Republicans tested.

"He's fearless," said poll respondent Suzanne Sawyer, a 53-year-old Fort Dodge small-business owner who considers herself very conservative. "He will do what's right for the people that he was elected by. He has proven that in Wisconsin — he went to bat on collective bargaining to get things back in line financially. He's out to do what's best for the state, not what's best for him politically."

Two-thirds of likely Republican caucusgoers view Walker favorably, the highest in the poll, including nearly a third of respondents who view him very favorably.

Walker is now more solidly the front-runner than in a January Iowa Poll, when he had 15 percent and was a lone percentage point ahead of Rand Paul, a Kentucky U.S. senator who agitates against government snooping and warmongering. Paul remains in second place, tied at 10 percent with Ben Carson, a retired brain surgeon who leads with women who plan to attend the GOP caucuses.

Paul bests the field in attracting moderate Republicans, independents who intend to attend the Republican caucuses (21 percent, all but double any other contender), and likely GOP caucusgoers who are under 45. Paul, who has said the GOP "can have people on both sides" of the same-sex marriage issue, has inherited many of the liberty movement conservatives who supported his father, then-Texas U.S. Rep. Ron Paul, in his Iowa caucus races in 2008 and 2012.

But Rand Paul has seen his favorability rating in the poll drop by 9 percentage points since January, more than for any other GOP contender.

"Paul is slightly worse off, which tells me that his efforts to woo his father's supporters have hurt him with typical GOP voters," said Katie Packer, a Washington, D.C.-based GOP strategist who worked for Mitt Romney's 2012 presidential campaign.

She said of Ben Carson: "People should not underestimate him. He is not going to be the nominee, but he will have influence on who is. Someone will have to go after him soon."

Next in the horse race are Bush, a former governor of Florida, and Mike Huckabee, a former Arkansas governor and winner of the 2008 Iowa caucuses. They're tied with 9 percent, the new poll shows.

In the last four months, Bush and Carson have each gained 1 percentage point. Paul lost four points, and Huckabee lost one.

The numbers drop off after the top five contenders, leaving a lagging pack with eight months to go before Iowa fires the starting gun on presidential voting.

Tied in sixth place with 6 percent are Rubio, a Florida U.S. senator who has set foot in Iowa only twice this year, and former Pennsylvania U.S. Sen. Rick Santorum, a religious conservative who won the 2012 caucuses.

Although Rubio doesn't show up in the upper tier, he tops the list of contenders whom likely caucusgoers say is their second choice. Beyond that, 49 percent say they're willing to consider him. Rubio, who would become the nation's first Latino president if he wins the White House, also ranks third highest in favorability — 60 percent view him positively, and just 17 percent unfavorably.

"It really does suggest he's poised to break," pollster J. Ann Selzer said

(…)

Five percent of likely caucusgoers say Texas U.S. Sen. Ted Cruz is their current first choice for president. That ranks him in eighth place in the overall horse race. Cruz, the first in the field to announce his candidacy, casts himself as a religious conservative and uncompromising fighter for the Constitution.

"I'm surprised that Cruz has not capitalized more on his announcement," Packer said. "I'm beginning to think that opinions are pretty solid and aren't likely to shift — either you like him or you don't."

Christie and Trump are tied for ninth place. In 11th place is former Texas Gov. Rick Perry, with 3 percent, followed by former tech company CEO Carly Fiorina and Ohio Gov. John Kasich with 2 percent.

Rounding out the bottom are South Carolina U.S. Sen. Lindsey Graham and Louisiana Gov. Bobby Jindal, who are tied for 14th place with 1 percent each, while former New York Gov. George Pataki is at less than 1 percent.
Walker has been leading or near the top in Iowa for some time now, so it's not entirely surprising that he would be in that same position in this poll. What is interesting, though, is the fact that he's maintained that position while a number of candidates have entered the race officially and begun campaigning in the Hawkeye State. Walker, on the other hand, has not officially entered the race and his "campaign" in Iowa and elsewhere is operating pretty much below the radar while they await his official entry into the race, which likely won't occur until some time in late June or early July. Despite that, though, and despite the fact that Walker's appearance in the state have largely been limited to speeches to Republican groups rather than formal campaign events, the Wisconsin Governor has not only maintained his lead, but managed to build on it while other candidates have actually seen their numbers go down. It's possible, of course, that Walker will suffer the same fate once he enters the race and that much of what we are seeing here are voters rallying around a candidate who isn't actually in the race yet and thus hasn't really been subjected to the scrutiny that a candidate will get. At the same time, though, it seems fairly certain that when he does enter the race, Scott Walker will automatically become one of the frontrunners in the Republican race.
In Iowa, Walker is currently at the top of the poll averages with and eight point lead over Marco Rubio, but it's worth noting that this lead is due almost entirely to the results of the new poll and that, prior to this, Jeb Bush actually had a slight lead in the polls. Notwithstanding that, Walker's success isn't just limited to Iowa, and it's clear that he's going to be a force to be reckoned with when he gets in the race. He's currently near the top in the polling at the national level as well as in the polling in New Hampshire, South Carolina, and Florida, although it's worth noting that the most recent polling in each of those states is nearly a month old. Nonetheless, Walker's strength is rather undeniable and is likely to have a big impact on the race going forward.
Walker's success in the polls is, rather obviously, tied to the rise to fame he experienced after his election in 2010 and, most especially, the political firestorm that ensued when Walker and the state's Republican legislature passed legislation that severely undercut the power of the state's public employee unions. The fact that he managed to do this in the face of protests that took over the state Capitol Building in Madison and an effort by Democratic members of the State Senate to prevent action on the bill by hiding out in Illinois just served to make him of a star on the right. Despite those efforts, though, as well as a legal battle that included an effort to unseat a member of the Wisconsin Supreme Court, Walker prevailed. Electorally, he not only won election in 2010, but then survived a recall effort in 2012 and won re-election in 2014, each time with wider margins of victory than the first. He has also found a way to switch positions on hot button issues like immigration, leaving him with some of the most restrictive ideas on that issue of any 2014 candidate, and pander to the hawks in the party with his comments about the nuclear deal with Iran. While it's unclear just how much things like this would help him in a General Election, it's obvious that for the base of the party Scott Walker is looking like a very good candidate right now. If he can continue that once he gets in the race, he could go very far.