Scott Walker: The GOP's Sleeper Candidate For 2016?
Scott Walker could be the GOP's surprise candidate in 2016.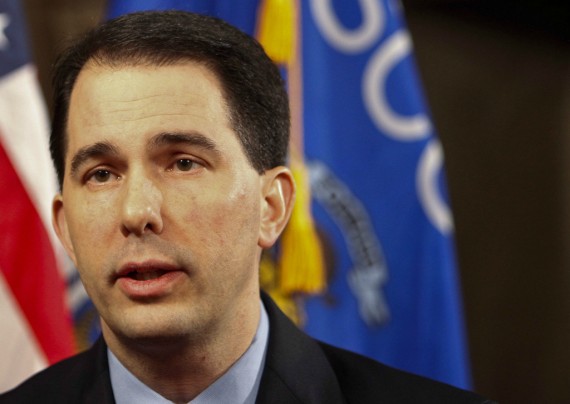 National Journal's Beth Reinhard notes that one of the most important player in the race for the Republican nomination in 2016 may be someone who has sort of slipped into the political background since being the center of attention in a battle with labor unions just two years ago:
Wisconsin Gov. Scott Walker polls near the bottom of would-be presidential contenders. Unlike potential rivals, you won't find him on the cover of Time magazine or slow-jamming the news with comedian Jimmy Fallon.

But he's a conservative Republican who won election in a blue state, survived a brutal recall campaign, and now posts approval ratings over 50 percent. A budget-slashing chief executive and son of a Baptist minister who straddles the fiscal and social conservative camps. A proven fundraiser who has put his thumb in the eye of President Obama and Big Labor.

He's poised to be the sleeper Republican presidential candidate of 2016.

"The recall was a gift to him in that it put him in touch with the big funders in the Republican Party, and I'm sure he keeps that Rolodex pretty close," said Brian Sikma, a spokesman for a conservative government watchdog group in Wisconsin. "I don't see any reason why he wouldn't run, and if you look at the tea leaves, he's taking all the traditional steps."

"I'm sure in next few months you'll find him somewhere in New Hampshire," said Milwaukee-based Republican consultant Todd Robert Murphy.

Walker has told the national media he's not ruling out a White House bid, and he headlined a Republican Party fundraiser last month in Iowa, which traditionally hosts the first presidential nominating contest, followed by New Hampshire. The governor is also writing a book about his triumph in the 2012 recall election after he revoked collective bargaining rights and set off a political firestorm.

This positioning for the national stage comes as no surprise to Wisconsin Republicans, who joke that Walker has been running for president since he was an ambitious politician-in-the-making at the American Legion's Badger Boys State. He was picked to represent Wisconsin at Boys Nation in Washington, D.C. and, in a moment he describes as seminal to his political career, met President Reagan. He was only 22 years old when he ran his first campaign for the State Assembly.

Last week, Walker gratified the religious right and provoked the Democratic Party when he said he would sign a bill requiring women seeking abortions to get ultrasound exams. The legislation is similar to the controversial law signed by Virginia Gov. Bob McDonnell. Eager to keep flogging the GOP's alleged "war on women," Democrats linked Walker's promise to sign the abortion bill with the recent vote by a all-male House committee to ban abortions after 20 weeks and Arizona Rep. Trent Franks' comment that rape victims infrequently get pregnant.
One thing that Walker has going for him is that he's a Governor rather than a Senator or a member of the House of Representatives. Historically, Governors, and especially Republican Governors, have had far greater success running for President than legislators. Indeed, going all the way back to 1968, every successful Republican candidate for President has either been a sitting or former Governor or a sitting or former Vice-President. Take it as far back as the Election of 1924, and you've got a former Governor in Coolidge, the former Administrator of food aid for Europe after World War One in Hoover, and the former Commander of Allied Forces in Europe during World War Two in Eisenhower. When it comes to successful Republican candidates for President, there seems to be clear historical preference for people with Executive experience of some kind and Governors are, of course, the Chief Executives of their state. Looking at it from that point of view, Walker or many of the other Governor's in the GOP's 2016 stable, ranging from Chris Christie to John Kaisch to pick just two names, would seem to be well -suited as a candidate. Interestingly, Walker, Christie, and Kaisch are all currently well-position to win their bids for re-election.
The problem that Walker and his fellow Governor's might face, though, is that the very nature of their jobs require them to do things that are likely to raise the ire of the "Tea Party" base of the Republican Party, especially when held up against firebrands like Rand Paul, Ted Cruz, and Marco Rubio.1 Being a Governor means having engage in horse trading and negotiation with members of the opposition, and even members of one's own party, in order to get the job done. Unlike Senators and Representatives who can make endless speech after endless speech, Governor's have to do things like get budgets passed, deal with issues like education reform and economic development, and deal with natural disasters and other events out of the blue that may have an adverse impact on their state. Where Senators and Congressmen have the luxury of being as much of a political firebrand as their political position permits them to be, Governors have to put the interests of their state ahead of their own political interests. What all of this means, of course, is that Governors by their very nature create a record that can easily be attacked by hardliners as they attempt to appeal to the party base.  Where being a Governor used to be a big political advantage when running for the Republican nomination, it's arguably the case that in the Tea Party era it is actually a detriment.
Walker, of course, became something of a conservative hero in 2010 and 2011 when he led the effort to reform the public employee unions in Wisconsin. The law that he backed, and which the Republican held legislature passed, became the focal point for protests that lasted for weeks, lawsuits that dragged on quite long before being decided in Walker's favor, and a series of recall elections, including one directed at Walker himself that was ultimately unsuccessful. After those battles fade away, though, Walker sort of faded from the national scene and the GOP base moved on to more interesting "heroes" to rally behind. No doubt, he's done plenty of things as Governor that the purity above all Tea Party base of the GOP would disagree with and that will likely cause problems for him if he choose to run in 2016.
Walker's not really much of a known quantity right now, and he'd certainly be a long shot if he did jump into the race. The possibility that he'd end up suffering the fate of candidates like Jon Huntsman is quite real. Additionally, the GOP does not have a history of giving its nomination to relative unknowns. Despite all of that, though, Walker has the kind of resume and record that would seem to me to do the GOP far more good than that of a Senator or Representative. The only question is whether Republican voters in 2016 will want to go for the candidate who represents competence, or the one who repeats the Tea Party talking points with sufficient precision. If it's the second, then candidates like Walker don't stand any chance at all.
1 Although Rubio has been a Tea Party darling from the time he threw his hat in the ring for Senate in 2010, his stock has fallen recently thanks to his decision to support comprehensive immigration reform. It's unclear how that might impact his chances in 2016.