The 2016 Electoral College Battlefield Is Very Small
The 2016 election will be fought on a very small battlefield, and right now the makeup of that battlefield heavily favors the Democrats.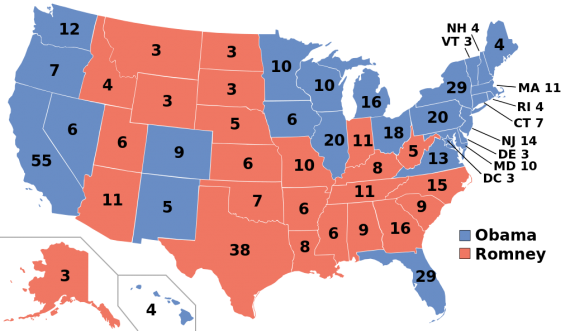 Elect
Eric Ostermeier at Smart Politics writes about the result of a study that reviewed every Presidential election since 1828 and found that, at most, there are 14 states that are likely to be competitive in the 2016 election:
The 2012 presidential map recorded the lowest ever rate of statewide cycle-to-cycle partisan change in the two-party era and the nation is also currently in the midst of its lowest rates of change in its electoral maps across the last three-, four-, five-, six-, seven-, eight-, and nine-cycle periods.

With historically few states flipping back and forth between their partisan preferences in presidential races, political parties are starting to rack up an impressive array of statewide winning streaks as a result.

Thirty-six of them, to be precise.

Smart Politics examined the 2,000 statewide elections for president conducted since 1828 and found that 36 states are currently in the midst of their longest ever Democratic or Republican winning streaks with the GOP enjoying its best ever runs in 20 states and Democrats at peak levels in 16 others.

Republicans have notched their longest winning streaks in states across three regions of the country – in the Midwest (Kansas, Missouri, Nebraska, North Dakota, South Dakota), the South (Alabama, Arkansas, Georgia, Kentucky, Louisiana, Mississippi, Oklahoma, South Carolina, Tennessee, Texas, West Virginia), and the West (Alaska, Idaho, Utah, Wyoming).

Democrats have done the same in the Northeast (Connecticut, Delaware, Maine, Massachusetts, New Jersey, New York, Pennsylvania, Rhode Island, Vermont), the Midwest (Michigan, Minnesota, Wisconsin), and the West (California, Hawaii, Oregon, Washington).

While a few of these states are often considered bona fide (Pennsylvania, Wisconsin) or quasi- (Michigan, Oregon, Washington) battlegrounds each cycle, a substantial number of Electoral College votes are currently held in states where one of the two major parties is enjoying unprecedented success at the ballot box.

For the GOP, these 20 reliably GOP states take 166 electoral votes off the table each cycle while the 16 Democratic states have given its nominees 209 electoral votes on which they can count (212 if one counts the District of Columbia which has never voted for a Republican nominee).
None of this is terribly, surprising, of course. Every Presidential election year there are a large portion of states that are clearly going to go for either the Republican or the Democratic candidates. The only time that hasn't been the case has been when we have seen landslides on the scale of Ronald Reagan's victories in 1980 and 1984, or in years where there has been an particularly strong third-party candidate, as we saw in 1992 and 1996. For the most part, Presidential elections, especially over the past fifteen years, have been fought in a very small battlefield. In the 2000 election, of course, that battlefield essentially consisted of the Florida, but the course of the election could have also been changed by different results in Ohio and Virginia. The electoral lock that Ostermeier talks about also played a role in that election because Gore's failure to win in his home state of Tennessee, one of the states on Ostermeier's list as a long-term GOP lock, cost him the election. Had he won in Tennessee, Gore would have been President regardless of what happened with the hanging chads in Florida. The restricted battlefield was also on display in the 2004, 2008, and 2012 elections, all of which essentially came down to what happened in a handful of states, with Ohio, Florida, and Virginia playing the most important roles.
As we start looking ahead to 2016, it's important to keep these Electoral College issues in mind as we look at the state of the race. Political pundits, bloggers and cable news networks have breathlessly reported the release of each new head-to-head poll between Hillary Clinton and her potential Republican rivals, including a new poll that purports to show Hillary Clinton trailing Donald Trump. However, these polls are essentially meaningless at this point in time. For one thing, we're still fifteen months away from the General Election, and ten months from the time when the General Election campaign effectively begins with the conclusion of the Republican and Democratic National Conventions. There is simply too much that can happen between now and then that will affect the election for any polling to be reliable. At this point during the 2012 cycle, President Obama was seemingly in trouble in Virginia where he had won in 2008, and losing to a "Generic Republican" candidate in a head-to-head matchup.  In addition to the problems with head-to-head polling at this point in the election, the fact that Presidential election are decided at the state level rather than nationally means that the polling really misses what the race is about. It is admittedly rare that a candidate will win the Electoral College and lose the popular vote, but it has happened before and could happen again. At the very least, though, it means that head-to-head polling, especially this early in the race, is not a good predictor of how an election will turn out.
Looking ahead to 2016, it's obvious that Ostermeier's electoral locks will largely be in place. Absent a wave election, which is unlikely, Democrats aren't going to win many or any of the states that have become traditionally Republican, and Republicans are not going to win in traditionally Democratic states. Instead, the race is likely to come down to handful of states, specifically Ohio, Virginia, Florida, New Hampshire, Colorado, and Nevada. In this environment, it is the Republican candidate that will looks to have the toughest battle. Republicans haven't won in New Hampshire since 2000, for example, and haven't won in the remaining states since 2004. In order to win in 2016, the Republican candidate will need to win all of the states that Mitt Romney did in 2012 along with Florida, Virginia, Ohio plus one other state. The Democratic candidate, on the other hand, could afford to lose several of the states that President Obama did in 2012 and still win the election. They could even afford to lose Ohio, Florida, and Virginia and still win narrowly, but obviously if that happened they would likely be in trouble in several other states that the President had previously won. In either scenario, though, it is clear that at the moment the Electoral College battlefield heavily favors the Democrats, and unless that changes the GOP will be locked out of the White House yet again.