Trump Clears American Soldiers Involved In War Crimes
Against the advice of his top military advisers, President Trump has cleared three American soldiers of war crimes, sending a horrible signal to the world and to the troops in the field.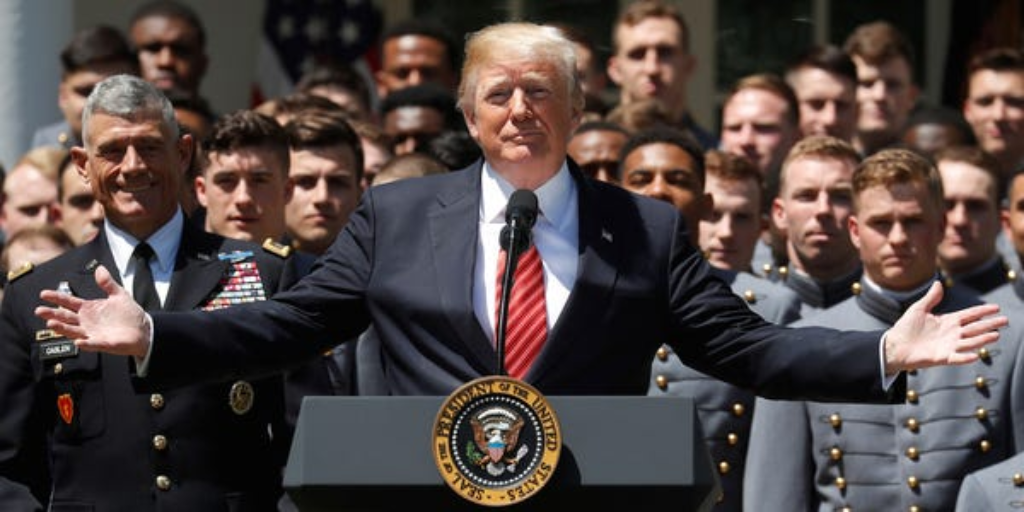 Acting against the advice of his own military advisers, the President has cleared three American service members that stand accused of war crimes in connection with offenses committed in Iraq and Afghanistan during the course of the wars in those countries:
President Trump intervened in three cases involving war crimes accusations on Friday, issuing full pardons to two soldiers and reversing disciplinary action against a Navy SEAL despite opposition raised by military justice experts and some senior Pentagon officials.

The White House said in a statement Friday night that Trump, as commander in chief, is "ultimately responsible for ensuring that the law is enforced and when appropriate, that mercy is granted."

"For more than two hundred years, presidents have used their authority to offer second chances to deserving individuals, including those in uniform who have served our country," the statement said.

The service members were notified by Trump over the phone late Friday afternoon, according to lawyers for Army Maj. Mathew L. Golsteyn and former Chief Petty Officer Edward Gallagher, the SEAL. Golsteyn faced a murder trial scheduled for next year, while Gallagher recently was acquitted of murder and convicted of posing with the corpse of an Islamic State fighter in Iraq.

The third service member, former Army 1st Lt. Clint Lorance, was expected to be released Friday night from prison at Fort Leavenworth, Kan. He was convicted of second-degree murder in 2013 and sentenced to 19 years for ordering his soldiers to open fire on three men in Afghanistan.

Golsteyn and Lorance received full pardons, while the president will direct the Navy to restore Gallagher to his previous rank before he retires, the White House said. His demotion marked the only significant penalty he received following his acquittal on the murder charge.

(…)

Phillip Carter, a former Army officer and Obama administration official, said that presidents have tended to support the military justice system and its verdicts to support good order and discipline.

The military, he said, has "worked for decades to lay the ghosts" of the Vietnam War and war crimes committed during it to rest, and Trump's decision risks undermining that.

"Executive clemency like this introduces doubt into the chain of command, and creates uncertainty about accountability for breaches of military rules," said Carter, who now studies national security for the Rand Corp.
The facts in each of these cases are different, but each one clearly goes beyond what should be acceptable behavior for members of the American military:
The specific circumstances of the three men's cases defy easy characterization. In one, a decorated captain admitted to a killing in a job interview. In the other two, platoon leaders' illegal actions were reported not by superior officers or Pentagon lawyers, but by their own platoons.

Troops who testified in those two cases, against Lieutenant Lorance and Chief Gallagher, voiced disappointment and disbelief over Mr. Trump's plans for clemency before they were announced.

"The tragedy of pardoning Lorance isn't that he will be released from prison — I've found room for compassion there," said Patrick Swanson, a former Army captain who was Lieutenant Lorance's company commander in Afghanistan. "The tragedy is that people will hail him as a hero, and he is not a hero. He ordered those murders. He lied about them."

Mr. Lorance was a rookie Army lieutenant who had been in command of a platoon in Afghanistan for two days in July 2012 when he ordered his troops to fire on unarmed villagers who posed no threat, killing two men. He then called in false reports over the radio to cover up what had happened. He was immediately turned in by his own men.

Mr. Lorance, whose story is the subject of a new documentary series, was convicted of second-degree murder by a court-martial in 2013, and he has been in prison since then, serving his sentence at Fort Leavenworth in Kansas.

Major Golsteyn was charged in 2018 with premeditated murder over a killing that took place in 2010, when he was a captain in the Army Special Forces leading a team during Operation Moshtarak, one of the biggest combat operations of the war in Afghanistan. He admitted in a job interview with the C.I.A. the following year that, during the battle, he had killed a suspected bomb maker who had been captured and released, saying he had done so to protect civilians and his own men.

An initial Army investigation resulted in a reprimand but no charges. However, after Major Golsteyn publicly admitted the killing during a 2016 interview on Fox News, the Army reopened the case and charged him with premeditated murder.

Chief Gallagher was charged by the Navy in 2018 with shooting civilians in Iraq, killing a captive enemy fighter with a hunting knife, and threatening to kill fellow SEALs if they reported him, among other crimes. The charges stemmed from a 2017 deployment in Iraq when he was a chief petty officer leading a SEAL platoon.

After a tumultuous trial, he was acquitted by a military jury in July of all charges except one minor count: bringing discredit on the armed forces, by posing for a photo with the corpse of the captive he was accused of killing.

Though Chief Gallagher could have been demoted to the lowest rank in the service as a result, the top admiral in the Navy decided in October to demote him by just one step, to petty officer first class.
Back in May when it was first being reported that Trump was considering these pardons, Max Boot wrote the following:
In 2016, President Trump ran on a war crimes platform. He vowed: "I would bring back waterboarding. And I would bring back a hell of a lot worse than waterboarding." (Japanese soldiers were convicted after World War II in a war crimes tribunal for waterboarding American and Allied prisoners.) He also promised to "take out" the families of terrorists and approvingly recounted a false story about Gen. John J. Pershing executing 49 Muslim rebels in the Philippines, employing bullets dipped in pig fat.


These blood-curdling threats from an armchair general who skipped out on the Vietnam War were very much at odds with the ethos of Trump's first secretary of defense, retired Marine Gen. Jim Mattis, who had exhorted his Marines at the start of the Iraq War: "Engage your brain before you engage your weapon. … Carry out your mission and keep your honor clean." Mattis dissuaded Trump from issuing an unlawful order to torture terrorists, Trump said, by telling him: "I've always found, give me a pack of cigarettes and a couple of beers and I do better with that than I do with torture."


But this turned out to be only a temporary reprieve. Just as no amount of evidence can convince Trump that other countries don't pay tariffs (American consumers do), so no amount of evidence can convince him that brutalizing prisoners and civilians is not a good idea. He said in 2017 that he was still "absolutely" an advocate of waterboarding but was deferring to Mattis.

(…)

Having no honor of his own, Trump doesn't understand the importance of Mattis's injunction to keep one's honor clean — to maintain the thin line that separates professional, disciplined soldiers from the Mongol hordes of the 13th century or the German SS. Trump is telling the troops: Don't listen to your superiors. Ignore the rules of engagement. Feel free to commit atrocities in the expectation of a presidential pardon.

There is no more corrosive message a commander in chief could send, which is why so many veterans who served honorably are so appalled by what Trump is doing. If Congress had any honor of its own, Trump's incitement of unlawful behavior by the troops under his command would be yet another count in the articles of impeachment against him.
Benjamin Haas, meanwhile, responds to the pardons thusly:
The military requires its members to operate in accordance with the laws of war for good reason. Disregarding the laws of war — which Mr. Trump has done by intervening in these cases — jeopardizes mission accomplishment and the safety of service members; excessive civilian casualties, for example, can stimulate further violence, turn local populations against American forces, and discourage allies from collaborating with the United States. Mr. Trump should realize that the laws of war actually serve to benefit our armed forces.

Against this backdrop, Mr. Trump's intervention on behalf of those convicted or accused of conduct falling short of the military's crucial legal requirements and moral expectations undermines the training in which the military rightly invests so much effort. It trivializes the values the military spends so much time fostering. He could be endangering United States service members deployed to combat zones by handing their enemies propaganda and recruitment material and by degrading support among local populations.

To be sure, war is complex, and service members accordingly face difficult moral choices under extraordinary pressure. But their preparation helps them make sound decisions in these tough situations, and the military justice system considers the factual circumstances of each case and the intent of the actor.
Faced with the facts in these cases, any other President would likely cite them as reasons to deny pardons under these conditions. Pardoning men who have been convicted of war crimes while wearing an American uniform sends precisely the wrong message to the world. To our adversaries, it sends the message that our rhetoric about a commitment to the Rule of Law and justice are mere words without any meaning. It sends the same message to the general population around the world who may have once looked to the United States as a beacon of human rights and justice in a grim world where the violation of rights and the commission of what amount to war crimes is a common occurrence. Pardoning men who have been convicted of war crimes sends the message that these are mere words, and makes it far more difficult for the United States to criticize any other nation that lets its military get away with similar actions.
Any other President would also consider the impact that a decision like this might have on nations currently hosting American troops, or that might be asked to do so in the future, and on our alliances generally, There have already been situations over the years regarding the treatment of Americans who commit crimes in allied nations hosting American troops, most notably in Japan where a case involving a U.S. Navy sailor and two Marines stationed on Okinawa where charged with raping a 12-year-old female civilian. The incident itself led to widespread protests even though the servicemen were tried and convicted in a Japanese court pursuant to the agreement between the U.S. and Japan. While an incident such as that would not be within the power of a U.S. President to pardon, pardoning these war criminals sends a message to our allies that wrongdoing by American forces may be seen as excusable by the civilians in Washington in charge of the military.
Of course, it's clear that these types of concerns don't matter to President Trump. He has abandoned even the pretense of a foreign policy based on the promotion of human rights and has looked the other way as allegations have been leveled against nations such as Russia, Egypt, Saudi Arabia, China, North Korea, and The Philippines. Additionally, the fact that pardons such as this could damage our alliances doesn't matter to him either given the fact that he has done everything he can to drive a wedge between America and our closest allies, as I have documented here, here, and here among other places.
From Trump's point of view, it's likely that he sees pardoning these servicemen as yet another way to pander to the hyper patriotism of his base, a base that likely doesn't care that these men committed serious crimes while wearing the uniform of the United States. The fact that this action comes on the same week that we marked Veteran's Day, the day when we honor all of the men and women who have served their country in war and peace, makes the symbolism even worse. What the President has done here sullies the reputation not only of the men and women who currently serve in America's military but those who sacrificed so much, including in so many cases their very lives, dating back to the American Revolution. These pardons are a slap in their face from a man who didn't even have the courage to serve when his fellow Americans were overseas dying in war.