Trump Threatens New Tariffs In Expanding Trade War
President Trump once said that "trade wars are good and easy to win." It's only been three months since he started this war and we're already finding out just how wrong he is about that.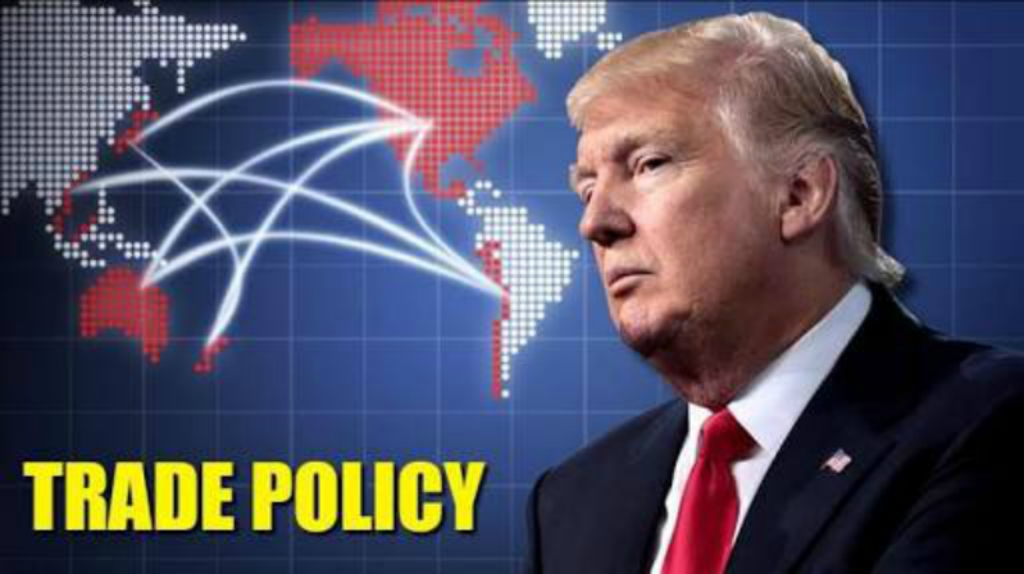 President Trump is threatening additional tariffs against China in what is increasingly looking like a trade war that could end up having a serious impact on world financial markets and, potentially, the American economy:
WASHINGTON — President Trump further escalated his trade fight with China on Monday, saying his administration was prepared to impose tariffs on another $200 billion worth of Chinese goods and potentially even more if Beijing continues to fight back.

Mr. Trump's threat, in response to retaliatory measures by China, was the latest volley in a dizzying trade dispute that has pitted the world's two largest economies against each other and resulted in a seemingly endless game of one-upsmanship. The president called it punishment for what he said was an attempt by Beijing to keep the United States "at a permanent and unfair disadvantage."

"China apparently has no intention of changing its unfair practices related to the acquisition of American intellectual property and technology," Mr. Trump said in a statement. "Rather than altering those practices, it is now threatening United States companies, workers, and farmers who have done nothing wrong," he added, calling China's response "unacceptable."

The president left little doubt that the United States would continue to hit back even harder if China counters, adding tariffs to another $200 billion worth of Chinese goods. All told, the Trump administration is threatening to impose tariffs on as much as $450 billion worth of goods, including an earlier round — a sum nearly as large as the total value of goods China sent the United States last year, which was $505.6 billion.

"The administration is essentially saying it is willing to bring a substantial amount of commercial activity in the Asia-Pacific to a screeching halt," said Scott Kennedy, a China expert at the Center for Strategic and International Studies.

The tit for tat began on Friday, when Mr. Trump said Washington would move ahead with tariffs on $50 billion worth of Chinese goods, including agricultural and industrial machinery. The action provoked an immediate response from Beijing, which said it would place its own tariffs on $50 billion worth of American goods, including beef, poultry, tobacco and cars.

On Monday, Mr. Trump raised the ante even further, saying that he had directed Robert E. Lighthizer, the United States trade representative, to pursue another $200 billion worth of tariffs.

China's Commerce Ministry responded swiftly to Mr. Trump's threat, issuing a statement on its website that warned that if the Trump administration followed through, China would "have to adopt comprehensive measures combining quantity and quality to make a strong countermeasure."

The rapid succession of trade threats has left little time for negotiations that could potentially defuse tensions between the two countries.

Whether President Xi Jinping of China agrees to bend to Mr. Trump's demands remains an open question. With his latest move, Mr. Trump has escalated his trade threats to such a level that China can now no longer issue a proportional response. Last year, the United States exported only $130.4 billion of goods to China in total.

But trade experts say there are plenty of ways beyond tariffs that the Chinese government could retaliate — including slowing approvals for acquisitions made by American companies or stalling products at its ports. And Mr. Trump's aggressive challenges may have left the Chinese president with little room to back down without looking weak to his own population.

"Mr. Trump seems to be counting on the fact that China will soon run out of room to retaliate with its own tariffs on U.S. exports," said Eswar Prasad, a trade expert at Cornell University. "This could prove to be a miscalculation since China has other effective levers it can use in a trade war, including disruptions of American businesses' sales operations and their supply chains that run through China."

Lawmakers of both parties have criticized the president's trade threats, but few have advocated taking direct action against him. Last week, Senate Republicans blocked a vote on legislation introduced by Senator Bob Corker, a Tennessee Republican, which would have given Congress the ability to overturn certain tariffs. Senate leaders said such a bill would have simply been vetoed by the president.

The trade conflict with China comes as the administration wages several trade conflicts at once. Rather than forming a coalition of countries to pressure China to change its trade practices, as some foreign leaders and trade officials have urged, the president has put allies on edge with tariffs on metal from Europe, Canada and Mexico and threats to withdraw from the North American Free Trade Agreement.

If they do go into effect, the tariffs would greatly increase the disruption for international companies, which are already anxious about the prospect of higher costs on many goods that move between the United States and China.
This latest announcement is just the latest development in a trade war that has expanded at an alarmingly quickening pace since March when the Trump Administration announced aluminum and steel tariffs that, at the time, were primarily aimed at China and a handful of other nations while exempting, for the time being, allies in Europe as well as Canada and Mexico. Not surprisingly, that announcement was received negatively on Wall Street, which until then had been largely headed upward, on fears that we were witnessing the beginning of a trade war that threatened to undo much of the progress that had been made on international trade since the end of World War Two. Several weeks later, the President announced a series of new tariffs on China, which quickly led China to announce retaliatory tariffs of its own, many of them aimed at industries such as agriculture that had been heavily pro-Trump in the 2016 election. Several days after this announcement, Trump said that the United States was considering additional tariffs against the Chinese amounting to as much as $100 billion dollars. The Chinese Trade Ministry quickly responded to these statements from the President, saying that "We do not want to fight, but we are not afraid to fight a trade war." Indeed, as Steven Lee Myers noted when these statements were made, the Chinese are confident that they could win a trade war.
After these moves in April, the tit-for-tat trade wars seemed to quiet down a bit, but that proved to be largely illusory. Late last month, President Trump announced that he was revoking the exemption from the steel and aluminum tariffs that had been announced back in March that applied to American allies in Europe as well as Canada and Mexico. Seemingly bizarrely, the president claimed that this was being done for "national security" reasons. Objectively speaking, of course, the idea that these allies are a national security threat to the United States, or that we could not rely on them as a source for aluminum and steel in the event of a national emergency or military threat is absurd, but because of the way American law and applicable trade treaties are worded "national security" is the only ground available to the President to impose tariffs without having to seek Congressional authorization and without violating the applicable treaties. Needless to say, this didn't go over very well with our allies in Europe and elsewhere. Canada's Foreign Minister called the new tariffs "absurd," for example, and European Union officials announced retaliatory tariffs against American goods. Things got even more bizarre in this regard as Trump exchanged harsh words with Canadian Prime Minister Justin Trudeau prior to the G-7 Summit. Once he was at the summit, Trump essentially did everything he could to alienate America's closest allies, thereby seemingly achieving a goal that Russia and, before it, the Soviet Union had only dreamed of, driving a wedge between the United States and its allies. After the Singapore Photo Op Summit, Trump continued his tirade against Trudeau, while polling revealed that Canadian public opinion about the United States was suffering as a result of American actions and the President's rhetoric. Finally, it was reported at the same time that the President was considering what would effectively be a ban on German-built luxury automobiles.
The result of this has been entirely predictable. Since Trump announced the first round of tariffs in March, the stock market, which had been on a nearly uninterrupted upward swing since Election Day 2016, began heading downward. While at least some of is likely to represent a natural, expected, and necessary correction after more than a year of going upward, it is also clear that what we're seeing in the markets represents a negative reaction by investors to the tariffs and nervousness about the impact of a trade war on corporate earnings and world financial markets. With the news of a new round of tariffs against China, and the expected and inevitable Chinese retaliation, we are now at the point where the market has erased all the gains it had made since December 31, 2017. While that still places stock prices in a good place, the prospect of future tariffs is likely to mean that we'll see gains made since the 2016 election start to erode too, and that's likely to pose problems for Republicans heading into the midterms.
Of more immediate concern than just the stock market, though, is the impact that these tariffs are likely to have on the economy. While it's likely that we won't see an immediate impact on economic statistics, and may not see much of anything in this regard before the midterms, there are already problems related to the tariffs and retaliation from other nations being felt in various parts of the country. In late May, for example, The Wall Street Journal reported that prices for steel and aluminum on the American market were increasing, thus impacting manufacturers that rely on these raw materials for their products. At at a more fundamental level reports are indicating that American pork farmers were increasingly nervous about their overseas business with nations like China. In Iowa specifically, it was reported that Trump's tariffs and Chinese retaliation could cost soybean farmers $624 million this year alone, with the prospect of larger losses if this situation continues beyond this year. This has led many leaders in Iowa and elsewhere, including Senator Chuck Grassley to express concern about the impact of the trade war on Republican fortunes in the fall. This is especially true given the fact that the tariffs seem to be expressly targeted toward Trump voters and middle-class Americans. President Trump once said that trade wars are good and easy to win. It's only been three months since he started this war and we're already finding out just how wrong he is about that.