Trump Wants GOP To Make His Immigration Policies The Center Of The 2018 Campaign
Donald Trump wants Republicans to make his immigration policies the centerpiece of the midterm campaign. What could possibly go wrong?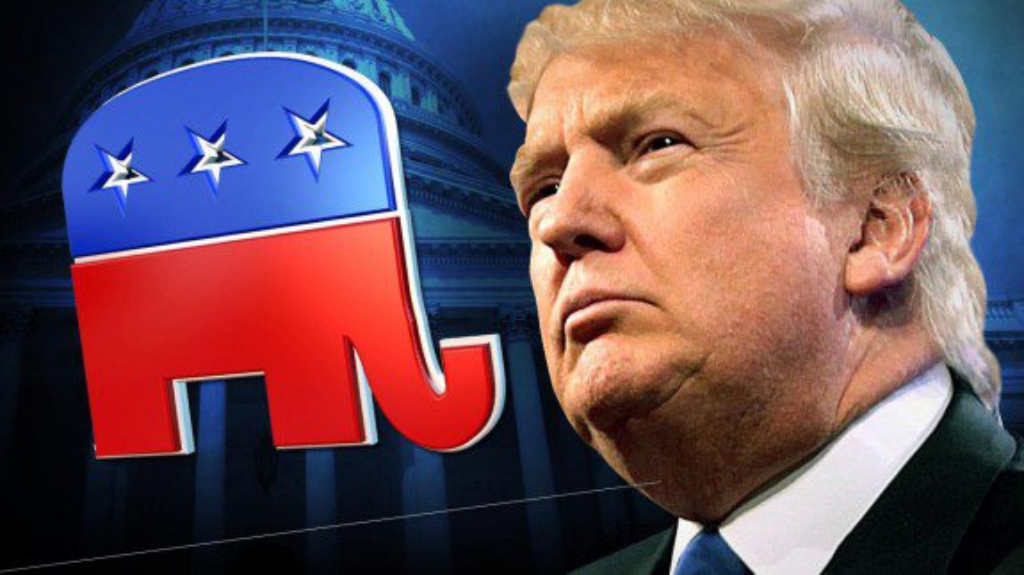 When 2018 began, Republicans were convinced that they had latched on to an issue that would help them to buck history in the upcoming midterm elections and either actually gain seats in the House and/or Senate or at least stave off their losses sufficiently to maintain control of one, or hopefully both, bodies in the fall elections. That issue, of course, was the Tax Cuts And Jobs Act that had been passed the previous month and which they were convinced would lead to economic and jobs growth that would cause voters to lean in the GOP's direction when they head to the voting booth in November. As time has gone on, though, this strategy has proven to be less than met the eye at the time. For one thing, polling continues to show that the tax cut remains, at best, controversial among the public as a whole in no small part because it has not been apparent that the economy would boom in the way Republicans promised in the wake of the tax cuts. Second, economic statistics so far this year have failed to show the kind of economic growth that the GOP was hoping for heading into the fall. To be sure, the economy continues to move forward, but it's continuing to grow at roughly the same pace we saw in the later years of the Obama Administration. Additionally, while the jobs growth numbers have been mostly positive wage growth has been sluggish notwithstanding the fact that unemployment is arguably reaching a rate where employers should be under pressure to raise wages in order to keep employees from wandering to better opportunities. Finally, Trump himself seems uneager to focus on tax cuts as a 2018 election issue. Instead, he's been focusing on issues that seem designed to appeal to the base such as the N.F.L. National Anthem protests and, according to a report in The New York Times, immigration:
WASHINGTON — As Republicans try to keep their midterm election strategy focused on the economy, tax cuts and falling unemployment, President Trump sent his clearest signal yet on Monday that he intends to make divisive, racially charged issues like immigration central going into the campaign season.

Facing bipartisan criticism over his administration's family separation practice on the border, Mr. Trump renewed the sort of bald and demagogic attacks on undocumented immigrants that worked well for him politically in his 2016 presidential campaign. He inveighed against "the death and destruction that's been caused by people coming into this country" and vowed that "the United States will not be a migrant camp and it will not be a refugee holding facility."

Republicans typically handle immigration gingerly in an election year, as they try to appeal to Hispanic voters, independents and moderates across divergent districts. But with more Americans still opposing the tax measure than supporting it, Mr. Trump's allies believe that trying to link Democrats to crimes committed by undocumented immigrants and gangs like MS-13 will do more to galvanize Republican voters and get them to the polls in November than emphasizing economic issues.

"People don't turn out to say thank you," said Corey Lewandowski, one of the president's top political advisers. "If you want to get people motivated, you've got to give them a reason to vote. Saying 'build the wall and stop illegals from coming in and killing American citizens' gives them an important issue."

This fear-oriented approach reflects the degree that Mr. Trump has put his anti-immigration imprint on the Republican Party. The same raw appeals Mr. Trump made in 2016 about immigrants illegally crossing the border have not abated among most of his Republican supporters.
And his supporters say the party has little choice in an election where Democrats are eager to register their opposition to a president they despise — and that the only way to succeed in a campaign driven by turning out the party base is to focus on what grass-roots conservatives care most about.

"It's an issue folks are emotionally attached to," said Andy Surabian, a Republican strategist and former Trump aide. "I know that upsets some people in the donor class, but it's the reality of where the party is."

Mr. Trump's anti-immigrant remarks are aimed at the conservative base of the party that elevated his candidacy and is dominant in red states and House districts, especially those with largely white populations. The Republican grass-roots were already hawkish on immigration, while the president's takeover of the party has further diminished its pragmatist wing. And while hard-line Republicans are a minority of the country's voters, the G.O.P. cannot retain its grip on Congress without this bedrock of its base going to the polls.
On some level, I suppose, it's not surprising that Trump would fall back on immigration as the issue to rally Republicans around this year. More than anything else, it was the issue that defined his campaign for the Presidency starting from the day that he entered the race when he referred to Mexican immigrants as mostly consisting of rapists and other violent criminals and called for a border wall to the day that he first announced what became his Muslim Travel Ban. It arguably won him the Republican nomination and, along with his rhetoric on trade and other issues, became the defining issue of his General Election campaign against Hillary Clinton. Having seen it's apparent success in 2016, Trump no doubt believes that he can succeed again this year and manage to buck history and turn what could be a bad year for the Republican Party into something more akin to the 2002 midterms when Republicans actually gained seats in Congress in the wake of the September 11th attacks.
Notwithstanding this, though, there are several reasons to doubt that it will sustain the same momentum it did in 2016, and a good reason for that can be seen in the current crisis on the border being created by the Administration's policy regarding separating parents and children. As I noted earlier today, polling is already indicating that the vast majority of Americans oppose the policy even though Republicans tend to support it, and Republicans are starting to worry that this policy, as well as the Administration's position on the Deferred Action for Childhood Arrivals (DACA) program, could end up hurting them in the fall:
Just five months before the midterm elections, Republicans are scrambling to distance themselves from the Trump administration's widely panned "zero tolerance" immigration policy that has resulted in the separation of children from their families at the southern border.

As images of children being held in cages at detention centers near the border flash across television screens, Republicans are being pressured to take a stand on Trump's controversial policy, as the President and the administration continue to place blame on Congress for inaction on immigration legislation.

One of the strongest statements criticizing the administration came late Monday from Rep. Steve Stivers, who chairs the National Republican Congressional Committee, the House GOP's campaign arm. In a sign of just how damaging Republicans believe this issue can be in the fall, Stivers said he was writing a letter "to understand the current policies and to ask the Administration to stop needlessly separating children from their parents."

"If the policy is not changed, I will support other means to stop unnecessary separation of children from their parents," he added.

The statement is a clear signal to vulnerable Republicans worried about keeping their seats in November that they can break with Trump on this issue.

One senior Republican operative, who spoke to CNN on condition of anonymity to speak candidly about a hot-button topic, said the story was "hitting home."

"Worst of all, it's not just affecting border districts but suburban women as well," the operative added.

The Trump administration is facing wave of criticism from popular GOP figures over its separation of families. Former first lady Laura Bush wrote that the family separation policy is "cruel. It is immoral. And it breaks my heart." Massachusetts Gov. Charlie Baker, the nation's most popular governor, revoked his offer to send National Guard help to the southern border because "the federal government's current actions are resulting in the inhumane treatment of children."

Trump's former White House communications director Anthony Scaramucci called it "an atrocious policy" on CNN Monday. "It's inhumane. It's offensive to the average American," he said.
Additionally, The Wall Street Journal Editorial Board is issuing similar warnings:
Are Republicans trying to lose their majorities in Congress this November? We assume not, but you can't tell from the party's internal feuding over immigration that is fast becoming an election-year nightmare over separating immigrant children from their parents. This is what happens when restrictionists have a veto over GOP policy.

Democrats fanned out across the U.S. this weekend to highlight the turmoil caused by the Trump Administration's new "zero-tolerance" policy of detaining all adult aliens crossing the border illegally. That means separating parents from children who arrive together because courts have said migrant children can't be jailed.

(…)

The immediate solution should be for the Administration to end "zero-tolerance" until it can be implemented without dividing families. Congress can also act to allow migrants to be detained with children in facilities appropriate for families. Until that is possible, better to release those who have no criminal past rather than continue forced separation.

This episode underscores the larger GOP dysfunction as it debates how to deal with the former immigrant children known as Dreamers. The threat of Dreamer deportation isn't imminent while the courts consider Barack Obama's legalization order and Donald Trump's revocation of that order. But it is sure to return with urgency next year.

A bipartisan majority in Congress wants to solve the problem of these young adults brought to the U.S. illegally as minors. But a minority of House Republicans continues to block a compromise that would solve the Dreamer problem and give Mr. Trump more money for border security.

(…)

This is self-destructive politics. This year is the GOP's best opportunity for immigration reform in a decade. If Republicans lose their House majority, they will have less leverage when the Supreme Court rules on legalization for Dreamers. If the Obama program is upheld, Mr. Trump won't have obtained money for his border wall or anything else.

As for November, House control will be won or lost in swing districts where legalizing the Dreamers is popular and separating families isn't. Members like California's Steve Knight and Florida's Carlos Curbelo need to show voters that they're working toward a solution for Dreamers.

Even better would be for Congress to pass the leadership's compromise that legalizes Dreamers, ends the family separation fiasco, and gives Mr. Trump some of his priorities. Republicans would solve a problem while depriving Democrats of a potent issue.

But that will only happen if Mr. Trump sells it. On immigration he's been a study in confusion, one day preaching compassion for Dreamers while deploring "amnesty" the next. The smart play is for Republicans to show they can solve at least some immigration problems.

If Mr. Trump wants to lose the House and risk impeachment, he'll take Mr. Bannon's bad advice and keep giving Democrats a daily picture of children stripped from their parents.
Given all of this and the polling that I mentioned earlier, the rational thing for Republicans and the Administration at this point would be to stop the bleeding by ending the family separation policy immediately and at least trying to find a solution to the DACA issue that could pass both chambers of Congress. The odds of this actually happening, though, seem to be somewhere between slim and none. While several Republicans on Capitol Hill, including Ted Cruz, are introducing legislation to deal with the family separation issue, the Presidents apparent insistence that any immigration bill sent to him include coverage for border wall funding as well as an end to so-called "chain migration" and the visa lottery makes the odds of anything making it through Congress seem slim at best. This evening, President Trump is headed to Capitol Hill to meet with Congressional Republicans to discuss the immigration issue. Whether or not that meeting is successful in coming up with a proposal should become apparent rather quickly, but the odds aren't looking very good. Meanwhile, the reports about children being taken from their parents continue to mount and get worse by the day. If the White House hopes to use this issue in the fall, it's going to have to do something about this soon, otherwise, things could turn very sour very quickly. Instead of dealing with these issues, though, Trump seems determined to make things more difficult for his party.