Could Trump Shock the World Again?
Fear of a reprise of 2016 is still with us.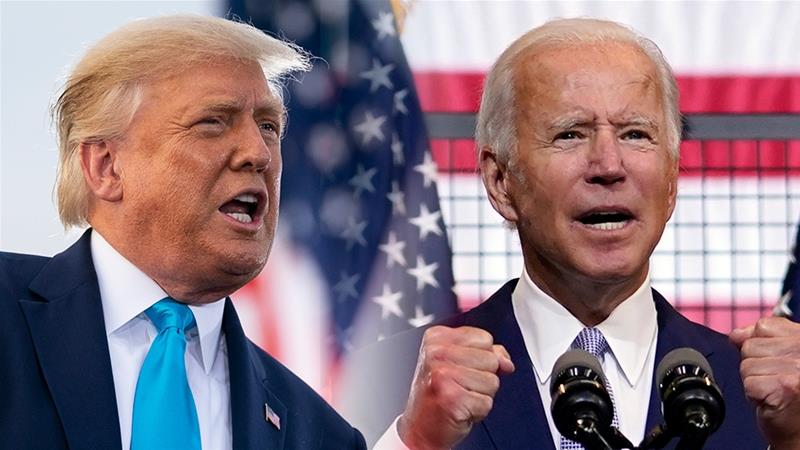 Despite President Trump not having spent a day with majority job approval in nearly four years in office and not for a nanosecond leading Joe Biden in national polling averages, the fear of a repeat of 2016 has not abated.
The humorist and filmmaker Michael Moore, who sagely predicted a Trump win last go-around as "the biggest F- you in human history," is letting the chips ride.
Liberal filmmaker Michael Moore is sounding the alarm five days before Election Day, strongly suggesting that polls showing Joe Biden in a comfortable lead against President Trump are not accurate.

During his appearance on The Hill TV's "Rising," Moore began by calling it "awful news" that Biden was ahead of Trump by seven points in his home state of Michigan and explained how Trump managed to cut Biden's lead "in half," citing another poll that had the Democratic nominee "16 points" ahead of the president.

"Trump has tightened virtually every one of these swing states to the point where- what are they saying this morning?… 'Biden's five points ahead in Wisconsin… maybe three points ahead in Florida, two points ahead in Arizona'… Listen, don't believe these polls,'" Moore said. "The Trump vote is always being undercounted. Pollsters- when they actually call the Trump voter, the Trump voter is very suspicious of the 'Deep State' calling them and asking them who they're voting for."

Polls are "fake news" to Trump supporter, he said.

"So it is not an accurate count. I think the safe thing to do, this is not scientific… whatever they're saying the Biden lead is, cut it in half, right now, in your head. Cut it in half, and now you're within the four-point margin of error. That's how close this is! That's how desperately close this is!"
It's entirely possible, I guess, that Trump voters think federal bureaucrats are pretending to be pollsters for some reason and are therefore "shy." What that has to do with the margin of error of aggregated polling, however, eludes me.
Regardless, Moore has been banging this drum for a while now:
Back in August, the Oscar-winning documentarian warned Democrats about the enthusiasm gap between the Biden base and the Trump base.

"I'm warning you almost 10 weeks in advance. The enthusiasm level for the 60 million in Trump's base is OFF THE CHARTS! For Joe, not so much," Moore wrote in a Facebook post. "Don't leave it to the Democrats to get rid of Trump. YOU have to get rid of Trump. WE have to wake up every day for the next 67 days and make sure each of us are going to get a hundred people out to vote. ACT NOW!"
Measuring intensity is perhaps the hardest thing in polling. Still, the evidence seems pretty clear by this point that enthusiasm is pretty much off the charts across the board. Few of us are likely enthusiastic about Biden per se. But the desire to rid ourselves of Trump is rather palpable and evidenced by the massive early voting turnout.
The Atlantic's White House correspondent, Peter Nicholas, weighs in with a not-very-convincing scenario for "How Trump Could Shock the World Again." He suggests that four ongoing strategies by the campaign could pay dividends.
Trying to expand the map

The president will be better positioned for another Electoral College victory if he can pry loose a state or two that Democrats won last time. His campaign has been eyeing New Hampshire and Nevada, but another target, Minnesota, has as many Electoral College votes as the other two combined. Clinton carried Minnesota by only 45,000 votes in 2016. Although Republicans haven't won it since 1972, a play for Minnesota is not a bad gamble: At minimum, competing in the state forces Democrats to divert resources from other battlegrounds.
But this assumes that there are 51 separate, unconnected races going on. Yes, we tally votes that way. But it's practically inconceivable that Trump will win Minnesota, which last voted Republican for President in 1972, because of a groundswell among the white working class and yet lose Wisconsin, Pennsylvania, and Ohio. Indeed, if Trump wins Minnesota, he's likely to win the election quite comfortably.
Microtargeting Latino voters

Trump's campaign is sending customized messages to voters of Cuban, Colombian, Venezuelan and Nicaraguan heritage who may be receptive to the president's anti-socialist rhetoric.

"It's classic microtargeting," José Parra, a Democratic consultant and former aide to ex-Senate Democratic leader Harry Reid, told me. Trump is "going after the main groups in South Florida that could help him out in blunting Democratic turnout."

A theme of Trump's messaging is that he's a bulwark against leftist ideology espoused by specific political figures in Latin America. "These are folks who are generally religious and culturally conservative," Nick Trainer, the campaign's director of battleground strategy, told me of the voters being targeted. "Especially in Florida, the Cuban and Venezuelan voters often have left countries that have communist histories. The advantage of incumbency is we get to spend time homing in on each and every piece of the electorate."
I can't imagine Trump is going to make serious headway with Latino voters but, again, this is really about Florida. It's a must-win state for him but not for Biden.
Shoring up evangelical voters

White evangelical Christians accounted for 20 percent of people who voted in 2016. Today, they constitute only 18 percent of registered voters, according to the Pew Research Center. Some are tiring of Trump's act. He received 80 percent of the evangelical vote in 2016; a Pew poll earlier this month showed that his support had slipped to 78 percent. "He needs maximal white-evangelical turnout. That's his only path to winning," Michael Wear, who handled religious outreach for former President Barack Obama's 2012 reelection campaign, told me.
This isn't so much a strategy as a blinding flash of the obvious. But the mere fact that evangelicals have to be shored up is a sign that Trump can't win, not a sneaky backdoor path.
Holding rallies to recruit new voters

Democrats went through rounds of finger-pointing after Clinton's defeat. Should Biden lose, a similar reckoning will begin anew. Already, some analysts point to inroads Republicans have made in voter registration as a potential problem.

At Trump rallies, campaign aides have been checking to make sure supporters are registered to vote. (Biden largely chose to forgo big rallies because of the pandemic). In Florida, the Democratic registration advantage is down to about 134,000 voters, out of a total of more than 14 million. By contrast, in the 2000 election, Democrats' registration lead in Florida was 379,000. In Pennsylvania, Republicans have cut the Democrats' registration lead since 2016 from 916,000 to 687,000, out of 9 million registered voters. That's not a trivial difference. Four years ago, Trump won Pennsylvania by just 44,000 votes.

Sean Trende, a senior elections analyst at Real Clear Politics, cites the registration numbers along with Trump's relatively high approval ratings on the economy as evidence that he could prevail. "If Trump does pull out the win or overperforms expectations significantly, we would look back at these types of things and say, 'Yeah, it was there all along!'" Trende told me.
I'm unpersuaded that the rallies are going to bring out new voters but it's plausible that Biden's bunker strategy has helped in the polls but will come back to haunt him in turnout.
As to the registration gap tightening, my instinct is that it's a function of Republican voter suppression tactics rather than rally-inspired enthusiasm or diligence. Still, while that's totally plausible in Florida, it's less so in Pennsylvania, which has a Democratic governor to go along with the Republican legislature.
Nicholas' colleague, Derek Thompson, tells us "Don't Sweat the Polls." While he understands why Democrats are still having 2016-inspired nightmares, he assures us that this time, things are different.
1. In 2016, the pollsters totally whiffed on the Great Lakes states. In 2020, they've changed their methods.

National polls weren't more off in 2016 than in previous years. The problem happened at the state level. Whereas state polls underestimated Barack Obama's support by about three points in 2012, they underestimated Trump's support by more than five points in 2016, the largest error so far this century. The most important reason, according to a postmortem from the American Association for Public Opinion Research, was that state polls undercounted non-college-educated voters, who turned out in droves for Trump.
He goes on in some detail to explain how that happened and how pollsters have adjusted. We already covered that yesterday morning.
2. In 2016, a ton of undecided voters broke late for Trump. In 2020, most of those voters have already decided.

Two weeks before the 2016 election, FiveThirtyEight's Nate Silver noted that 15 percent of voters still hadn't made up their minds, which was roughly three times more than the number of undecideds in 2012. This statistic was the Chekhov's gun of the last election: the ominous presence foreshadowing a final-act surprise. "One of the reasons why our models still give Trump an outside chance at victory," Silver wrote four years ago, was that Trump could eke it out "by winning almost all of the undecided and third-party voters."
There's more there but you get the idea. This, too, is well-covered ground.
3. In 2016, we had the mother of all October surprises. In 2020, we have the most stable race in decades.
He goes into quite a bit of detail here, focusing on the Comey letter, contrasting it with the consistency in this race. I would argue that the second factor is far more important—and is related to the previous point.
4. In 2016, district-level polls indicated a last-minute Democratic collapse. In 2020, they indicate Democratic strength.
In early November 2016, several careful polling analysts started sounding the alarm for Hillary Clinton in the upper Midwest.

Six days before the election, The Atlantic's Ron Brownstein noted that "Clinton has not visited Wisconsin since April, and appeared just twice in Michigan from June through October." By abandoning these key states, she was acting "like a general who has sent out a large expeditionary force and left modest forces to defend their homeland."

Five days before the election, Dave Wasserman at the Cook Political Report tweeted a poll from upstate New York that found Trump ahead by 14 points in a district where Obama and Romney had tied four years earlier. It suggested that Clinton's support among white working-class districts was collapsing at the worst possible time. "Five days from Election Day, it's clear who has the momentum," he wrote. "And it's not Hillary Clinton. This thing is close."

This year, those congressional polls are telling a different story. Rather than illuminating surprising weaknesses for Biden, they're reaffirming his strengths. In some cases, the district polls are pointing to an even larger Biden blowout than the national or state surveys. Most important, Trump isn't getting anywhere near his 2016 margins in Michigan and Pennsylvania, Wasserman observed. Four years ago, there was a quiet "Trump! Trump! Trump!" alarm going off that only congressional polling analysts could hear. This year, they're listening closely—but no Trump alarm is sounding.
Of course, that's hindsight. There really wasn't any collective sense of shifting momentum ahead of the vote. It's easy to spot, though, once you know the outcome.
Thompson saves the best for last:
5. In 2016, there wasn't a global pandemic. In 2020, there is a global pandemic.

It's been four years of one "shocking but not surprising" thing after another. But this year's October surprises have been—unshockingly, unsurprisingly—all about the plague. The president's COVID-19 diagnosis, which overlapped with a disastrous first-debate performance, buoyed Biden at the moment when Trump needed to stage a comeback. An autumn surge of nationwide cases refocused the national media's attention on the pandemic, which the public believes Trump has mishandled.
There's more but Duh.
The bottom line is that, in 2016, a lot of people were disillusioned with the direction of the country and they figured, what the hell, let's give Trump a try. He's now been President for four years. He's no longer a wild card.
Indeed, I find it hilarious that he's still campaigning on Make America Great Again. The man's had a go of it and we can see how it went.
In the last debate of the 1980 cycle, Ronald Reagan asked a country being asked to re-elect Jimmy Carter, "Are you better off today than you were four years ago?" The answer helped a late swing to the challenger. Implicitly, Biden is asking the question again. The answer is more stark this time than it was four decades ago.*
_________________________
*UPDATE: It has been pointed out to me via email that the most recent Gallup polling on this question (October 14), found that, "A majority (55%) also considered themselves and their family to be better off than they were four years ago." This from a poll that gave him only 46% job approval overall.